While much of Europe has resorted to dramatic measures to contain the COVID-19 epidemic, one country at its very heart is still dithering about the course of action to take.
Small alpine Switzerland has not made headlines like neighboring Italy or France, but it already has the ninth biggest number of cases in the world: 2,200 with 14 deaths, a huge number for a country of just 8.5 million people.
Most cases have been reported in the canton of Ticino, which borders Italy, and in Vaud, a stone's throw from France.
But while its neighbors have imposed strict lockdowns, shutting schools, restaurants and cinemas, banning large gatherings, and asking people to stay at home, Switzerland has faced criticism for its half measures and haphazard approach.
On Sunday, Singapore's Minister for National Development Lawrence Wong named the small alpine country, alongside the UK, as a serious potential risk.
"One concern we have with cases such as UK and Switzerland isn't just about the numbers. It is that these countries have abandoned any measure to contain or restrain the virus," he told reporters.
Singapore has now ordered that anyone arriving in the city-state from either of those countries must spend two weeks in isolation. "If there's no attempt to contain, we estimate the number of cases in these countries to rise significantly in the coming days and weeks," said Wong.
Slow to act or unwilling?
The UK government came under fire over the weekend after suggesting that letting 60 percent of its population get infected could help the country build a "herd immunity."
Public health authorities in Switzerland, meanwhile, have chosen to dial down testing to focus only on people who are significantly at risk of infection from COVID-19. This includes medical personnel and people who already show severe symptoms requiring hospitalization, rather than anyone who may have come into contact with the virus.
The result could be that many cases remain under the radar, making it more difficult for health authorities to know the full extent of the epidemic and act accordingly, experts have warned.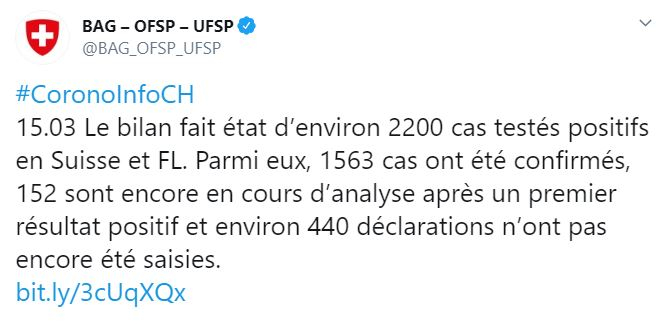 Official tally of COVID-19 cases announced on the Swiss Health Ministry's official Twitter feed. /CGTN screenshot
The Swiss government on Friday announced the closure of schools until April 4, banned gatherings of over 100 people, restricted bars and clubs to 50 people and strengthened border controls. But for many, these fell short of what was needed. And the measures paled in comparison to those being taken across the border in France, Italy or Austria.
"I don't know if the federal government doesn't want to or is incapable of taking stronger measures," Marcel Salathé, an epidemiologist at the EPFL polytechnic college in Lausanne, told the national broadcaster RTS, saying he was "disappointed by the slow reaction of the Swiss authorities."
Media and social media noted that despite an emergency meeting on Sunday evening, the government failed to announce any new containment measures.
"Federal Council slow to decide the inevitable," was the daily 24 Heures' top headline on Monday. "Even as everyone demands firm instructions from the government, the seven wise men and women have put off any new measures," it added.
Cantons take matters into their owns hands
Instead, it has been left to the individual cantons to deal with the epidemic. Ticino declared a state of emergency on Saturday and announced the shutdown of all restaurants, cafes and shops – except essentials like supermarkets, pharmacies or banks – as well as cinemas, clubs, theaters and sports facilities. Several other border cantons, including Basel-Land, Jura, Neuchatel and Graubuenden, quickly followed suit.
Meanwhile, cantons bordering Italy have called on the government in Bern to shut down traffic between the two countries to limit contagion, to no avail so far.
"We are living an extraordinary unprecedented situation," Nuria Gorrite, president of Vaud state council, said on Sunday. "The cantons have fulfilled their responsibility but I think now the population wants coherent action on a national scale."
Reactions online have been critical, with some calling the government's handling of the crisis "amateurish," "an embarrassment" and "irresponsible and criminal," while others have called for increased testing or a national quarantine.
Some 2,000 people have already signed a petition demanding that all non-essential activities be put on hold immediately, adding that this is "the only reasonable measure to adopt in the current situation."
(Fans wave Swiss flags at an alpine skiing World Cup race in Crans Montana, Switzerland, February 21, 2020. /AP)
(ASIA PACIFIC DAILY)