Editor's notes:
The author is Prof. Engr. Zamir Ahmed Awan, Sinologist (ex-Diplomat), Editor, Analyst, Non-Resident Fellow of CCG (Center for China and Globalization), National University of Sciences and Technology (NUST), Islamabad, Pakistan. (E-mail: awanzamir@yahoo.com).
Heads of State of the SCO (Shanghai Cooperation Organization) held a video meeting on 10 November 2010.
The SCO summit was attended by the Heads of States of all 8 SCO Member States- Russia, India, China, Pakistan, Kazakhstan, Tajikistan, Uzbekistan, and Kyrgyzstan. The Heads of States of 4 observer states of SCO- Iran, Afghanistan, Mongolia, and Belarus also participated in the summit. All leaders of the member states have addressed the forum.
President Putin chaired the Conference as current Chair of SCO for the year 2019-20. All the member states took an active part, and President Putin, President Xi Jinping, Prime Minister Imran Khan, and other dignitaries delivered speeches.
However, India was dis-comfortable during the meeting because of its misfit in the SCO. Indian actions are in contrast to speech. The SCO Charter focused on promoting peace,security, stability, harmony, understanding, Trade, developments, and win-win cooperation in all fields.
At the same time, India is in confrontation with two of its member: China and Pakistan. India launched hostilities against China along the Lanie of Actual Control (LAC), especially in the Ladakh region. India is opposing the Chinese mega initiative – BRI. India claims Tibet and parts of Xinjiang. With Pakistan, India Occupied Kashmir Forcefully and refuses to implement the UNSC resolutions on Kashmir. India has deviated from the Charter of SCO and imposed Trade Sanction on China and Pakistan. India banned Chiese Apps, Chinese Investments, Chinese products, etc. Similarly, India also restricted Pakistan's Trade, Tourism, people to people contact, and cooperation in many areas.
India has been conducting Joint Military exercises with Japan, Australia, and the US in Malabar, near the Strait of Malacca, threatening China directly. India's engagement in the South China sea is against China, and India is pulling allies in the region against China, like Vietnam, Myanmar, and Philipine. India provided a Submarine to Manyamar to be used against China. India is promoting anti-China sentiments through its state media and social media.
India is keeping a distance from Russia too. India refused to participate in SCO joint Military Exercises sponsored by Russia, and preferred its alliance with Quade – The US, Australia, and Japan, and conducted Malabar Military exercises. India has been shifting its defense needs from Russia to the US and signed several strategic defense agreements with the US instead of Russia. The latestdeal, known as BECA, was most significant and decisive for India to be in American Alliance.
India is at odds with all other SCO member states. Especially with Central Asian countries. India openly supported Armenia against Azerbaijan – an SCO member country. India promotes Islamophobia, and most of the Central Asian states are Muslims.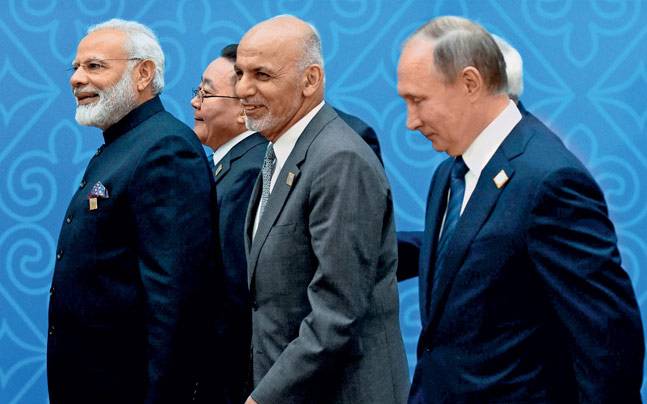 Infact, India has aligned itself with the US and shifted its interests and cooperation with the US and its allies. From the core of its heart, India is pro-America and part of undeclared second cold war. India is trying to be over-clever – staying in BRICS, and SCO, yet opposing BRI, and enjoying BECA like an alliance with the US – is self-contradictory.
India is staying at SCO but feels uncomfortable and misfit due to opposite interests. Even some SCO scholars believe that India, after siging BECA with the US, should leave SCO voluntarily, or its presence in SCO is a threat to SCO, as India may share any indoor sensitive information of SCO with the US. Although SCO is not against any country or group of countries, it always keeps its sensitive issues limited to member states only. Simply, India might be staying in SCO for spying purposes only.
The foreign policy goals of Pakistan are in sync with SCO's vision of regional connectivity and economic integration. SCO is destined to play a pivotal role in the emerging confluence between the Belt and Road Initiative (BRI) and the Eurasian Economic Union (EAEU).

Pakistan's geographical location provides it an ideal opportunity to crystallize the benefits accrued from this process. Pakistan is poised to play a vital part in this regard. Pakistan is an essential SCO member and possesses a vast potential to contribute a lot due to its geostrategic location. Pakistan is a pivot for the whole region. It plays thebridge's role to connect China, Russia, Central Asia, South Asia, East Asia, Eurasia with Middle-East, Europe, and Africa. Pakistan is playing an essential role in achieving durable peace in Afghanistan and the whole region.
Pakistan urges India to give up its hostile mode and extend friendship with China, Pakistan, and all other nations in the area. SCO is facing the challenge of maintaining unity among member states and diffusing tension among member states. Although, after signing the BECA agreement with the US, India is posing a direct threat to SCO and regional countries, Pakistan urges India to make wise decisions to maintain regional stability and prosperity. Pakistan is committed to achieve SCO goals and objectives in true spirit and promote peace, harmony, and cooperation with all nations in the SCO and globally. Pakistan is committed to SCO Charter and will struggle to achive its goals.
China and Russia are two big powers in the SCO; they make their judgment and make the decision accordingly.
(ASIA PACIFIC DAILY)