Liverpool Football Club clinched the Premier League title last month, but players finally got their hands on the silverware after a 5-3 win over Chelsea on Wednesday.
It was the club's first English Premier League title in 30 years.
With seven games remaining in the league amid the COVID-19 pandemic, Liverpool sealed the championship on June 25 when nearest rivals Manchester City were beaten by Chelsea.
Kenny Dalglish, the last Liverpool manager to deliver the title, presented the medals wearing a red face mask before handing the trophy to captain Jordan Henderson who raised it to the night sky as fireworks and tickertape filled the air.
Sadly, because of the pandemic that interrupted Liverpool's charge to the title, the fans missed out on what would have been a momentous night at Anfield stadium.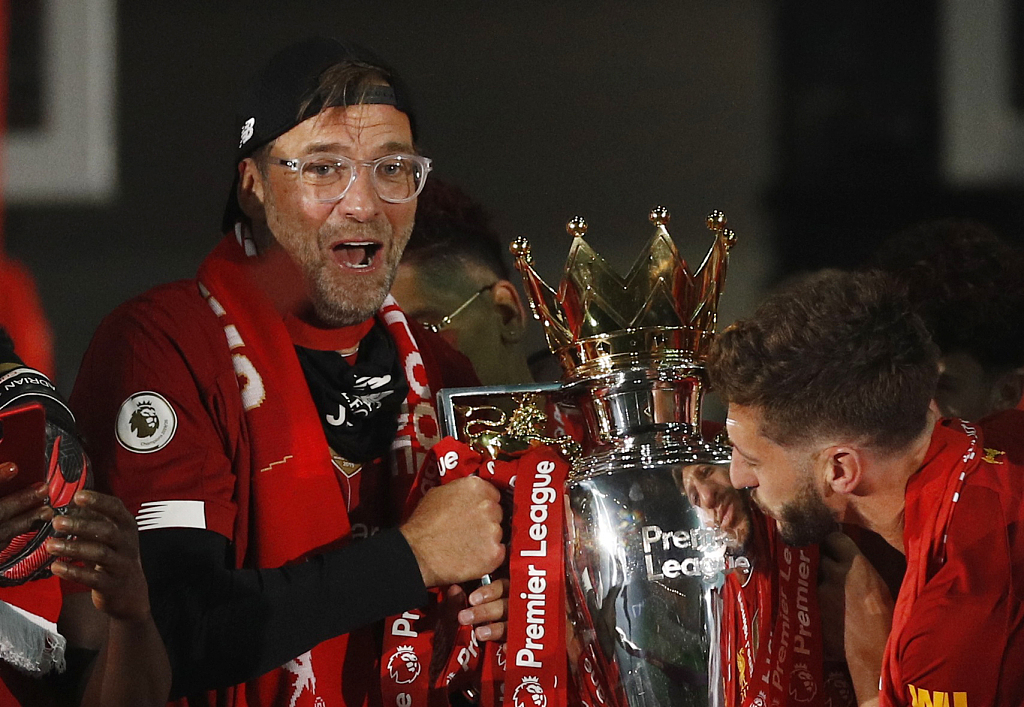 Liverpool's German manager Jurgen Klopp holds the Premier League trophy at Anfield stadium in Liverpool, UK, July 22, 2020. /VCG
'The others won't sleep': Manager Klopp wants even more from Liverpool
Liverpool's German manager Jurgen Klopp believes his side will need to keep improving to hold off the chasing pack next season after lifting the Premier League trophy.
He believes there is still improvement for his players to make despite becoming English, European and world champions over the past 14 months.
"We should not stop, we have internal challenges to improve," said Klopp.
"We have the chance to make another step, but we have to because the others will not sleep.
Liverpool also beat Chelsea to lift the Union of European Football Associations (UEFA) Super Cup at the start of the season to go with the Premier League, Champions League and Club World Cup and Klopp admitted he will take time for a special moment after an incredible run of success.
"We are champions of England, Europe and the world. We won four trophies, really big ones, so I couldn't be more proud," he added.
"I'm usually not a person who needs pictures but I will have a picture with all four trophies because it doesn't happen often, so we should."
Fireworks illuminate Anfield stadium as fans gather outside to celebrate the club's Premier League title in Liverpool, UK, July 22, 2020. /VCG
Celebration amid COVID-19
A trophy presentation without fans was always going to feel a little flat, although the real fireworks have been provided over a sensational season by a superb Liverpool side.
Merseyside police in Liverpool had issued a 48-hour dispersal order to stop fans gathering in large numbers across the city, as they did last month.
Many did gather outside, however, letting off flares and fireworks.
Despite the sanitized ceremony in the 53,000-seater stadium, Liverpool's players did their best to fill the void, belting out a rendition of the club's anthem "You'll Never Walk Alone" along with Klopp and his staff.
"If you don't see that we do it for you I can't help you," Klopp said when asked for his message to the fans.
"You made us happy, we all should celebrate at home. Prepare for a party and when this virus has gone we will have a party."
Liverpool chief executive Peter Moore said the players and fans will "come together to celebrate" when the time is right.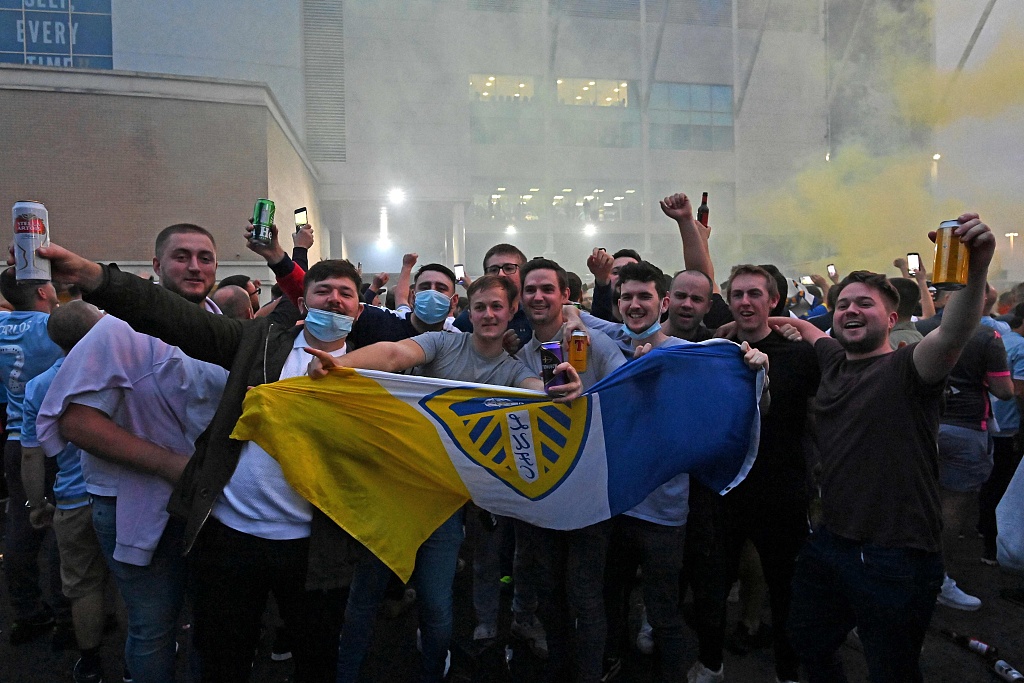 Leeds United supporters gather outside their Elland Road ground to celebrate the club's return to the Premier League after a gap of 16 years, in Leeds, UK, July 17, 2020. /VCG
Next season
Chelsea have already strengthened ahead of next season with the signings of long-term Liverpool target Timo Werner and Hakim Ziyech.
Klopp also expects Manchester City and Manchester United to bolster their squads.
Clubs that have clinched promotion recently to the Premier League include West Bromwich Albion and Leeds United.
West Bromwich earned a spot in the top flight next season after a nail-biting 2-2 draw against the Queens Parks Rangers on Wednesday and Leeds United won the Championship on July 17 to end their 16-year absence from the league.
(CGTN)