From table tennis Grand Slam champion to China's men's team head coach, then chief coach and Chinese Table Tennis Association (CTTA) President, Liu Guoliang has enjoyed several different roles over the last two decades.
"Life is always a process of self-challenges," the 44-year-old Chinese table tennis icon said.
His stellar career in the sport continues, as he was appointed as the Council Chair of World Table Tennis (WTT), an organization launched last year by the International Table Tennis Federation (ITTF) and will manage ITTF's all commercial and event business from 2021.
In 1999, Liu achieved his Grand Slam-winning feat by claiming the World Championships men's singles title in Eindhoven.
Retiring in 2002, he became the head coach of China's men's team a year later and took charge of Team China as the chief coach in 2013.
China adopted some reform plans in June 2017, abolishing the positions of chief coach and head coaches. Stepping down as chief coach, Liu was named vice president of the CTTA, drawing a conclusion to his brilliant 14-year coaching stint which saw a total of nine Olympic gold medals and 29 world champions.
In September 2018, he made a return by leading the preparatory team for the election committee of the CTTA.
Standing in the training venue which he had spent so many years in, Liu felt like he was "coming back home."
"It feels like having a long vacation. Now I'm back," he said.
But it seemed that he never truly left the sport. Over these 15 months, he became an online commentator and was pictured watching live broadcasts of matches through his mobile phone when dining.
Three months later, he was elected CTTA President, which came as no surprise.
"My priority as CTTA president will be the preparations for the Tokyo 2020 Olympic Games, and the authority's management restructuring to promote the sport's professionalism, commercialization and globalization," he noted.
With the return of their boss, Chinese players had greater confidence in their Tokyo Olympics preparation.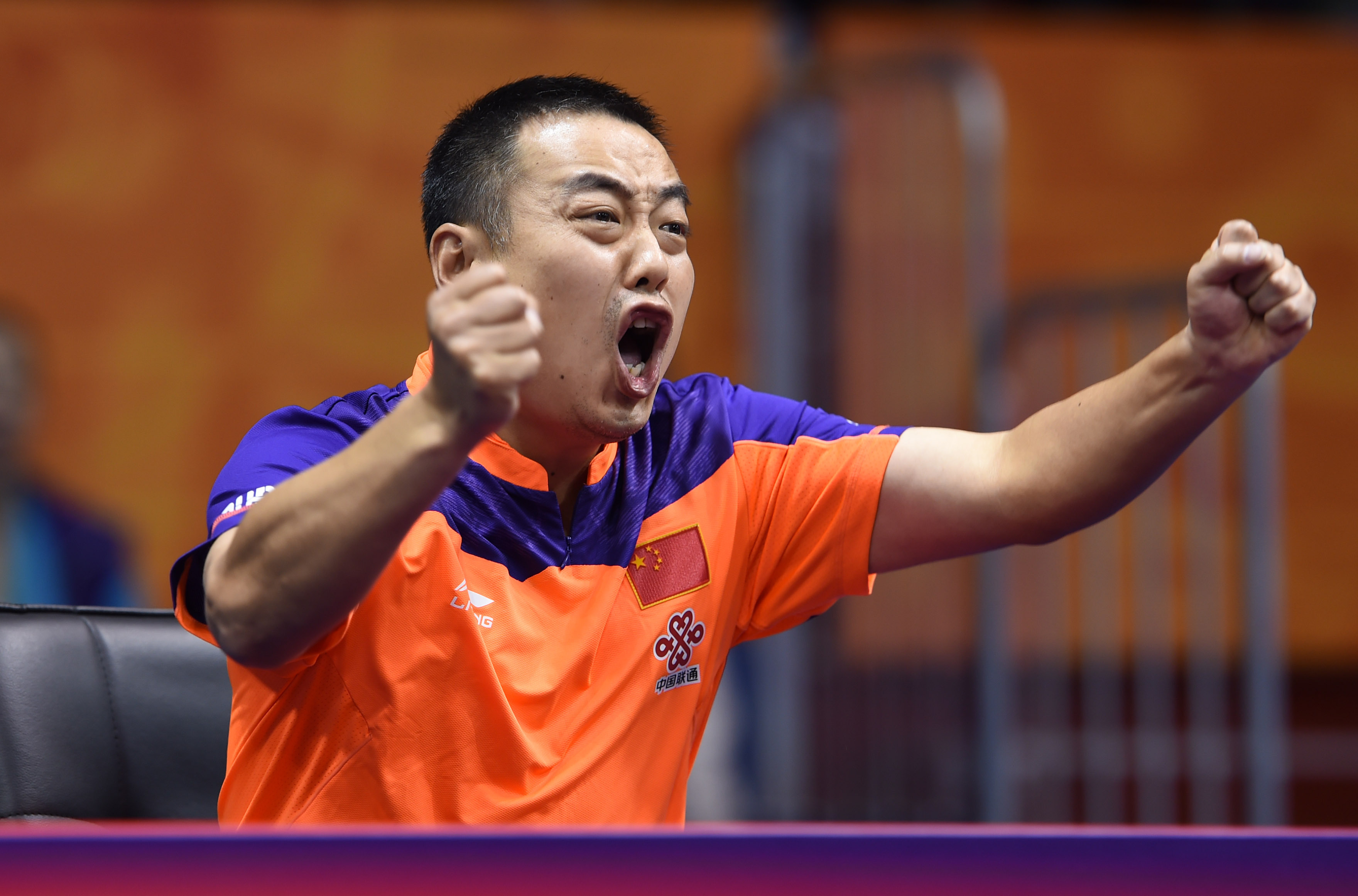 File Photo: Liu Guoliang celebrates for China's Xu Xin during Men's Singles match against Russia's Alexander Shibaev at the 53rd Table Tennis World Championships in Suzhou, city of east China's Jiangsu Province, on April 30, 2015. (Xinhua/Li Ga)
In early 2019, the CTTA announced the establishment of a strategic system for Tokyo Olympics preparation, also announcing the "harshest terms" as motivating measures.
Liu said that he would forego his entire year's salary if his national team coaches fail to reach their stated goals throughout the year.
Liu was clearly aware of challenges from other forces, especially 2020 Olympics host nation Japan, who are eager for success on home soil.
The strict measures did work. Team China swept five golds at the World Championships in Budapest, and claimed all titles at Team World Cups, Men's and Women's World Cups.
Coming into the Olympic year of 2020, world sports were hugely affected by the COVID-19 pandemic, as the Tokyo Olympic Games were postponed to 2021, and international table tennis competitions were suspended.
Taking charge of the Chinese team's isolated training in Qatar and the Macao SAR, Liu received an invitation from both the ITTF and WTT for the WTT Council Chair position.
"We want someone who has a lot of experience in our sport and understands a little bit about the modern way of trying to do sports events. When we looked around, we could see that probably the best person is Liu Guoliang," said ITTF chief executive officer Steve Dainton.
Apart from a stellar career as an athlete and experience as CTTA's chief, Liu's innovative idea is more appreciated by the world's table tennis governing body, as it caters to WTT which aims to provide a better platform for all players around the world.
"We've seen what he has done in China in the last ten years. He created some events within the national team like the 'Marvelous 12' and so forth. His thinking is really deep about how to make a nice event and product for our sport so that we can do a better job in promotion," Dainton noted.
Stepping onto a bigger stage, Liu has to broaden his vision and place the sport's development in a scenario of "table tennis community" where all stakeholders need to work together.
"It is crucial to resume and reconstruct table tennis," he commented.
But he has never swayed from the original aspiration of expressing the uniqueness of Chinese table tennis culture and telling the Chinese story to the world table tennis community.
"Chinese table tennis, shared with the world," he said.
(ASIA PACIFIC DAILY)