The Chinese Basketball Association (CBA) on Monday, May 18, which is also International Museum Day, announced that the Chinese basketball museum will be built in the country's oldest indoor basketball arena, the Young Men's Christian Association of Tianjin.
"As a nonprofit institution, this museum carries the mission of digging, tagging, developing, inheriting and passing the Chinese basketball culture. It will also be an important platform for international communication of sports," said the CBA on Weibo.
James Naismith invented basketball in Springfield, Massachusetts in 1891. Five years later, Dr. David Willard Lyon organized the first basketball game in China at the Tianjin TMCA, making the coastal metropolis in north China the birth place of basketball in the country.
Such a museum can help display China's precious basketball memories. Though the latest men's national team did not do well in the FIBA Basketball World Cup at home last year, China, as the leading team in Asia, have achieved some success that deserves to be remembered.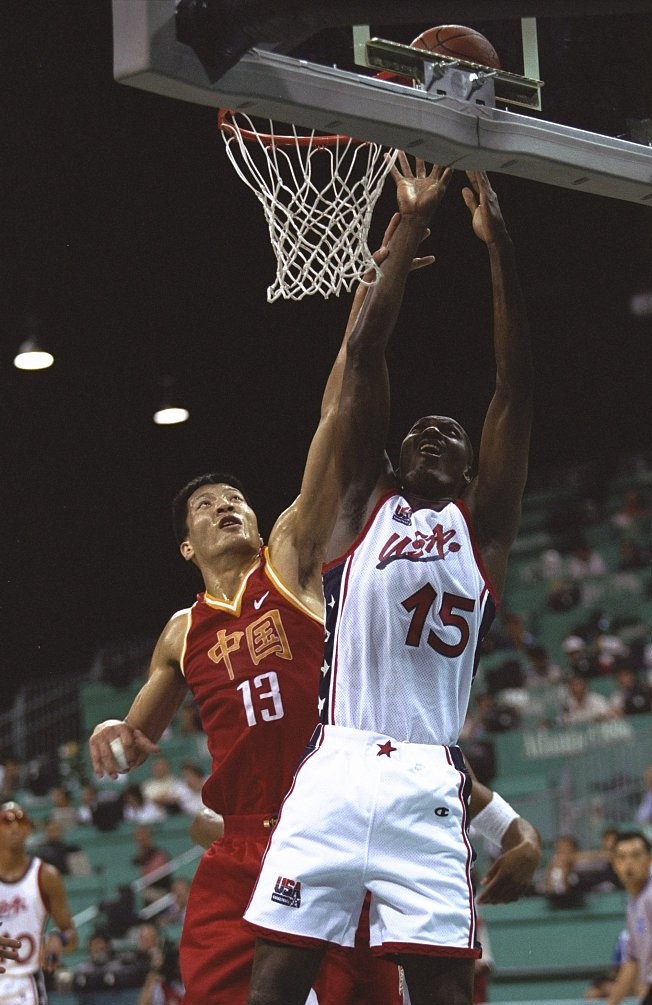 Mengke Bateer, #13 of China, defends Hakeem Olajuwon, #15 of Team USA, in men's basketball group game in the Summer Olympics at the Georgia Dome in Atlanta, Georgia, July 26, 1996. /VCG
For example, the Chinese national team led by the Golden Generation – Sun Jun, Hu Weidong, Liu Yudong, Gong Xiaolin, Wang Zhizhi, Mengke Bateer – made a historic breakthrough by reaching the quarterfinals at the Summer Olympics in Atlanta in 1996. They defeated Angola and Argentina in the group stage. The moment 19-year-old Wang Zhizhi blocked David Robinson of Team USA still delights many Chinese fans.
Yao Ming, #13 of China, blocks a shot by Kobe Bryant, #10 of Team USA, in men's basketball group game at the Summer Olympics in Beijing, August 10, 2008. /VCG
12 years later in Beijing, the Chinese national team again assembled the best players led by Yao Ming, Yi Jianlian, Liu Wei, Sun Yue, Zhu Fangyu, Wang Shipeng to host the world's top teams at home. Again China claimed a big win over Angola while Yao Ming destroyed the opponents' paint by dropping 30 points. In the most important game against Germany, Yi Jianlian made the game-sealing jumper in front of Dirk Nowitzki in the final minute. Of course, people still remember the scenes of Sun Yue blocking Dwight Howard and Yi Jianlian dunking over Carmelo Anthony.
May good memories live on forever and more new ones join them in the future.
(CGTN)