China overcame Qatar 3-1 in the semifinals of the Asian men's Tokyo Olympic volleyball qualification on Saturday, setting up the final clash with Asian champions Iran.
Jiang Chuan scored a match-high 23 points, Dai Qingyao had 13, Zhang Zhejiang contributed 12 and Liu Libin added 11 to lift China a 25-22, 25-18, 23-25, 25-20 victory.
The hosts dominated in front of the net with 12 blocks compared to Qatar's only four.
Zhang Zhejia and Liu Libin combined for three blocks to gift China a 24-20 lead in the fourth set before Liu's powerful ace sealed the victory.
"We started well but we made some mistakes in the second set, making the players a bit nervous. Fortunately, we did a good job on blocks and won the match at last," Jiang Chuan said after the match.
China will take on Iran in the final, who edged South Korea 3-2 in the other semifinal.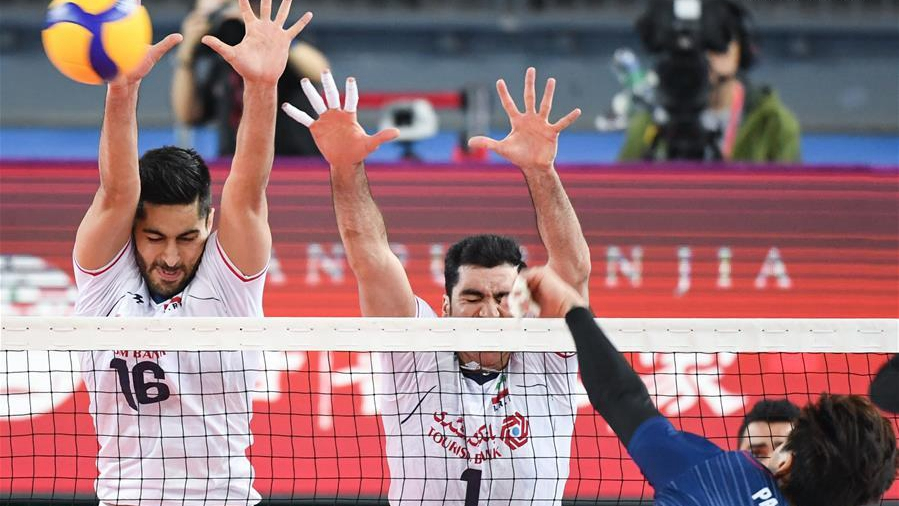 Players of Team Iran defend during the semifinal match against South Korea at AVC men's volleyball qualification for 2020 Tokyo Olympic Games in Jiangmen, southern China's Guangdong Province, January 11, 2020.
"Iran are the champions and they are the best team in Asia. Everyone in the team shall spare no effort to fight with full energy," Jiang said.
The final is slated for Sunday with the winners to collect the only ticket on offer to the Tokyo Olympic Games.
"We have come this far, and we shall not forget why we get started," China coach Shen Fulin said.
"No one wants to come home with regrets, we will fight to the end with our style," Shen added.
(ASIA PACIFIC DAILY)