World No. 1 male and female paddlers Fan Zhendong and Chen Meng both made the singles finals at China's Table Tennis Olympic Simulation Tournament in Nanyang, central China's Henan Province, on Sunday.
24-year-old Fan overcame a slow start and some unforced errors to rally past rising star Wang Chuqin, 10-12, 12-10, 11-6, 6-11, 11-9, 12-10.
Fan could have wrapped up the match earlier as the 2016 World Cup winner led 6-4 in the sixth set. But he was overtaken the lead 10-6 by 21-year-old Wang. Then Fan had to save four set points in a row before holding on to win the final set 12-10.
"I didn't lose self-confidence even when I was trailing," said Fan after the match.
"Thank to the selection regulation, I can earn a berth at the worlds through my own efforts through the trials. It's fair for everyone," Fan said.
With this victory, the runner-up of the Olympic simulation in Xinxiang, Henan Province, earlier this month secured a first-place finish in these two competitions ahead of the final and booked a place to represent China in November's World Championships in Houston, the United States.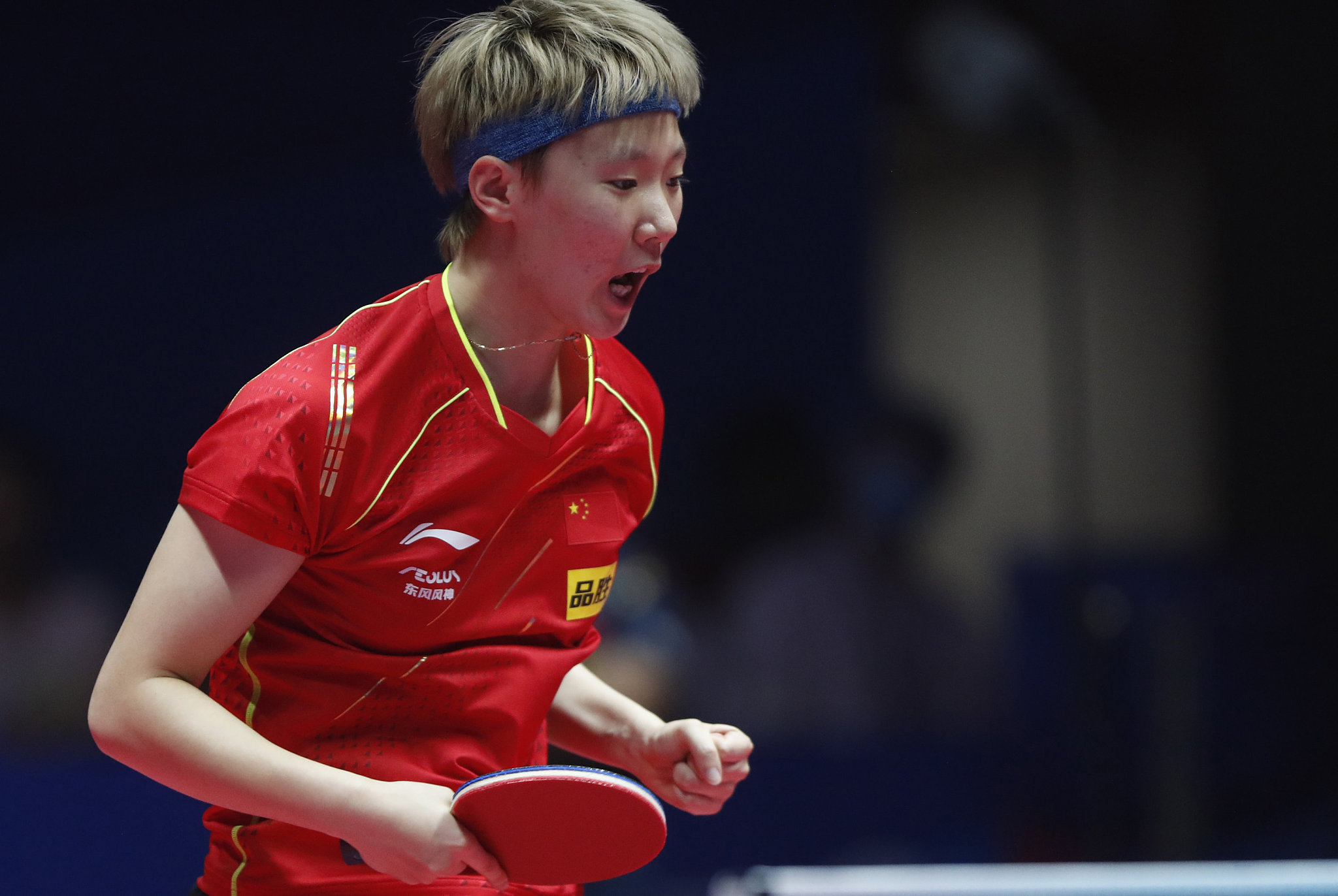 Wang Manyu of China plays during the Table Tennis Olympic Simulation Tournament in Nanyang, Henan Province, central China, May 30, 2021. /CFP
World No. 4 Wang Manyu came out as a surprising winner at the tournament on Sunday, upsetting world No. 1 Chen Meng 4-2 in the women's singles final.
The 22-year-old, who's failed to get an Olympic spot after an internal competition and was only named in the Chinese squad as a substitute for Tokyo 2020, didn't open well but managed to come back from one set down.
Leading 3-2 on sets and 10-5 in the sixth set, Wang seemed to panic a little bit, wasting three match points in a row before finally making up her mind to go all out.
She wrapped up the title-winning match 7-11, 11-8, 13-11, 14-12, 4-11, 11-8.
"I was so desperate for a singles championship that I could hardly put my mind together when the victory was just around the corner," said Wang, who last claimed a title in a women's singles event at the Qatar Open in earlier 2019.
"I know I'm a substitute with P-card that may not have a chance actually to debut on the Olympic stage, but I should be well prepared just like the Olympians. That's why I'm now playing a humble game and focus on every detail," she added.
Chen, who's spearheading China's challenge to the Olympic women's singles and team titles, said before the evening's matchup that she'd firmly play her own table tennis, no matter who's on the other end of the table.
Despite missing out on the singles trophy in Nanyang, Chen, who lifted the trophy in the other Olympic simulation in Xinxiang, finished on top of the overall rankings of the two trials.
(CGTN)