A food technology company in Barcelona, Spain has created a plant-based steak by using a 3D printer.
Novameat created the world's first 3D-printed plant-based vegan "beef" steak in 2018 but has now revealed an updated version of what is described as a "Nespresso for meat substitutes."
CEO and founder of Novameat, Giuseppe Scionti, said: "We use a 3D printer so we can get the appearance and the texture of a traditional steak at the same time."
The 3D printer is used to get the appearance and texture of a traditional steak, above. /AP
THE PROCESS
Syringes dispense plant-based ingredients in thin lines to build up a fibrous structure that resembles a regular piece of meat.
The formula consists of pea and rice protein extract, rapeseed fat and algae fibers.
3D PRINTERS AND THEIR USES
3D printers are currently used in several business sectors worldwide.
A majority of hearing aids are made with a 3D printer, while the International Space Station uses one to build replacement parts for its machinery.
More than 1.4 million 3D printers were sold worldwide in 2018, a figure that is estimated to rise to 8 million by 2027, according to Grand View Research.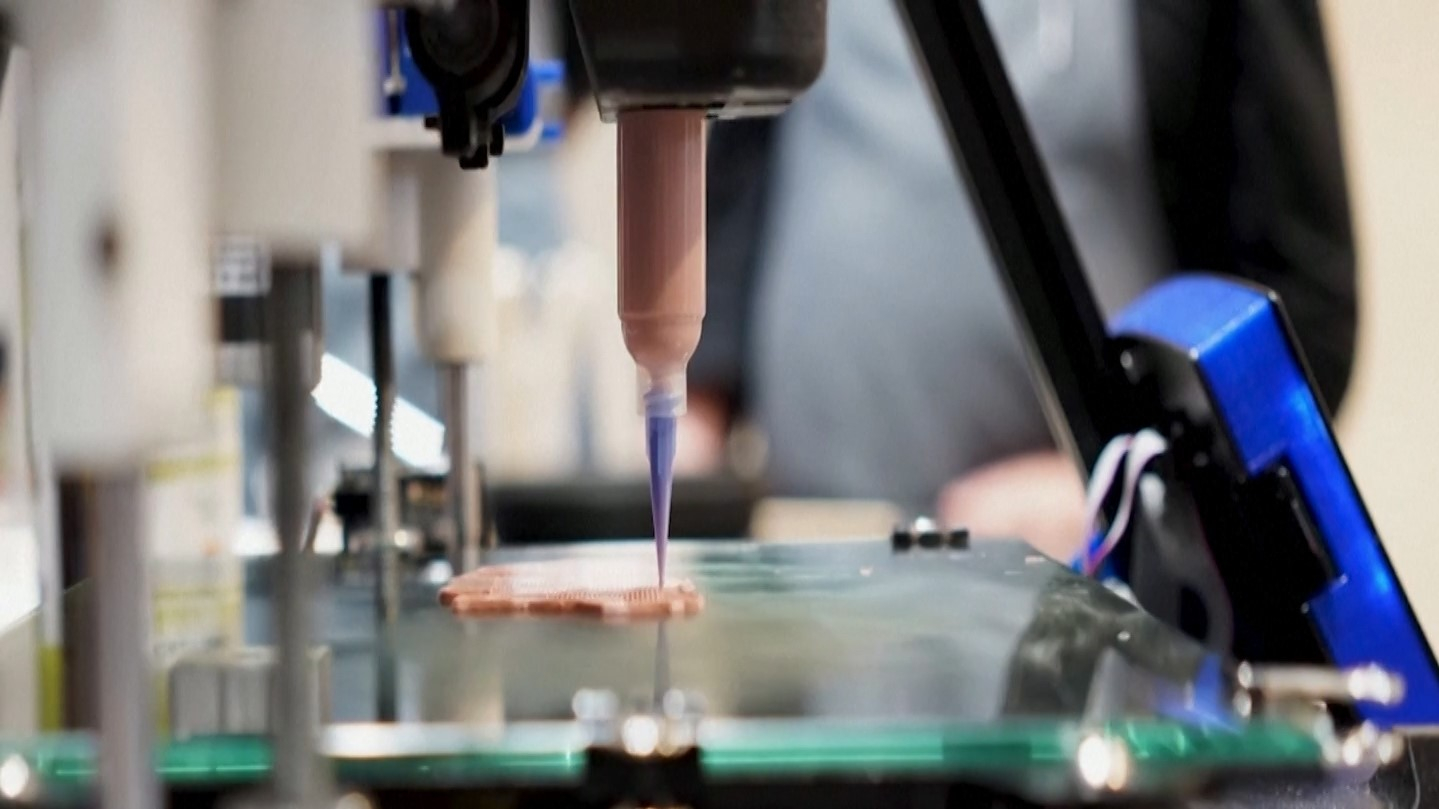 Syringes dispense plant-based ingredients in thin lines to build up a fibrous structure. /CGTN
THE FUTURE OF 3D PRINTERS IN FOOD
Novameat is not just stopping at the creation of 3D-printed steak. Scionti said, as global population is increasing, so is meat consumption, therefore the company "needs to find a solution and create more alternatives to meat."
He added: "The next step is to work with top chefs to create new products that can be plant-based. For example, plant-based pork and fish."
Scionti believes in future 3D printers will features in homes across the world, where people can create customized food in their own kitchens.
3D-PRINTED MEAT FACES GROWTH CHALLENGES
The "meatless" meat does face its own challenges, with many consumers still uncertain about it.
It currently represents less than 1 percent of the global meat market and Paul Hughes, chief agricultural economist and director of research at Agribusiness Intelligence, has his reservations about whether this will grow in the future.
"It faces different challenges – it's mostly appealing right now to a niche consumer; urban, young fairly affluent consumers. To go broader, it faces many challenges including cost."
Hughes also said the printed meat is loaded with genetically modified organisms (GMOs), which many consumers are against.
(ASIA PACIFIC DAILY)