A US and Russian astronaut have successfully made an emergency landing following a rocket failure on a mission to the International Space Station.
Shortly after lift-off, the Soyuz rocket was reported to have suffered significant engine difficulties which has caused the mission to be aborted.
Despite the failure affecting the booster rocket, the crew members are "alive and set to land in Kazakhstan" Russian media reported.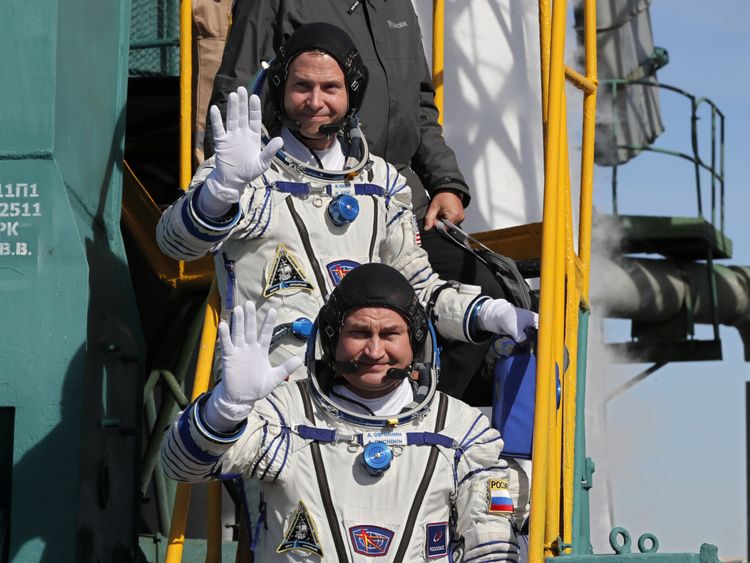 Image:
ISS crew members Nick Hague and Alexey Ovchinin
It is understood that helicopters were sent to locate NASA's Nick Hague and Roscosmos' Alexei Ovchinin.
In a statement, NASA said: "The crew are in good condition and in contact. Search and rescue teams are en route to the landing location and we await further updates."
The ISS crew members currently in-orbit have been "notified of the launch contingency" a NASA spokesperson added.
The managing editor of NASA Spaceflight reports how an on board view of the launch showed the crew being shaken around during the launch, and says "the staging was clearly off-nominal".
Spaceflight historian Gunter Krebs noted on Twitter that the situation reminded him of another Soyuz rocket failure in 1972, when "an inflight booster failure occurred and the crew was rescued after ballistic reentry."
Ballistic reentry involves only the forces of gravity and aerodynamic drag, rather than orbital forces helping the returning capsule using orbital forces to slow down the speed of fall.
Malfunctions causing ballistic reentry have occurred a number of times with Russia's series of Soyuz rockets.
All Russian manned space launches have been suspended after the incident, according to Russian news wire RIA.
(SKY NEWS)