North China's Shanxi Province has rolled up a series of plans to reform its energy sector, aligning with the country's goals of green development.
The province has fully implemented the new strategy for energy security, formulated an action plan for the development of five major energy bases, identified 85 key tasks, and achieved initial results, Hu Yuting, executive vice governor of Shanxi, also member of the Standing Committee of CPC Shanxi Provincial Committee, told CGTN.
Given Shanxi is a vital energy supplier to China, the central government has made it the country's first pilot province for comprehensive energy reforms, he said.
Shifting from coal to green energy
Shanxi, which used to be a key producer of coal in China, is trying to shake that reliance on traditional coal usage and making efforts to supply green energy, such as developing green coal mining and increasing reserves and production of unconventional natural gas.
During the 13th Five-Year Plan period, 181 coal mines have been eliminated, and 157 million tons of coal overcapacity have been eliminated in Shanxi.
The province has promoted smart, green and safe coal mining and built the first 5G smart coal mine in China. The proportion of advanced coal production capacity has increased to 68 percent, and the death rate per one million tons of mined coal has reached the leading level in the world.
Regarding unconventional natural gas, Shanxi has made a three-year plan to deal with the storage and optimize production of coalbed methane, aiming to produce 20 billion cubic meters by 2022.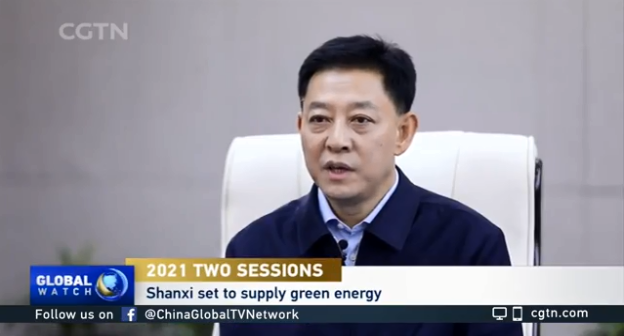 Hu Yuting, executive vice governor of Shanxi, also member of the Standing Committee of CPC Shanxi Provincial Committee. /CGTN
Increase new energy supply
The installed capacity of new energy has increased by 2.36 times compared with that at the end of the 12th Five-Year Plan, according to Hu.
Among them, the installed capacity of wind power and photovoltaic power grew at an average annual rate of 24.26 percent and 63.22 percent, respectively, he added.
Meanwhile, the province has also accelerated the development of new energy sources, such as geothermal energy, hydrogen energy and biomass energy.
Major breakthroughs have been made in key core technologies in some fields: Coalbed methane synthetic diamonds, carbon-based semiconductor materials, high-end carbon fiber, Jinhua furnace and other technologies and products have become global front runners.
Coalbed methane coiled tubing fracturing technology and equipment have acquired independent intellectual property rights, the governor said.
Pioneer in reforming China's power system
Shanxi is also a comprehensive pilot province for reforming China's national power system.
Hu said Shanxi has introduced a series of measures to develop the electric power system, promote market-based trading of energy use rights, and improve the mechanism for compensating energy and resources development.
Shanxi's electricity transmission and distribution price reform, spot market transaction, incremental distribution reform, and so on take the lead in the country, he added.
To support China to exceed the goals of peaking CO2 emission by 2030 and reaching carbon neutrality by 2060. Shanxi will promote clean energy consumption, replacing coal with gas and electricity, Hu said.
All taxis and buses in 11 cities in the province have been replaced by new energy vehicles, he elaborated.
Hu also noted that expanding energy openness and cooperation is also helped energy reforms. It has deepened practical cooperation with the International Energy Agency, the World Bank and world-renowned energy enterprises.
Taiyuan Energy Low-Carbon Development Forum has become a national-level, international and professional platform for cooperation and exchange.
(CGTN)