Three-time NFL Defensive Player of the Year J.J. Watt has agreed to a two-year contract – which, according to ESPN's Adam Schefter, is worth $31 million including $23 million in guaranteed money – with the Arizona Cardinals, announced the team on Monday.
Watt broke the news first by tweeting a photo of him doing exercise wearing a Cardinals shirt before the team did. Later the 31-year-old posted another two photos of him posing with the Cardinals' owner Michael Bidwill and him being with his wife Kealia. They seem to be on the way to Arizona in Bidwill's plane.
"I'm excited to get started. Very excited to get started, get to work, get to know the people of Arizona," said Watt after the plane landed.
Since he was selected by the Houston Texans with the No. 11 pick in the NFL Draft in 2011, Watt has grown to become the league's top defender who was named for the All-Pro First Team and the Pro Bowl for both five times. He was also two-time sacks leader.
Injuries began to hold Watt back in the recent five seasons, he only played 16 games in two of them, including the 2020 season in which he had career-low five sacks. Fairly speaking, that also had a lot to do with the Texans' poor help he could get from teammates.
That should be able to change in the Cardinals. First, Watt will pairing with Chandler Jones, who has a league high 97 sacks since he entered the NFL in 2012. The second-best record was Watt's 95.5, by the way.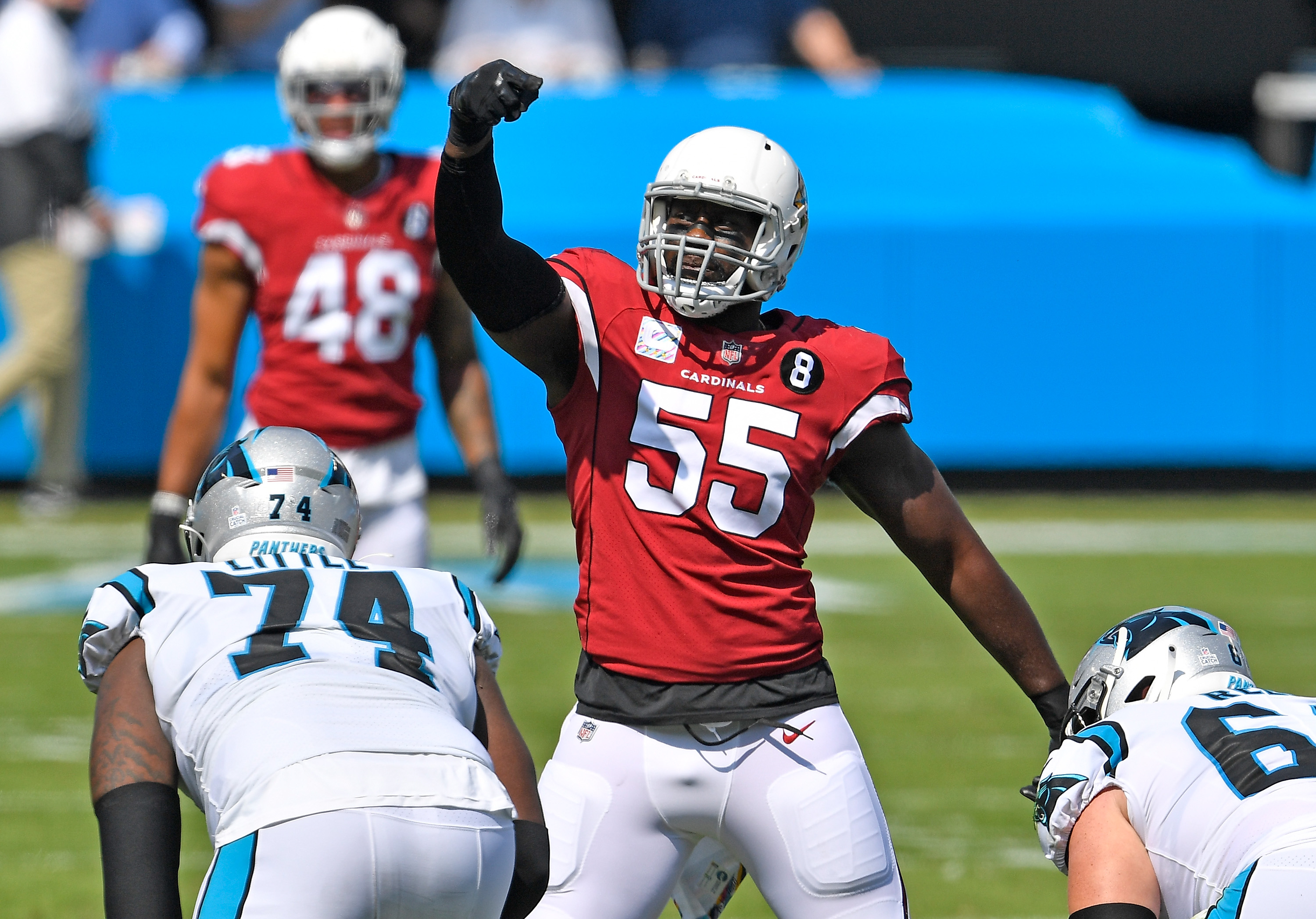 Outside linebacker Chandler Jones #55 of the Arizona Cardinals gestures to the official after a false start by the Carolina Panthers in the game at Bank of America Stadium in Charlotte, North Carolina, U.S., October 4, 2020. /CFP
Furthermore, the Cardinals' defensive coordinator Vance Joseph had been the Texans' defensive backs coach between 2011 and 2013. During that period of them, Watt made the All-Pro First Team twice.
One interesting story should be told: Four days after Watt was released by the Texans, his former teammate wide receiver DeAndre Hopkins (who is playing for the Cardinals) posted a photo of himself and Watt edited into wearing Cardinals jerseys on Instagram with "Let's finish what we started..." Then on Monday, Hopkins tweeted "Life is good in Arizona!" in response to the news of Watt joining the team.
"The one thing I can promise you is I'm going to work my ass off every single day to make you proud. Very proud to be a part of the 'Bird Gang' and the 'Red Sea,'" said Watt, according to ESPN.
(CGTN)