French President Emmanuel Macron announced on Monday that international travel will be limited even during the summer holiday, and thus French citizens have to adapt their holiday plans accordingly.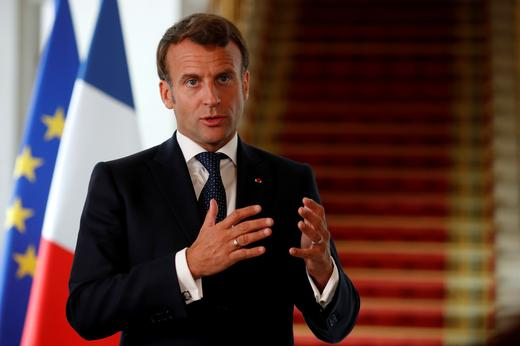 Emmanuel Macron delivers a speech on May 5. /Photo via Reuters
Even though the battle against the virus has not yet been won, he wishes the families could enjoy the summer weather.
Lockdown measures are set to begin lifting on May 11, under which people could move up to 60 miles from their residence.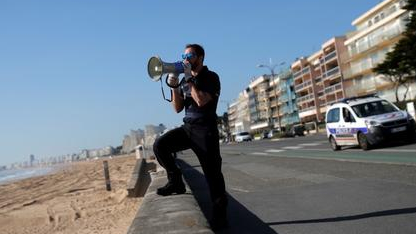 French police evacuate the beach in Pornichet as the lockdown imposed. /Photo via Reuters
As one of the countries in Europe with the strictest lockdown measures, France is slowly easing its coronavirus lockdown.
Greece lifts total lockdown
Meanwhile, Greece, where the infection situation is far better compared to other EU countries, has partially lifted its 42-day lockdown as of this Monday after the Prime Minister Kyriakos Mitsotakis briefed President Katerina Sakkllaropoulos on the latest developments.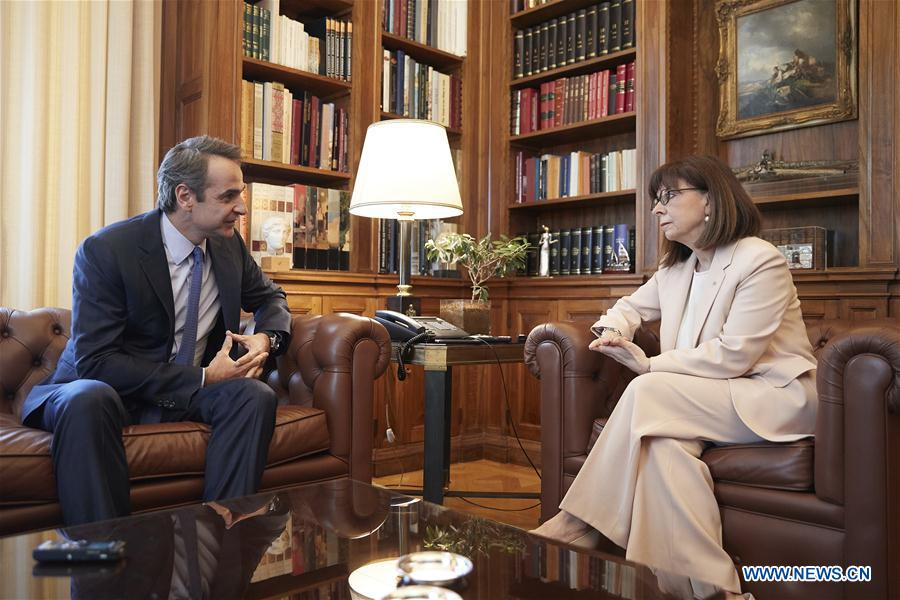 Greek Prime Minister Kyriakos Mitsotakis (L) visits Greek President Katerina Sakellaropoulou to brief her on developments regarding the management of the COVID-19 crisis at the Presidential Mansion in Athens, Greece, on Monday. /Photo via Xinhua
Under the remaining lockdown restrictions, outdoor archaeological sites in the country are still closed until May 18 while hotels and restaurants could open on June 1.
The prime minister said on the daily brief that the country's tourist season could "conditionally kick-off" in July.
"The country would accept visitors under very specific protocols, possibly with pre-travel testing agreed at the EU level and provided that the global epidemic is on a downward path," he told CNN then.
Tourism represents 12 percent of the Greek economy, pooling 20 percent of the workforce of the whole country and 10-12 percent of economic output last year, according to Forbes
"Ideally, we want more high-end tourists which can actually help the country respect the social distancing," the prime minister said to CNN.
Commuters wearing protective face masks disembark a train in Greece on Monday after the country annouced easing the restriction. /Photo via Reuters
'Tourism is facing the crisis of our generation," said Charalambos Voularis, the owner of two resorts in a Greek island on the Ionian Sea.
"We don't know if our hotels will open and when they will open, so we are on the brink of very hard times right now,' said Voulgaris, adding that the occupancy rate will be "very low."
Passenger traffic plunged by as much as 90 percent for ferries, according to the Passenger Shipping Business Association, and by 59 percent for domestic and international flights in March, according to the Civil Aviation Authority.
Greece, which has a population of 10.72 million, has registered 2,632 cases of COVID-19 infections and 146 fatalities, according to Johns Hopkins Coronavirus Resource Center.
(ASIA PACIFIC DAILY)