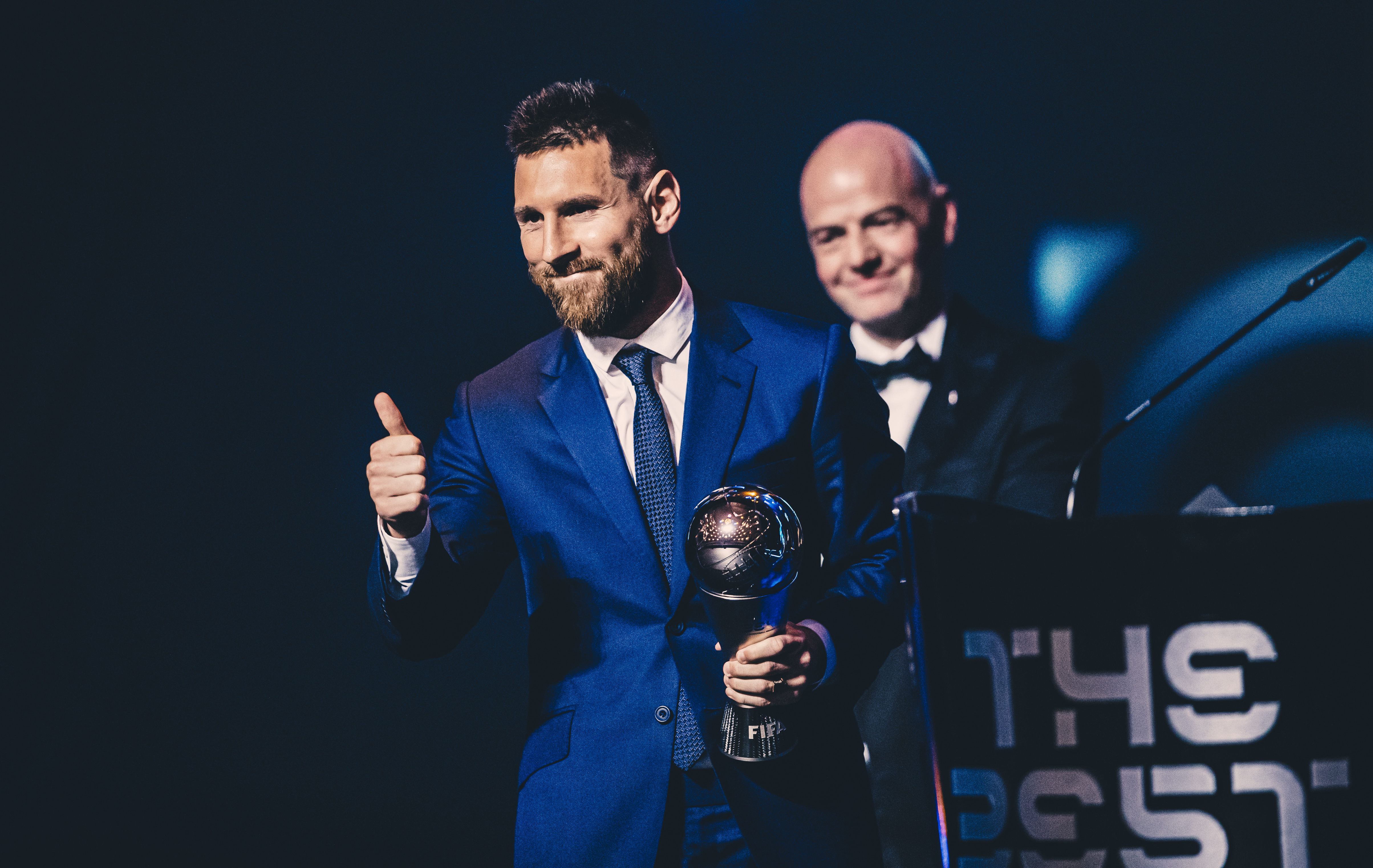 Lionel Messi (L) of FC Barcelona and Argentina thumps up after winning The Best FIFA Men's Player award, along with FIFA president Gianni Infantino at the award ceremony in Milan, Italy, September 23, 2019. /CFP
The Best FIFA Football Awards ceremony organized by the International Federation of Association Football (FIFA) is now slated to take place on December 17, where the successors to Lionel Messi and Megan Rapinoe will be announced.
The original awards ceremony was postponed in September due to the coronavirus and the new ceremony will be a "virtual" event.
"This year, it has been clearer than ever that nothing is more important than health," FIFA said in a statement.
"The protagonists of the game have taken on greater responsibility, not just as players, but also as role models giving hope to communities everywhere and sharing messages of unity in the face of the ongoing public health crisis."
There are prizes for the best men's and women's player, coach, goalkeeper, best 11, best goal and best fans.
The winners are voted for by the national team captains and coaches, 200 journalists as well as an online ballot of fans. Voting will run from November 25 to December 9.
Cagliari Calcio's Uruguayan player Diego Godin (up) and Bologna FC's Japanese center-back Takehiro Tomiyasu in action during the Serie A match in Bologna, Italy, October 31, 2020. /CFP
An outbreak of COVID-19 cases in the Uruguay squad is causing increasing alarm as captain Diego Godin became the 16th member to test positive for the virus on Friday after returning to his club.
The country's health ministry fined the Uruguayan football federation $15,000 for "failure to respect health protocols" following the raft of infections that occurred as the national team assembled for two World Cup qualifiers.
Atletico Madrid are furious after two of their players tested positive, including Luis Suarez. The striker missed Tuesday's 2-0 home defeat by Brazil as a result.
Suarez, along with Lucas Torreira, is also unavailable for Saturday's game against his former club Barcelona.
Diego Godin looks dejected after Uruguay's 2-0 loss to Brazil during the South American qualifiers for World Cup FIFA Qatar 2022 in Montevideo, Uruguay, November 17, 2020. /CFP
Atletico President Enrique Cerezo criticized the laxity of the measures taken by the Uruguayan federation.
"They weren't tested," he told Cadena Ser radio Thursday. In Spain, "the players don't shower. We monitor them before and after a match and training."
According to Spanish media, La Liga intends to file a complaint with FIFA.
"I'm saddened that we're going on a witch hunt. We've been careful but we're not untouchable," said Uruguay Assistant Coach Celso Otero.
Uruguay's Health Minister Daniel Salinas was troubled by a photo posted to Twitter on Saturday showing nine players gathered round a barbecue. Five of them have since tested positive.
"There's been a certain lack of concern," the minister told reporters.
Defender Matias Vina was the first player to test positive after last week's 3-0 win over Colombia. He plays for Brazilian club Palmeiras, who have reported 17 cases of coronavirus.
Liverpool manager Jurgen Klopp has spoken to Mohamed Salah after the Egyptian forward returned two positive tests for coronavirus while on international duty with Egypt.
Salah, who was reportedly seen dancing at his brother's wedding in Egypt, is now in self-isolation. He will miss Sunday's game against Leicester and is likely to miss the Champions League tie against Atalanta.
Klopp said Salah was back on Friday and the pair's relationship was "fine."
The German coach added: "He is in a good place. He feels well... There is nothing to say in public about all the things I talk to my players about but I can say in the summer I was in Germany and a friend moved his birthday party because I was there. I decided at the last minute not to go and it was allowed in Germany. It was outside but I did not go."
"What I can say is that my players are all incredibly disciplined. There were some cases but they all know about the situation. But sometimes it doesn't work out like this and something happens, and we are in the situation we are in, but all the rest is between me and Mo, and we did that already so we are fine," he further explained."
(CGTN)