Chengdu has been without new cases of COVID-19 for 12 consecutive days as of Tuesday, since five confirmed cases and one asymptomatic case were reported in late July.
The three medium-risk areas in Chengdu, the capital of Sichuan province, are expected to be "cleared" this week.
This wave of the epidemic, whose first outbreak was reported at the Nanjing Lukou International Airport in Jiangsu province, has affected at least 29 cities across the country.
However, Chengdu, a mega-city with a population of over 20 million in Southwest China, has managed to bring the epidemic under control in a short time due to its effective measures.
It took Chengdu just two hours to complete an epidemiological investigation into its first three confirmed cases, which not only helped the city prevent and control the epidemic, but also served as a warning for the whole country.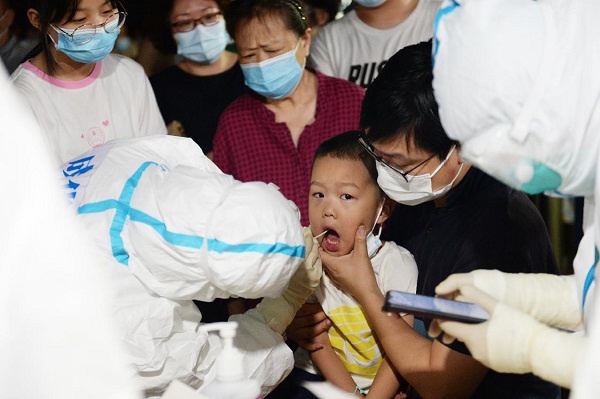 Medical workers in Chengdu's Qingyang district perform a nucleic acid test on a child.
As a major transportation hub in Southwest China, Chengdu has two civil aviation airports with the largest passenger throughput in the central and western regions. A total of 261 trains run between the city and the provincial capitals of the surrounding seven provinces.
To control the epidemic, the city set up 107 centralized quarantine sites and increased the number of quarantine rooms to 14,000. Everybody that travels to Chengdu by plane will be quarantined for 14 days at designated quarantine sites.
During the epidemic, Chengdu also divided the areas affected by the epidemic into three levels: closed areas, controlled areas, and risk areas. As a result, the lives of most Chengdu citizens remained normal and have not been significantly affected.
The success of the city's epidemic prevention and control efforts is due to a good urban governance system, according to local officials.
Chengdu led the country in the establishment of a commission for urban and rural community development and governance as early as 2017. The commission allowed Chengdu to quickly respond to the epidemic with an efficient grassroots network.
(APD)