An inactivated COVID-19 vaccine developed by Chinese state-owned pharmaceutical giant Sinopharm, with an efficacy rate of 79.34 percent, has become the country's first coronavirus jab to get conditional market approval for public use last week.
The vaccine, developed by Sinopharm's subsidiary – China National Biotec Group (CNBG) – has proven to be effective and safe in large-scale clinical trials in a dozen countries, according to health officials at a press briefing on December 31. (link in Chinese)
The vaccine's efficacy rate of 79.34 percent is based on interim results of phase III clinic trials that covered more than 60,000 participants from 125 countries, Wu Yonglin, a senior executive at Sinopharm, said at the conference. Detailed data of the trials will be released at a later date and published in scientific journals, according to Wu.
While many people cheered for the vaccine's go-ahead, some expressed doubt whether the 79 percent efficacy rate is sufficient at a time when U.S. drugmakers Pfizer-BioNtech and Moderna have each said their coronavirus vaccines are around 95 percent effective.
Two other global vaccine frontrunners also reported different data. Russia said its Sputnik V vaccine is 92 percent effective, while Britain's AstraZeneca reported an average efficacy rate of 70 percent. All of these vaccines have won official approval for mass inoculation in different countries.
What is vaccine efficacy?
Vaccine efficacy measures how well a vaccine works in preventing inoculated people from getting infected by a disease in controlled clinical trials, according to the World Health Organization (WHO).
It measures the reduction in disease incidence in a vaccinated group compared with an unvaccinated group. For example, if a vaccine has an efficacy rate of 80 percent, it means people injected with the vaccine are 80 percent protected from getting infected, compared with those who are completely vulnerable without it.
However, there is a difference between efficacy rates obtained in clinical trials and effectiveness – the real-world protection rate of a vaccine when it is rolled out.
Generally speaking, a vaccine's real-world effectiveness tends to be slightly lower than its efficacy, because of multiple influencing factors, such as how an individual's immune system responds, whether the vaccine was stored at the correct temperature, and whether people stick to the optimum dosing schedule and timetable.
The 50 percent efficacy threshold
According to the WHO, not a single vaccine can be 100 percent effective. But medical regulators do have an efficacy threshold for vaccines before they can be granted market access.
Both the WHO and the U.S. Food and Drug Administration (FDA) recommend COVID-19 vaccines with an efficacy rate above 50 percent, which is also the threshold required by China's National Medical Products Administration (NMPA).
So far, all the vaccines that have been given the green light for mass inoculation in different countries reported efficacy rates well above the threshold.
Li Zhongming, a Chinese vaccine expert, told Science and Technology Daily that vaccines developed with different technical approaches would have different efficacy rates. As long as a vaccine has an efficacy rate above 60 percent, it is good to go.
He also said that at least 60 percent of the whole population needs to be vaccinated to achieve herd immunity.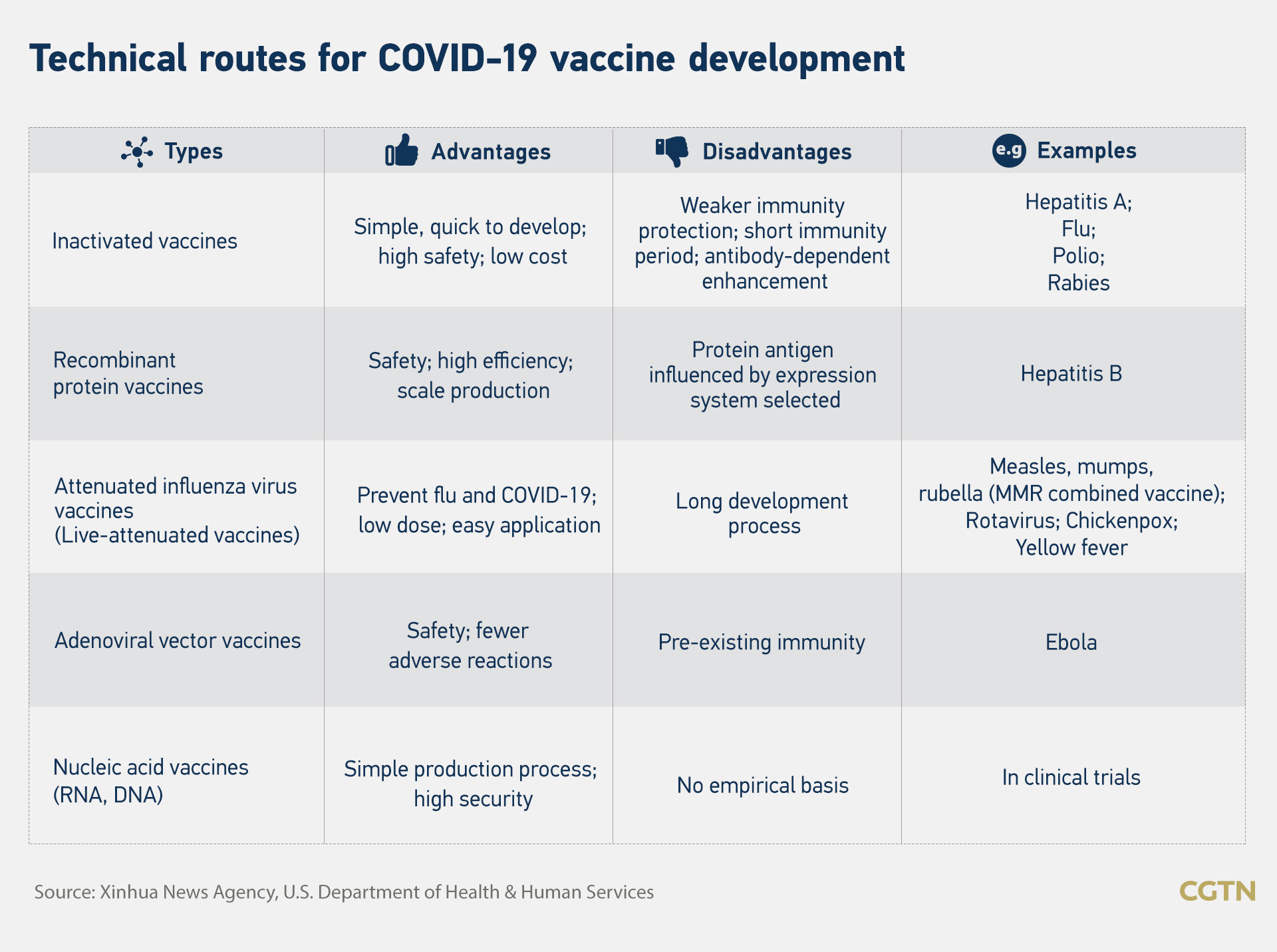 Infographic by CGTN's Du Chenxin
(CGTN)