"I especially like buying dresses online. I have enough dresses to wear a different one each day of the month," said Yang Ha'na, an 81-year-old resident of the eastern Chinese city of Hangzhou. Since her son taught her how to shop online two years ago, she's been hooked on scrolling through e-commerce apps, browsing and buying everything from food to clothes to homewares.
Yang receives four delivery boxes on average every day, which cost her 1,000 to 3,000 yuan (about $151 to $453) a month. "My husband often 'complains' because whenever there's a package, he has to go downstairs to fetch it," Yang said with a chuckle. Her husband, who collects antiques, also goes online to do his shopping.
Their house looks no different from the homes of many elderly couples – other than big furniture, almost all home accents, daily necessities and electronic gadgets are from online stores.
A burgeoning cohort of elderly Chinese are sold on online shopping and communication. As this year's Double-11 festival, the world's largest online buying spree, approaches, senior citizens have already filled their digital shopping carts in anticipation.
Silver economy goes digital
Over just a few years, China's silver economy has boomed, largely due to the country's massive e-commerce market amid rapid digital transformation. Statistics from China Internet Network Information Center show that among 940 million internet users in China, the share of those aged 60 and above rose from 4 percent at the end of 2016 to 10.3 percent in June 2020.
China is quickly aging. By the end of 2019, 254 million Chinese were aged 60 or above, accounting for 18.1 percent of the total population, according to the National Bureau of Statistics. And those of 65 years and older accounted for 11.5 percent last year. It's estimated that by 2025, China will have 300 million people in that age group.
As the country is steering toward a moderately aging society, the silver economy has become one of the last frontiers coveted by the world's biggest e-commerce market. Living in the heyday of internet and social media, coupled with convenient mobile payment and fast logistics services, brings a subtle impact on the consumer mindset of the elderly. A multitude of online retailers have launched products and services encompassing old-age healthcare, leisure and tourism.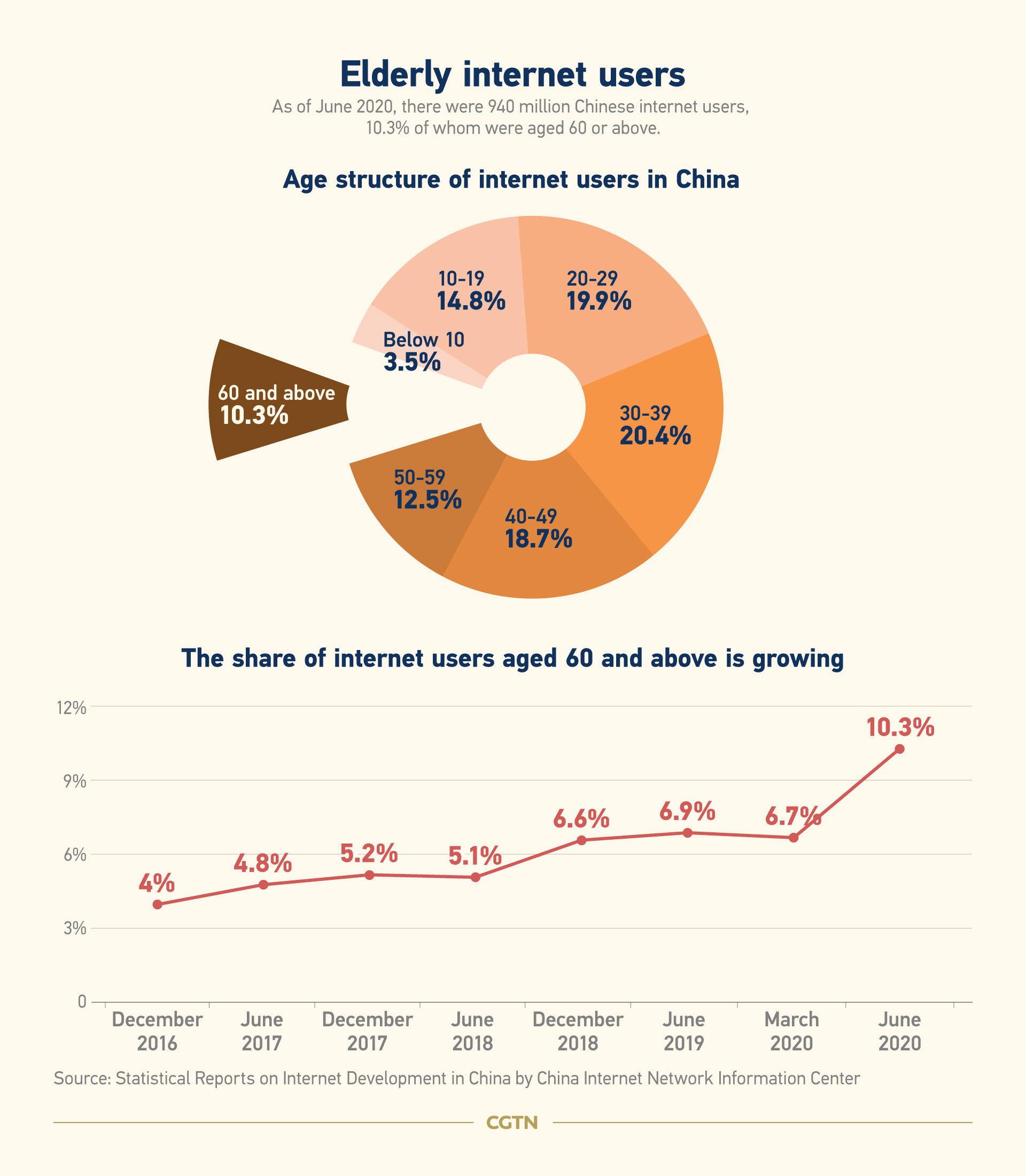 A senior aged 60 or above spent 2.3 times as much as the average user in 2017, according to data from e-commerce giant JD.com. From 2016 to 2018, the number of seniors making purchases on Taobao and its spinoff Tmall grew 1.6 times.
Data released by iiMedia Research reveal that the market scale of China's silver economy exceeded 3.7 trillion yuan in 2018. China's GDP expanded 6.6 percent that year, the lowest in 28 years. As the world's second largest economy cooled and matured, the senior population displayed a zippier desire to consume. The consulting agency projected that China's silver economy will reach 5.7 trillion yuan by 2021.
The pandemic has accelerated the trend
As life moved online during the pandemic, members of the growing graying population avidly expanded their technological literacy.
China Internet Network Information Center conducted surveys in March and June, finding a huge leap in the share of internet users of 60 years or older – from 6.7 percent to 10.3 percent. The 3.6-percentage-point increase within a single quarter is higher than that over the past three years combined.
Much of the surge in senior internet users during the second quarter is attributed to the coronavirus lockdown. According to a recent report by e-commerce conglomerate Alibaba, online spending by the elderly registered the second fastest growth rate behind only that by the post-00s generation during the pandemic.
In the third quarter, the year-on-year growth rate of active elderly mobile Taobao users was 29.7 percentage points higher than the average.
Seniors have developed a taste for buying groceries online, especially seasonal vegetables, fresh meat and seafood given quarantine and physical distancing measures. Statistics show their expenditure on food was 3.6 percentage points higher than the average on online platforms for the first eight months of the year.
"I like the storied Taikoo white sugar and rock candy and usually buy three packages at a time," said Yang, a Chinese-language teacher for 38 years before her retirement. "Life in the past was tough, so we're used to hoarding up food."
The pandemic has, unexpectedly, accelerated the country's digital transformation and is now shaping a new normal for its consumers.
Hippo Fresh, Alibaba's new retailer that merges brick-and-mortar stores with an online platform, found that the elderly are becoming the fastest growing segment of the population, making online orders even after COVID-19 cases dwindled and life returned to normal in China. Moreover, they spend more than the post-90s and post-00s generations.
There are seniors left behind
While the tech-savvy graying population is growing, there are still many who are alienated by this massive digitalization trend, which has been amplified during the pandemic.
News that septuagenarians had no access to the hospital or even their own neighborhoods because they didn't know how to scan a health QR code on their phones has made headlines. What's worse, some don't even own a smartphone.
This gap in technological know-how and adoption is creating a digital divide among the older generations that could have serious ramifications as government and commercial services increasingly go digital.
Besides catering to the elderly's growing numbers and spending power, the real challenge lies in making sure that no one is left behind in the race toward the future.
(CGTN)