Profits of China's major industrial firms rose 6 percent year on year to 582.3 billion yuan (82.28 billion U.S. dollars) in May due to the easing of cost pressures on producers and gradual recovery of market demand, data from the National Bureau of Statistics (NBS) showed Sunday.
The rebound reversed a 4.3 percent fall in April, testifying to the gradual recovery and smooth resumption of industrial firms after being battered by the coronavirus pandemic, according to the NBS.
The pressure of rising costs has eased significantly, and changes in industrial product prices brought profits to enterprises, said NBS senior statistician Zhu Hong.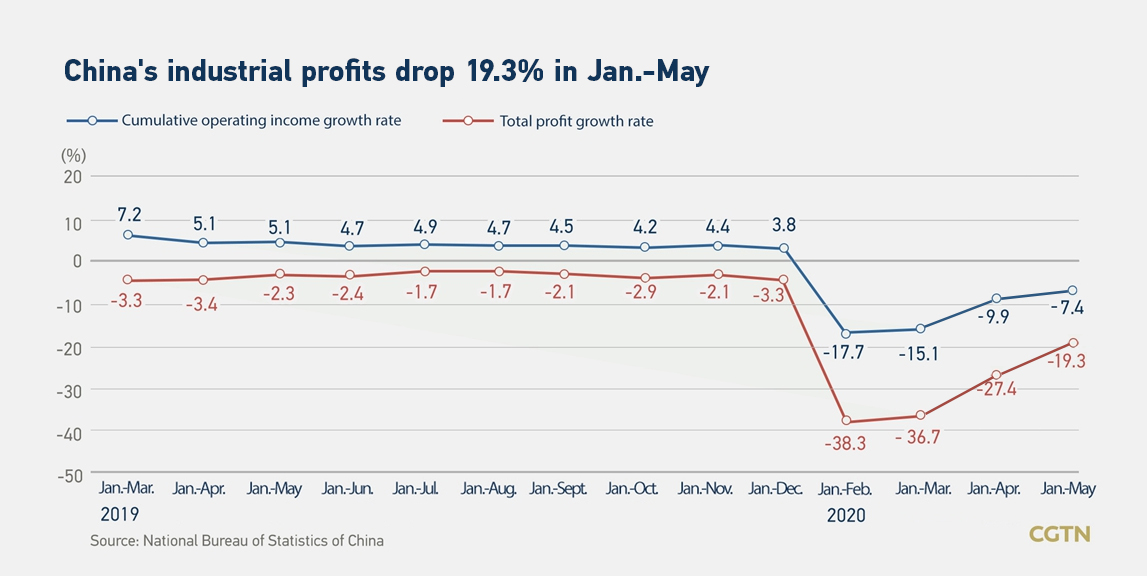 The operating income of major enterprises fell by 1 yuan per 100 yuan compared with April, substantially easing the surge in costs in the previous two months. At the same time, the decline in the purchase price of industrial products significantly exceeded the decline in the ex-factory price, which is conducive to increasing the profitability of enterprises, said Zhu.
In addition, due to easing cost pressures, recovery in market demand and related supportive policies, profits in the oil processing, power, chemical and steel industries have improved significantly.
Profits of the petroleum processing industry reversed the loss of 21.80 billion yuan in April to a profit of 11.62 billion yuan in May, a year-on-year increase of 8.9 percent.
For the January to May period, profits of China's major industrial firms dropped 19.3 percent year on year.
(CGTN)