By APD writer Hantao and translated by Yang Yahan, Zhangshuo
The theme forum of 2021 China (Guangdong) 21st Century Maritime Silk Road International Expo, co-organized by the China Council for the Promotion of International Trade and the People's Government of Guangdong Province, and undertaken by the People's Government of Guangzhou Municipality, will be held in Guangzhou, Guangdong on September 24. On the eve of this forum, the Asia Pacific Daily conducted an exclusive interview with Leung Chun-ying, Vice chairman of the CPPCC National Committee. He expressed his opinions on the development of the Guangdong-Hong Kong-Macao Greater Bay Area, Hong Kong's economic development under the Belt and Road Initiative, and how China will cope with future international challenges.
Hong Kong Should Fully Play the Role of "Super Contact"
The build-up of the Guangdong-Hong Kong-Macao Greater Bay Area is a major national strategy of China. Leung Chun-ying said that among Guangdong, Hong Kong, and Macao, each has its own strength in advancing this grand strategy. Over the past four decades of Reform and Opening-up, the cooperation between Guangdong, Hong Kong and Macao has created an economic miracle that has attracted worldwide attention. The project of Guangdong-Hong Kong-Macao Greater Bay Area is not only a cross-regional cooperation, but also a deep integration of industries and municipal functions as well as the cooperation between the "two systems" within the "one country".
Leung Chun-ying said that Guangdong now has a strong comprehensive advantage. Hong Kong and Macao should not simply copy and move advanced industries to the Chinese Mainland. The value of Hong Kong and Macao is to further utilize the differential advantages of Hong Kong and Macao in industries, human resources, networks and systems, develop new functions and new industries, add new value to products or service. For example, Hong Kong has obvious advantages in financial and legal service industries, while the shipbuilding, shipping and other maritime economies are more likely to find a bright future in the booming Mainland. What Hong Kong's financial and legal industries can do is to refine services in maritime finance and maritime law, diversifying service and adding high value. At the same time, it could drive Qianhai's modern service industry spreading across the whole country.
Leung Chun-ying has put forward the concept of "super contact". In the process of vigorously promoting the Guangdong-Hong Kong-Macao Greater Bay Area strategy, Leung Chun-ying believes that Hong Kong can better play the role of "super contact". He further explained that despite the rapid development of the Greater Bay Area in recent years and the strong policy pushes, Guangdong and Hong Kong still have a long way to go in knowing about each other's opportunities and needs. For example, with the introduction of the latest Hengqin plan, an open forum was organized to invite friends from Beijing, Zhuhai, Macao and Hong Kong to exchange information, research and docking. Until this very event, lots of on-site viewers did not know that there was an economic and Trade Representative Office in Zhuhai and Hong Kong start-ups can open accounts and register in Hengqin in Central Hong Kong, enjoying the same tax rate as Hong Kong.
Leung Chun-ying said that in order to address as many of these "unknowns" as possible, required are more communications not only among government officials, but also among common citizens.
In his view, actions need to be taken in three tiers. First, we need to do a good job in supporting the people in Hong Kong. Most Hong Kong citizens, not limited to the youngers, do not know much about Guangdong. The integration and development will be a matter of course if cross-border "people-to-people bonds" can be achieved.
The second is at the national level. The stanchless flow of people, logistics, capital and information between Hong Kong and Guangdong cities in the Greater Bay Area often requires the support and coordination of national policies.
Third, the international level. In order for Hong Kong and Macao to fully play their roles, they should play "four taels maneuvering a thousand catties", "Four taels" is the local strength, "a thousand catties" is the international strength. Strength includes capital, technology and talents. Hong Kong is a highly internationalized city, while Macao enjoys the advantage of close ties with Portuguese-speaking countries. If Hong Kong and Macao work well as "super contacts" to tell the story of the Greater Bay Area to the international community and attract foreign capital, technology and talents, the development of the Greater Bay Area will be like a tiger with wings.
Hong Kong Should Actively Seize the Opportunities Brought about by BRI
Hong Kong's economic and livelihood development has been severely obstructed by the impacts of the "Anti-ELAB Movement" and the Covid-19 pandemic. As to current economic situation of Hong Kong, Leung Chun-ying said that Hong Kong economy is now recovering. He said that the easing of the pandemic in the Mainland has boosted Hong Kong's economy. Hong Kong's overall exports have been rising for four consecutive quarters and increased by 20.2% in the second quarter of 2021, as a result of the strong exporting from the Mainland. However, over the past two years, the "Anti-ELAB Movement" and the Covid-19 pandemic have brought Hong Kong and the Greater Bay Area to a virtual standstill, which has been dealing big blows to Hong Kong.
According to Leung Chun-ying, if Hong Kong intends to grasp the opportunities, it is necessary to enhance its implementing capabilities. He has two propositions: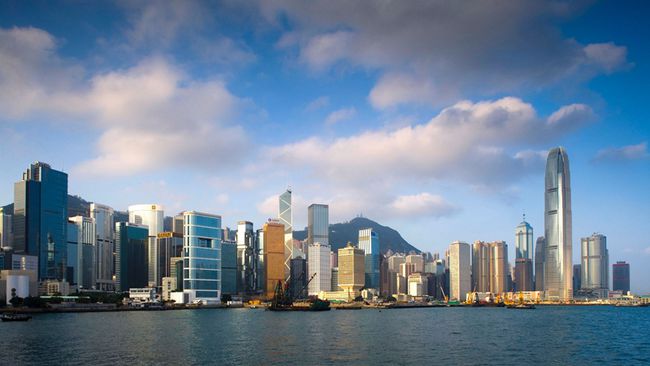 Firstly, to build up branches of Hong Kong chambers of commerce and professional bodies in one or two Guangdong cities in the Greater Bay Area; Secondly, Hong Kong enterprises, chambers of commerce and professional bodies should overcome their weaknesses, strengthening their research and study abilities, and making strong research on national policies and thus providing guidance for the career or business development of Hongkongers in the Greater Bay Area.
During the 6th BRI Summit earlier this month, the Ministry of Commerce and the Hong Kong government signed a Memorandum of Understanding on Cooperation in Promoting Quality Development of Overseas Economic and Trade Cooperation Zones. As far as Leung Chun-ying concerned, Hong Kong enterprises are poised to seize the opportunities brought by the BRI.
The 14th National Five-Year Plan Formulation clearly states that Hong Kong and Macao should be supported to participate in and contribute to the country's all-around opening up and modernisation of economic system, and to build a platform for the development of the BRI, said Leung Chun-ying. As one of China's global financial pivot and international information centre, Hong Kong has inimitable advantages in professional service domains such as investment, legal, risk management, as well as cultural exchanges.
Facing the Covid-19 and other adverse factors, China has actively engaged in anti-pandemic cooperation and taken concrete actions to build a community with a shared future for mankind. Although the current multilateralism and free trade system are under challenge, the trend toward peace, development, cooperation, and win-win is irreversible. In this regard, Leung Chun-ying said that the country's determination and pace of opening to the outside world are firm. Under the new development pattern, Hong Kong has a greater role to play.
In terms of trade, Hong Kong, an international trade center, has its own characteristics. Most Hong Kong traders buy products that are not needed locally and sell products that are almost completely not made in Hong Kong. Hong Kong conducts not only re-export trade, but also a large amount of offshore trade. According to the Hong Kong Trade Development Council, since 2006, the value of offshore trade has been higher than the value of re-exports every year, while Hong Kong's re-exports are about three times the GDP.
In terms of finance, Tsingtao Brewery, as the first mainland company to be listed in Hong Kong in 1993, raised 770 million Hong Kong dollars. Later, ICBC needed nearly 200 times that of the value of Tsingtao Brewery for its listing in Hong Kong. Hong Kong, the small pond has turned into a channel for oceans absorbing funds from overseas to supply the Industrial and Commercial Bank of China. This is the function of Hong Kong as a "super contact" for financing. In recent years, so many companies have come to Hong Kong to be listed, not with Hong Kong's own money, but with Hong Kong's advantage as a super contact and access to foreign capital markets.
Leung Chun-ying said that as an international financial center on the broader platform of the "Belt and Road", Hong Kong can provide needed funds and diversified financing channels for countries, enterprises and projects along the "Belt and Road". Hong Kong can provide professional international law and dispute resolution services in terms of ties and advantageous companies going global. It can as well establish and improve overseas business risk management.
In terms of science and technology, the establishment of an international science and innovation center in Hong Kong today is not only a collaboration between Hong Kong scientists and mainland scientists, but also a connection between Hong Kong investors and mainland scientists. Hong Kong is a world-class Chief Knowledge Officer for various investments across China. A great variety of analysis and evaluation experts are concentrated in Hong Kong.
Leung Chun-ying believes that Hong Kong also boasts a unique advantage in international cultural exchanges, when it comes to connecting people to each other. For example, Hongkongers can use Cantonese, Hakka, Teochew, and Southern Fujian dialects to read Chinese classics, local customs, and historical stories to young overseas Chinese from all over the world. At the same time, Hong Kong has a large number of outstanding charitable organizations and professionals who can make outstanding contributions to international humanitarian cooperation. It clearly demonstrates to the international community the "people-to-people bond" between Chinese and foreign people, the building of a community with a shared future for mankind, and the "sharing" element in the spirit of "consulting, co-constructing".
Leung Chun-ying said that in 2018, when President Xi Jinping met with a delegation from Hong Kong and Macao to celebrate the 40th anniversary of Reform and Opening-up, he put forward four hopes. He hoped that Hong Kong would be more proactive in helping the country to fully open up, be more proactively integrated into the overall framework of national development, be more proactive in participating in the practice of national governance and be more proactive in promoting international cultural exchanges.
These four hopes all start with "more proactive". Hong Kong enterprises can also "be more proactive" in implementing these four aspects.
China Faces More Opportunities than Challenges in the Future
At present, the Sino-US trade friction is still continuing and China is still facing a complicated international environment. As for how China will cope with political and economic challenges on the international stage in the future, Leung Chun-ying said that the world is undergoing "a major change unseen in a century". Today, the economic strength, scientific and technological strength, and comprehensive strength of Mainland China cannot be said at the same level as those decades ago. At the current historical juncture, opportunities outweigh challenges. China must handle both opportunities and challenges and take into consideration both development and security.
He believes that in this process, Hong Kong can actively use its own functional advantages and tell a good story of China's development, of win-win cooperation with other countries and of China's continuous reform and opening up.
Hong Kong companies have a high degree of outgoing capacity and a productive communication network with other countries, but at the flipside they are more prone to be affected by the international market, said Leung Chun-ying. Facing the challenges of the new international environment, Hong Kong should be more clear about its own positioning and role during the national "14th Five-Year Plan" period, give full play to the advantages of internationalization, better integrate into the overall development of the country, seize the new opportunities in the vast mainland market, continue to make its own contributions to the country's reform and opening-up and share the glory of the great rejuvenation of the motherland.
(ASIA PACIFIC DAILY)