Libya's new unity government has demanded the "immediate" withdrawal of all foreign mercenaries ahead of year-end elections.
The call has been backed by the visiting top diplomats of France, Germany and Italy, who believe the withdrawal of foreign troops will help the country to avoid more violence and bloodshed.
The North African country descended into chaos after dictator Muammar Gaddafi was toppled and killed in a 2011 NATO-backed uprising, resulting in multiple forces vying for power.
Fighting only came to a halt last summer and a formal ceasefire in October was followed by the establishment of a unity government led by interim Prime Minister Abdul Hamid Dbeibeh.
The conflict was stoked by outside powers, but the issue of foreign forces and mercenaries – estimated by the UN to number 20,000 in December – is seen as a threat to the UN-backed transition, leading to December 24 elections.
READ MORE
Adventurer's lockdown survival tips
Suez canal blockage risks PPE delivery
How to share vaccines more fairly?
"We reiterate the need for the departure of all mercenaries from Libya, and immediately," Libyan Foreign Minister Najla al-Mangoush said at a Tripoli news conference joined by her French, German and Italian counterparts.
French Foreign Minister Jean-Yves Le Drian echoed her call, saying their departure "is essential for the Libyan state to assert its sovereignty."
"We cannot look away from the consequences that the Libyan crisis may have in Europe in terms of security, terrorism and migration," he told the same news conference.
The three European diplomats were in Tripoli in a show of support for the newly formed Government of National Unity, or GNU.
"We represent the EU's support for Libya as it moves towards peace," said Italian Foreign Minister Luigi Di Maio.
"Italy and Europe are still convinced that there can be no military solution to the Libyan crisis," he said.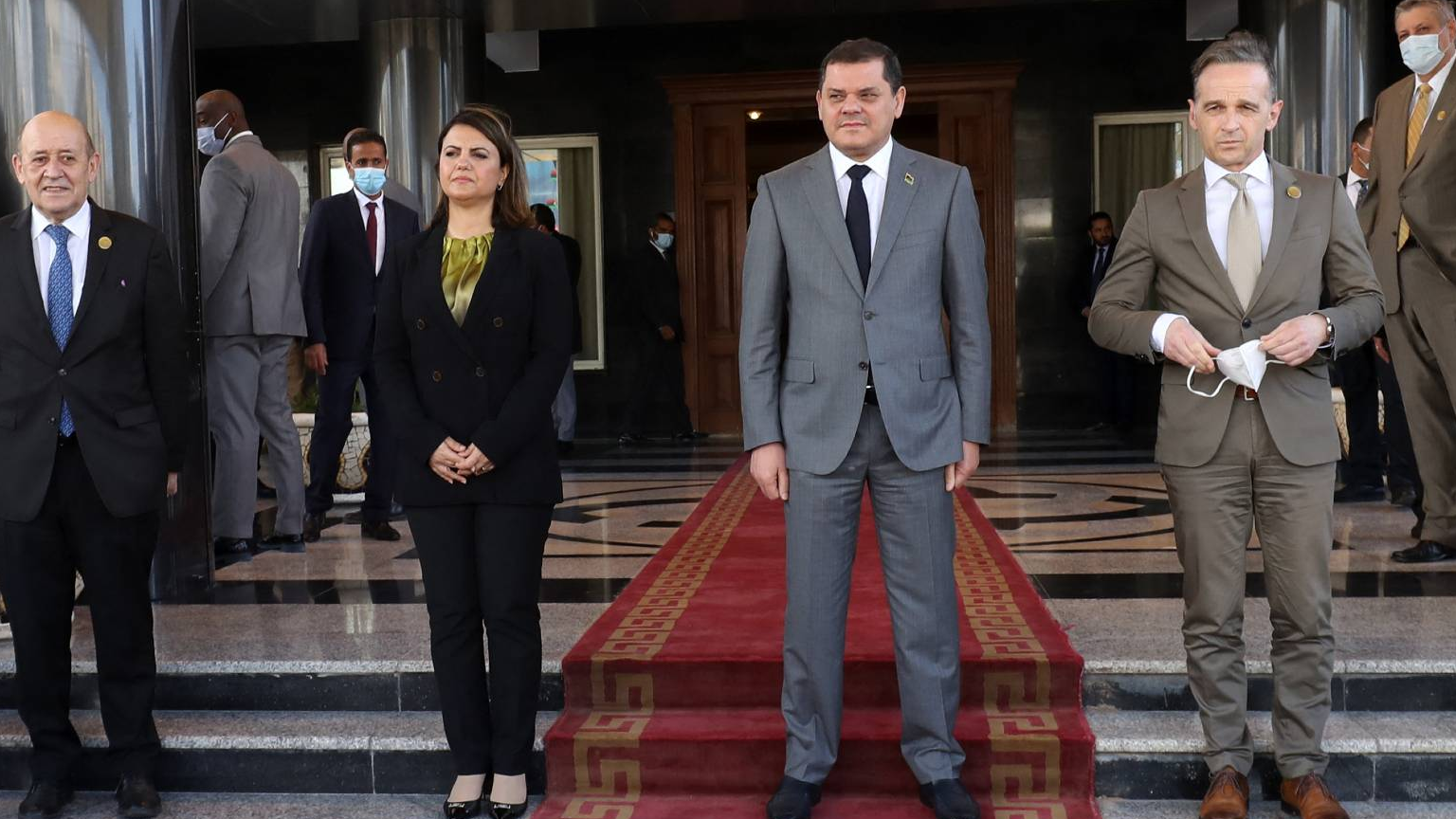 Libyan Prime Minister Abdul Hamid Dbeibah, center, in Tripoli with foreign ministers Heiko Maas from Germany, right, France's Jean-Yves Le Drian, far left, and Libya's Najla al-Mangoush. /AFP
"We reiterated the importance of maintaining the ceasefire, the reopening of the coastal road and the departure of mercenaries."
UN Secretary-General Antonio Guterres said on Wednesday he "remains deeply concerned" that "foreign elements" continue to operate in the country.
Source(s): AFP