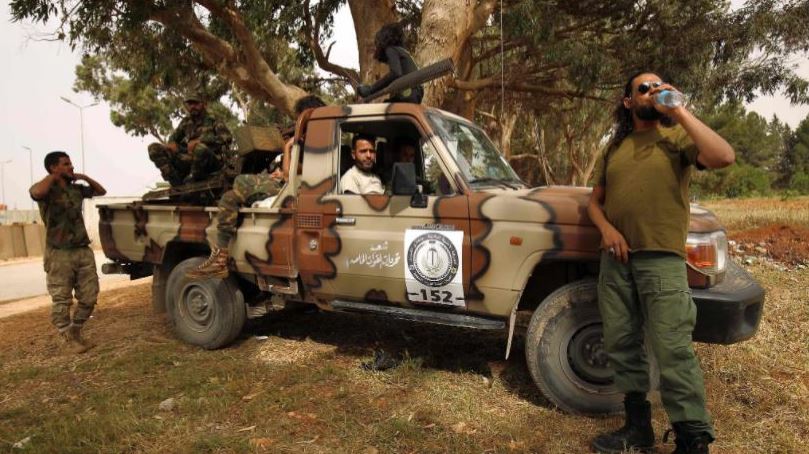 FILE PHOTO: Militants that were loyal to Libyan strongman Khalifa Haftar pictured near the coastal city of Derna on April 14, 2018. /VCG
The Special Envoy of the United Nations Secretary-General and the Head of the United Nations Support Mission in Libya(UNSMIL), Jan Kubis,and France's Minister for Europe and Foreign Affairs, Jean-Yves Le Drian, have stressed the need of a full withdrawal of foreign forces from the North African country.
The two leaders met in Paris nearly three months after participants at Libya's UN-sponsored peace talks formed a transitional government.
"They (Kubis and Le Drian) both stressed the importance to expedite the implementation of the ceasefire agreement and the full withdrawal of foreign forces and mercenaries, to make further progress in the implementation of theLPDF roadmap for holding the elections on 24 December 2021 is critical for maintaining peace, security and stability in Libya and the wider region," said a statement from UNSMIL following a meeting between the two on Saturday.
Kubis also separately met with Director for the Middle East and North Africa at the French Ministry for Europe and Foreign Affairs Christophe Farnaud and Special Envoy Paul Soler accompanied by other high officials.
In a meeting with the advisor to the President for the MENA region, Patrick Durel, the special envoy reiterated the UN's appreciation to French President Emmanuel Macron and the French government for the continuous support to U.N. efforts and to the peace process in Libya.
Hopes remain high that the latest developments in Libya will return lasting peace to the country that was dogged by conflict for nearly a decade.
The transitional government is tasked with overseeing preparations for a national election slated for the end of 2021.
The vote is expected to stabilize the country and put an end to the chaos and conflict that has hammered vital oil exports on which the country's economy depends.