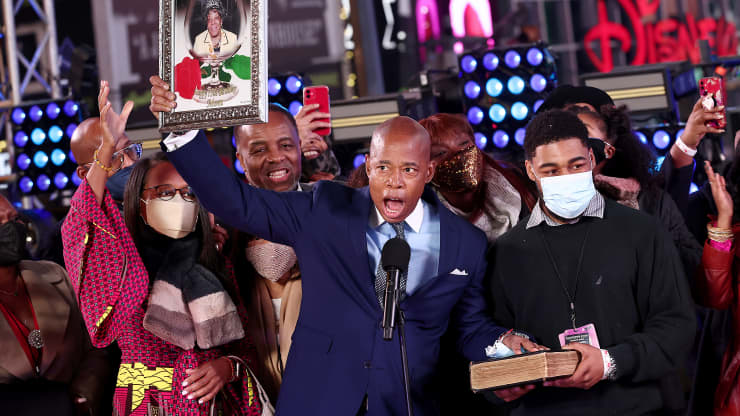 Eric Adams is sworn in as the 110th mayor of the city of New York on Jan. 1, 2022 in New York, New York. /Getty Images
NYC Mayor Eric Adams gives his first address since being sworn in, declares "New York is not closed."
At noon, Adams delivered his first address which was full of hope. "We will get our city back by making a commitment to each other right here, right now, today," he said.
"I want an analysis of the number of our sick count. I'm going to meet with the top staff members, I want to see immediately where we are around COVID and DOC, NYPD, and DOE," Adams said. "And I want to make sure that we have a real plan in place for Monday for testing for analysis of the number of students that we believe will appear in school and just get that real plan together for Monday because schools will be open," he said.
He said the theme of his first 100 days was GSD: Get Stuff Done.
"I'm looking forward to showing New Yorkers that I'm one of them. I take the train, I'm going to put in long hours, no one in this city is going to outwork me, they trusted me. As I move around this city I'm seeing the energy from New Yorkers. You know, there's a new hope that I'm seeing that's just amazing, there's a feeling of, 'You know, Eric, we're going to give you the support you need,' and you know, you saw the excitement that we now have someone who has gone through a lot who is now going to help people who are going through a lot."
"Despite COVID-19 and it's persistence New York is not closed, it is open and alive." Adams said.
Just hours prior, as confetti continued to drift across Times Square, Adams, 61, recited his oath of office. Associate Justice Sylvia O. Hinds-Radix of the state Supreme Court's appellate division swore Adams in as he placed one hand on a family Bible and his other held a photograph of his mother, Dorothy, who died in 2020.
Adams said this week that he plans to keep in place many of the policies of outgoing Mayor Bill de Blasio, including vaccine mandates that are among the strictest in the nation.
The city's municipal workforce is required to be vaccinated, as is anyone trying to dine indoors, see a show, workout at a gym or attend a conference. But New York City has also newly required employees in the private sector to get their shots, the most sweeping mandate of any state or big city and a policy Adams said he will preserve.
He's also committed to keeping schools open and avoiding any further shutdowns in the city of 8.8 million.
Adams is a former New York City police captain and Brooklyn borough president who has struck a more business-friendly, moderate stance than his predecessor but describes himself as a practical and progressive mayor who will "get stuff done". He's the city's second Black mayor, after David Dinkins who served from 1990 to 1993, and the 110th mayor of New York City.
(With input from agencies)