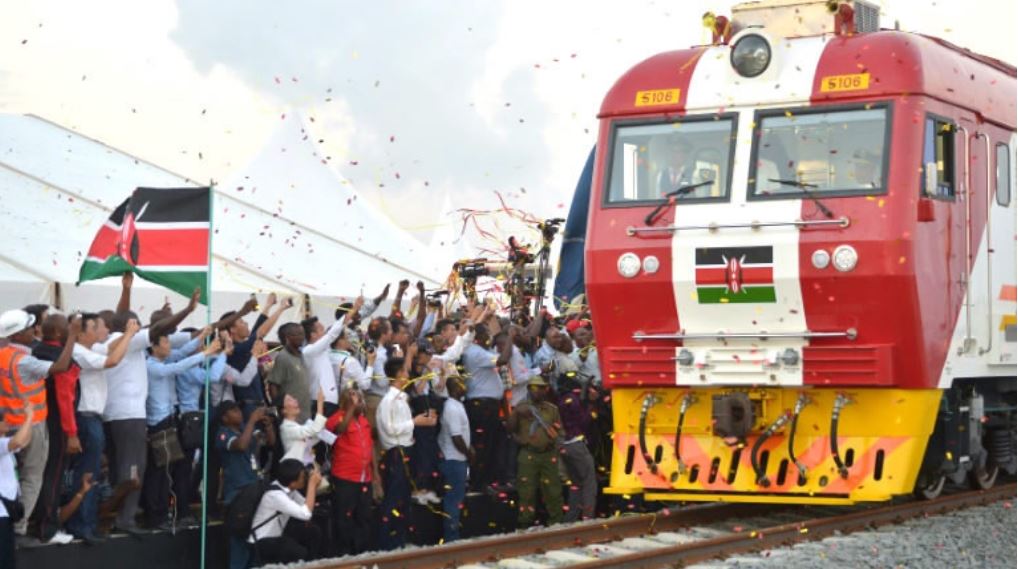 FILE PHOTO: People throw confetti at the port city of Mombasa on May 30, 2017 after Kenyan President Uhuru Kenyatta inaugurated a cargo train before its first journey to Nairobi. /AFP Photo
Kenya's standard gauge railway cargo revenue rose 10 percent in the third quarter, defying the challenging times brought about by the COVID-19 pandemic to post growth, new economic data shows on Thursday.
The revenue rose from 2.85 billion shillings (about 26.1 million U.S. dollars) in the quarter ending June to 28.7 million dollars in the three months to September, the data from the Kenya National Bureau of Statistics (KNBS) indicates.
Most of the revenue during the quarter was generated in July and August with earnings standing at 9.72 million dollars and 10.18 million dollars respectively, according to KNBS.
During the period, the freight train carried 1.22 million tonnes of cargo, up from 1.05 million tonnes in second quarter and 928,054 tonnes in the first.
The passenger train ferried 95,338 travelers in the third quarter, up from some 6,000 in the second when the service was halted.
Source(s): Xinhua News Agency