Chinese Premier Li Keqiang on Wednesday called for learning lessons from the deadly flooding caused by heavy rainfall last month in Zhengzhou, capital city of central China's Henan Province.
Li made the remarks when inspecting a tunnel where severe flooding submerged subway cars and trapped hundreds of passengers on July 20, killing 14. After examining the evacuation platform on a side of the tunnel, he called for efforts to raise the construction standards of infrastructure projects in the city and improve their safety.
He also stressed the importance of strengthening the early warning and emergency evacuation mechanisms. Public transportation facilities such as subways and tunnels should be shut down in a timely manner in case of emergencies, he said. "We must put people's lives first."
Earlier this month,the State Council, China's cabinet, announced the decision to set up an investigation team to assess Zhengzhou's responses to the devastating flood.
Li called for a thorough investigation to find out the truth, adding that those who breached their duties will be held responsible.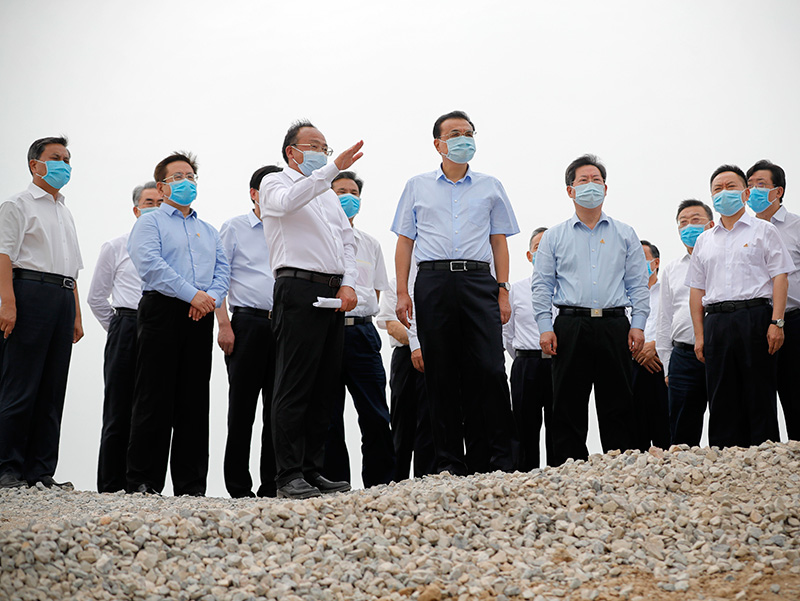 Chinese Premier Li Keqiang (C) inspects the progress made to repair a dyke breach on the Wei River Weihui City of Xinxiang, Henan Province, central China, August 18, 2021. /Gov.cn
He also visited flood-hit regions in Xunxian County of Hebi City and Weihui City of Xinxiang City, all in Henan Province. The premier told villagers in Xunxian that the Communist Party of China and the government will help them rebuild their homes. In Weihui, he inspected the progress made to repair a dyke breach on the Weihe River.
Torrential rains hit Henan in mid to late July, with Zhengzhou seeing the heaviest rainfall on July 20. Local authorities said on August 2 that the province's death toll had risen to 302, with 50 more missing. Among them, 292 people were confirmed dead and 47 missing, in Zhengzhou. The province suffered direct economic losses of more than 114 billion yuan ($17.6 billion). As of August 10, the record floods had affected 982,667 hectares of cropland in Henan, accounting for 12.4 percent of the fall crop area, according to agricultural authorities of the provincial government.
When presiding over a video conference at the State Flood Control and Drought Relief Headquarters on July 26, Li said the Chinese government will allocate several billion yuan from the central budget reserve funds to support the reconstruction in regions seriously hit by the floods.
Beijing
Hong Kong
Tokyo
Istanbul
New Delhi
Singapore
Damascus
Baghdad
Islamabad
Seoul
Brussel
Moscow
Canberra
Cairo
Nairobi
Johannesburg
Washington,D.C.
Los Angeles
Rio de janeiro
621km