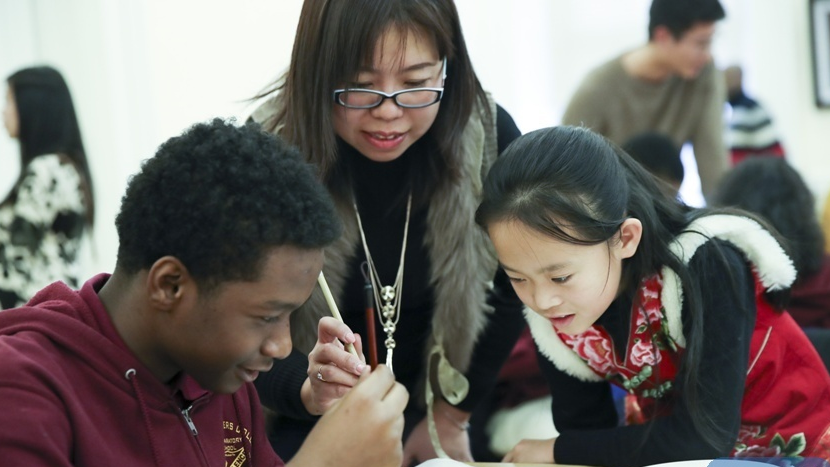 A student from Medgar Evers College Preparatory School of New York learns how to paint with a brush pen during a culture exchange event in New York, the U.S., February 2, 2018. /Xinhua
**Editor's note: **Matteo Giovannini is a finance professional at the Industrial and Commercial Bank of China in Beijing and a member of the China Task Force at the Italian Ministry of Economic Development. The article reflects the author's views, and not necessarily those of CGTN.
For centuries the history of civilizations has been narrated as characterized by frequent opportunities of trade and people-to-people exchange that led to the accomplishment of an unimaginable number of achievements for the whole mankind.
The motivation of people's continuous search for interaction with other human beings was basically the attempt to reach the next stage of economic and social development while being driven by a genuine curiosity to learn differences and similarities in terms of traditions that set apart different cultures.
This idyllic situation is gradually vanishing because the U.S. State Department decided to end five cultural exchange programs set up in 1961 when President John F. Kennedy signed the Mutual Educational and Cultural Exchange Act (MECEA), by labeling them as "soft power propaganda tools."
The programs targeted to be terminated are the Policymakers Educational China Trip Program, the U.S.-China Friendship Program, the U.S.-China Leadership Exchange Program, the U.S.-China Transpacific Exchange Program and the Hong Kong Educational and Cultural Program.
Instead of being targeted at initiatives covering sensitive domains such as technology and innovation, the ban from the U.S. State Department consists of harmless organizations whose sole purpose is the promotion of friendship, culture or leadership skills.
Banning such a wide spectrum of organizations clearly indicates that the U.S. has decided to interrupt any form of cooperation with the world's second largest economy by following a pure binary decision-making process where everything is either black or white and where there is no margin for a case-by-case evaluation.
Another aspect to consider is that the decision to terminate the five cultural exchange programs is not a stand-alone initiative, but part of a broad strategy that the Trump administration is adopting to target China-related cultural associations, as it happened in August when the Confucius Institutes in American universities were designated as a "foreign mission" and accused of being a propaganda tool of the Chinese government.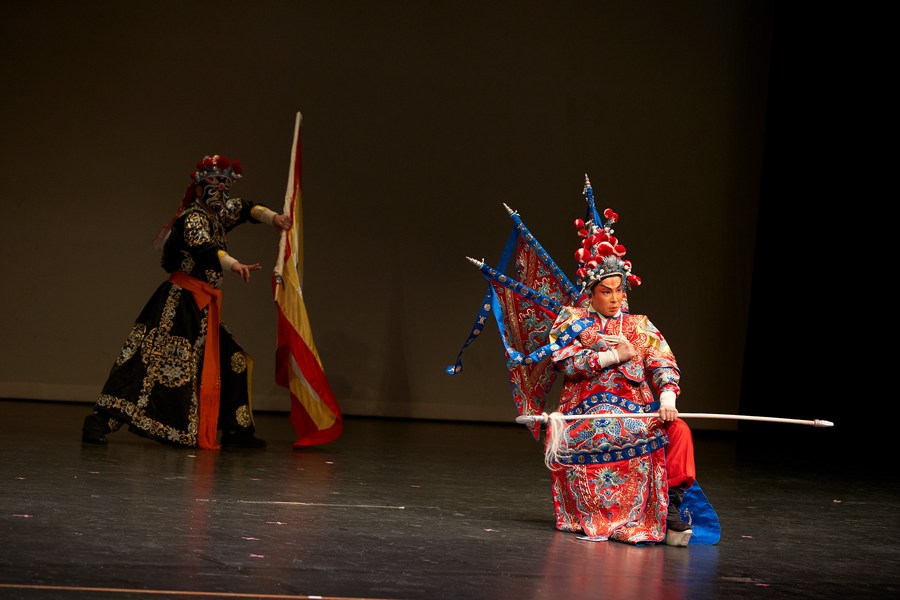 Teachers of the Confucius Institute of Chinese Opera (CICO) of the State University of New York at Binghamton perform to mark the 10th anniversary of the CICO in Binghamton, the U.S., October 18, 2019. /Xinhua
One of the major issues in today's globalized world is caused by a clear imbalance of knowledge distribution, which is due to different approaches to globalization that China and the U.S. have been following over the last decades.
Generations of Chinese students and professionals have enrolled into major Western academic institutions, bringing back home a thorough understanding of Western languages and culture and becoming well-equipped to understand both sides of the coin.
The same cannot be said for Western students or professionals. Sometimes due to personal biases towards a culture they don't understand, they have limited the exposure to China to short study tours, business meetings and forums in five-star hotels or by mingling with China-based foreigners in "expat bubbles."
In this sense, the decision to cut exchanges between the world's two largest economies, a relationship that is set to shape the century we are living in, is going to dramatically impact the life of millions involved, considering the loss of opportunities for business, personal growth and enrichment.
The solution to unequal distribution of knowledge only stands in more opportunities of dialogue instead of in a reduction or a termination of them. A lack of cultural understanding and consequently of mutual trust could severely impact the quality of communication around bilateral negotiations.
The drastic decisions taken by the U.S. administration are driven by short-term opportunism, without bearing in mind the long-term consequences. A break up could entail on the preparation of the next generation of leaders who will find themselves in a weak position due to the lack of thorough understanding of the future world's largest economy.
China's growing economic strength and its role as a driver of global change is something under everyone's eyes that cannot be ignored or avoided. The historical cooperation among civilizations as a source of development and mutual enrichment should never be bargained for individualistic opportunism.
(If you want to contribute and have specific expertise, please contact us at [email protected].)