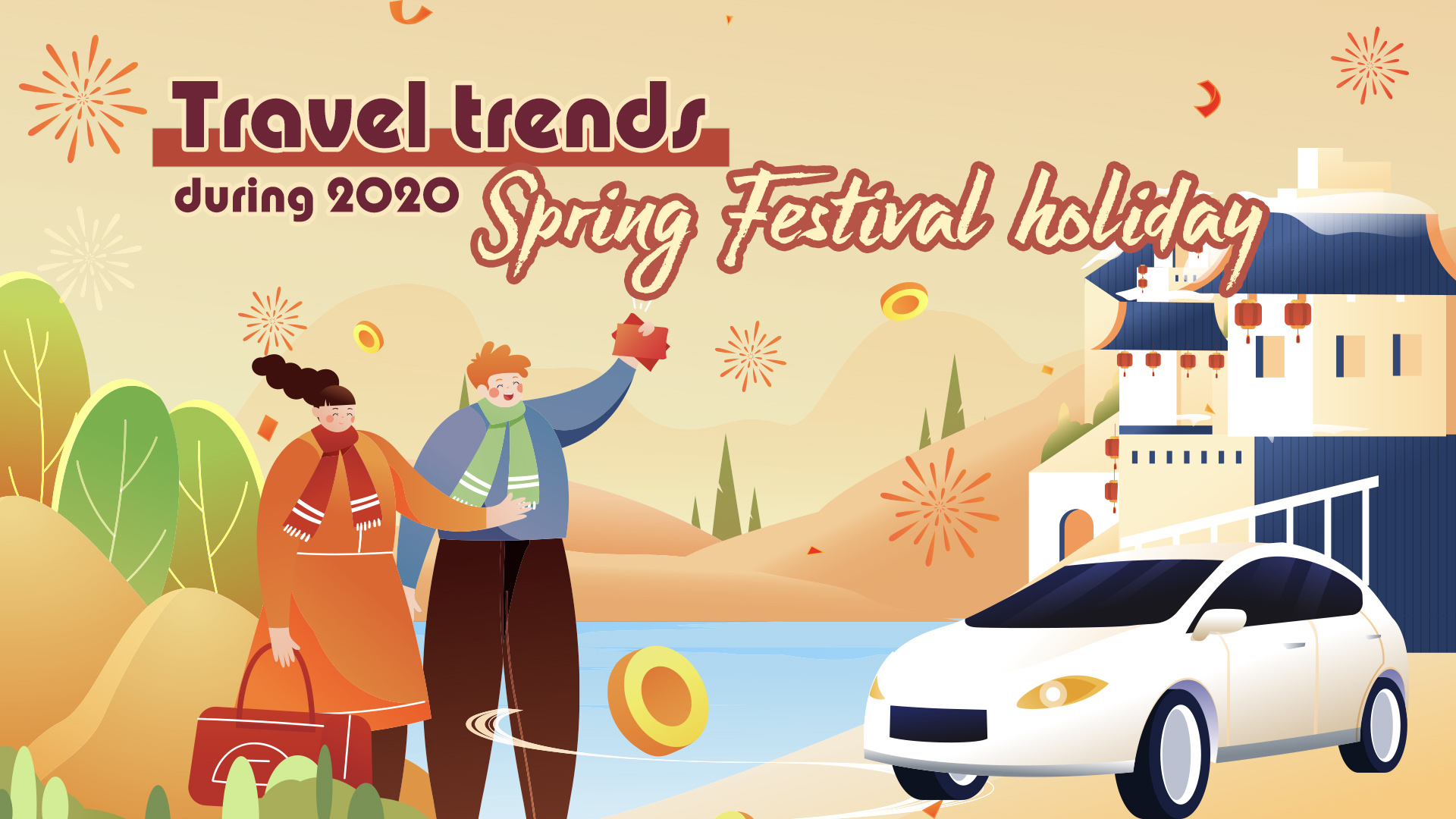 Some 450 million domestic trips are expected during the Spring Festival holiday in China, up 7.6 percent year-on-year, according to Ctrip, China's leading online travel agency.
Besides the traditional family get-together at home, celebrating the holiday by traveling is the most noticeable trend this year. Follow CGTN and check out what the data says about the tourism sector during the 2020 Spring Festival holiday.
Domestic travel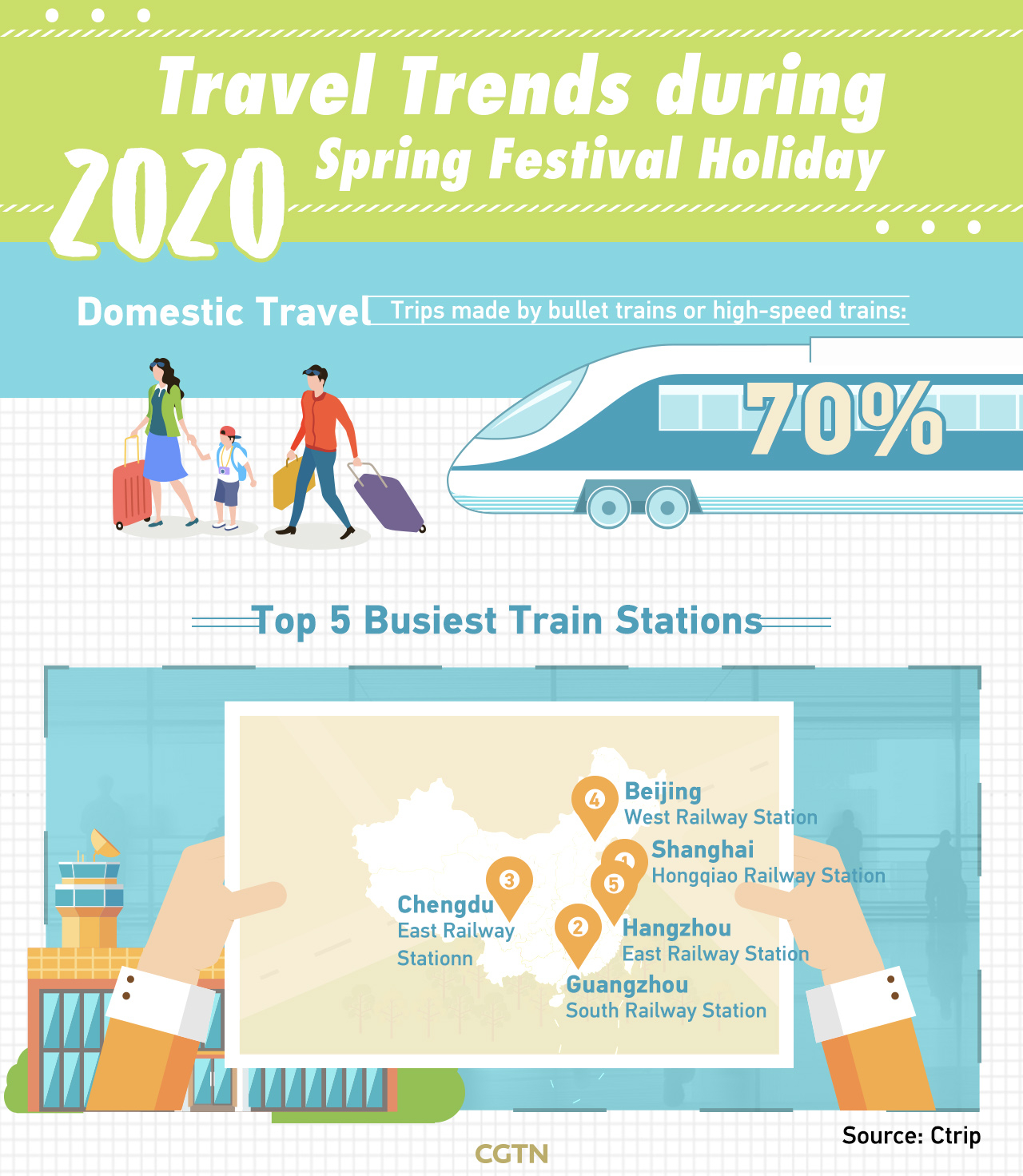 When it comes to domestic travel, rail is still the dominant mode of transport. The rapid development of the national railway network has enabled an increasing number of people to enjoy a faster and more convenient journey by train.
Trips made by bullet trains or high-speed trains accounted for about 70 percent of the total number, according to the statistics from Ctrip. Railway stations in major cities such as Beijing, Shanghai and Guangzhou, are expected to witness the largest passenger crowds.
Where will the majority of people head to for their holiday?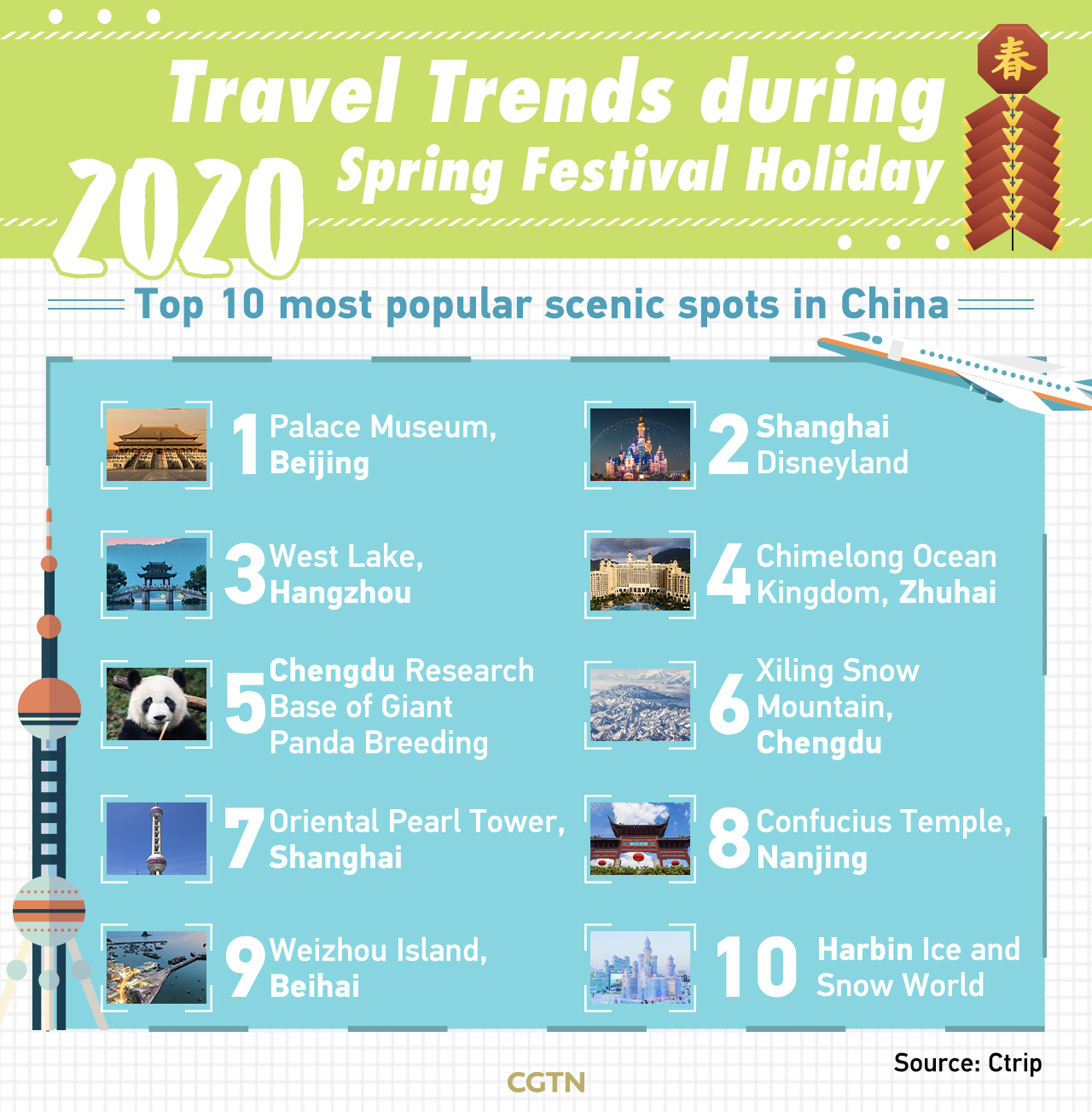 It is not surprising that famous destinations – the Palace Museum in Beijing, Shanghai Disneyland and West Lake in east China's Zhejiang Province – will be the top three places where massive crowds are expected.
Warm southern cities and northern ice and snow destinations also saw growing popularity among group visitors and independent travelers. Sanya in south China's Hainan Province, Xiamen in east China's Fujian Province and Harbin in northeast China's Heilongjiang Province are among the top picks.
Overseas travel
As more countries and regions offer friendlier visa policies for Chinese tourists, an increasing number of people are showing interest in traveling abroad. According to Ctrip, Chinese tourists have booked outbound trips to over 1,000 destinations in 102 countries and regions during the holiday on its platform.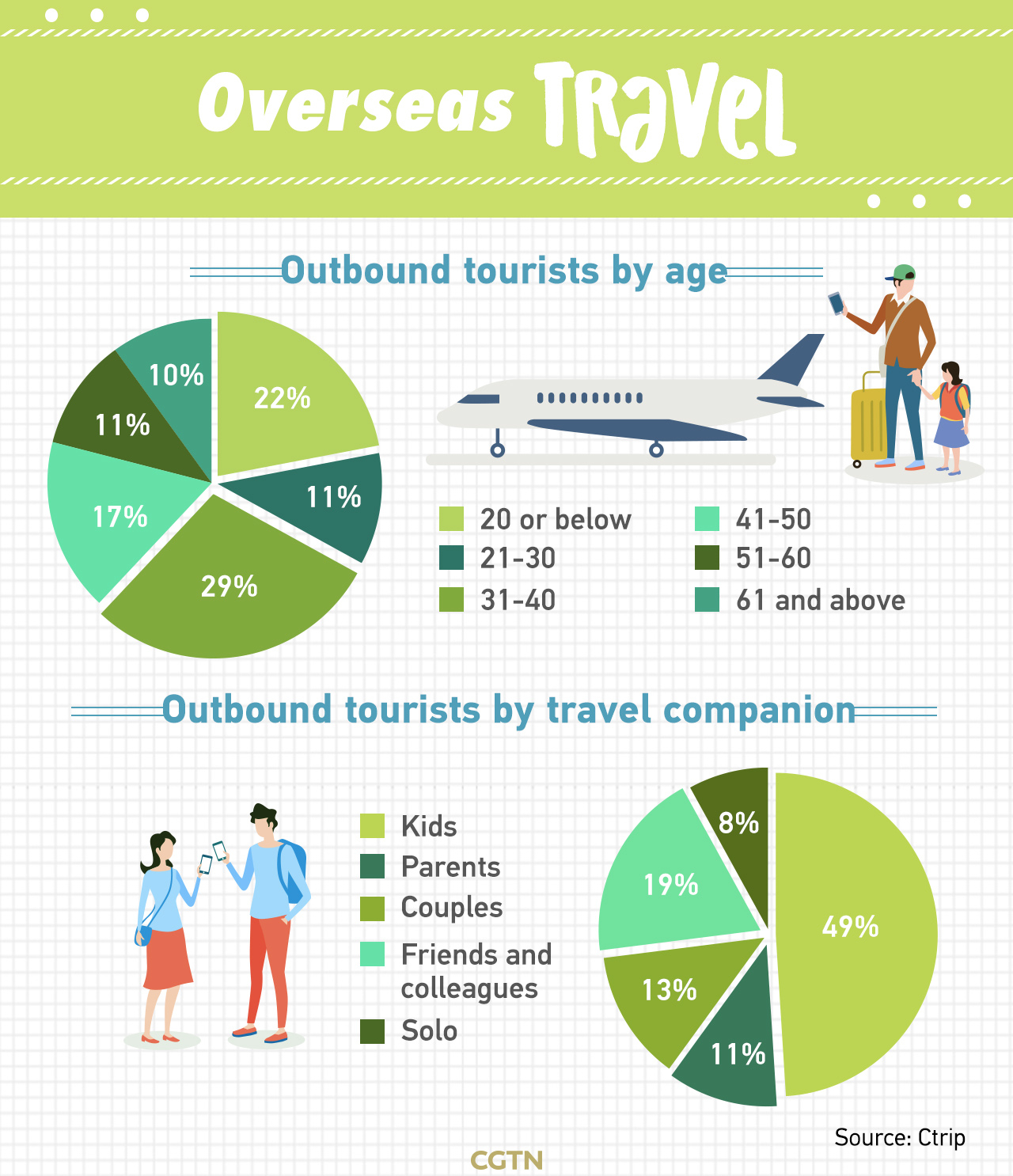 Young Chinese accounted for the majority of outbound tourists, with Chinese aged 31-40 making up 29 percent and people under 30 forming 33 percent of the whole.
Also, family vacations are the main group activity during the Spring Festival holiday, with over 60 percent of the outbound trips being family tours.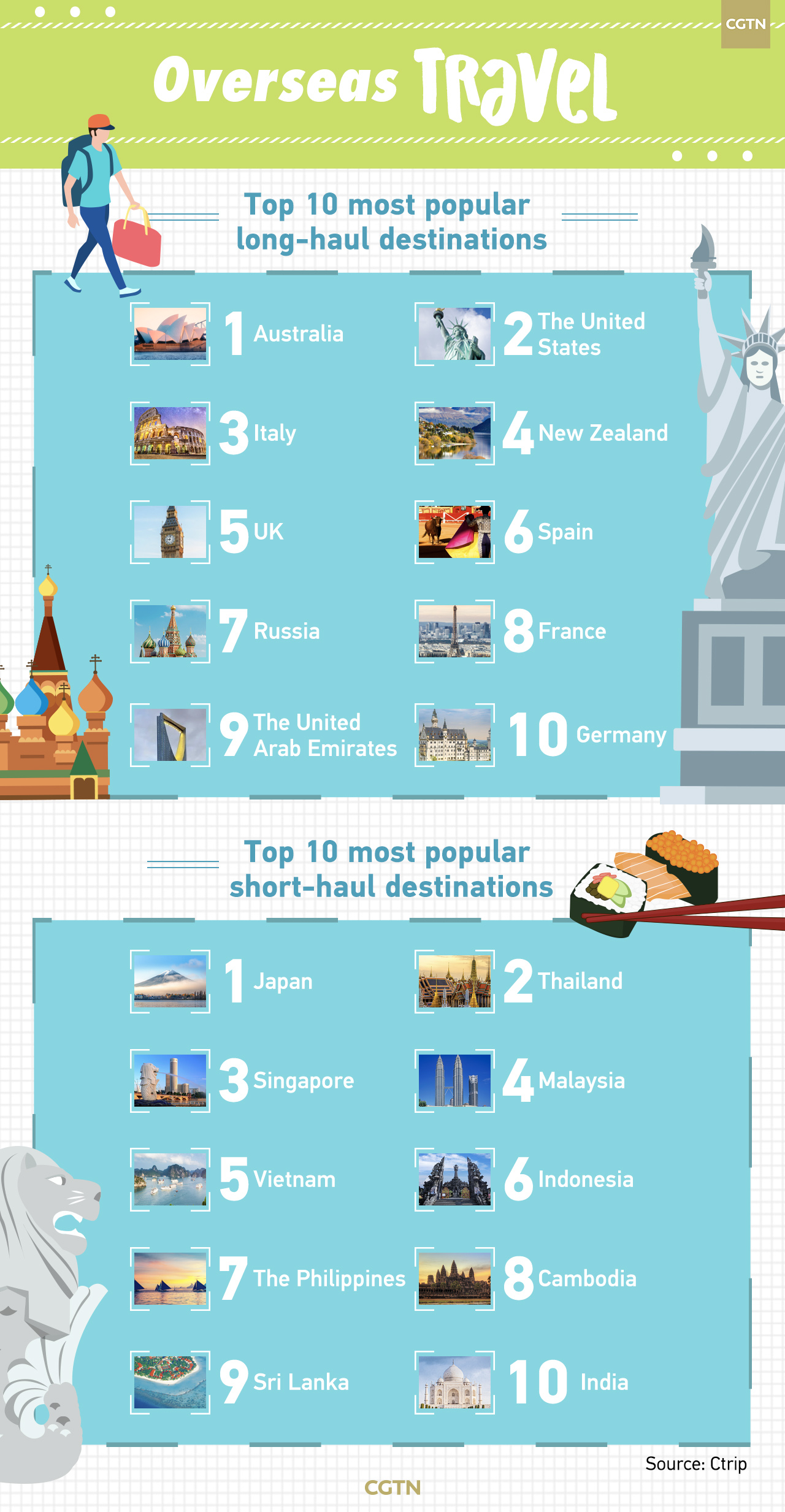 The pleasant weather in Australia makes it the most popular long-haul destination for Chinese tourists, followed by the U.S., Italy and New Zealand.
For short-haul destinations, Japan and Southeast Asian countries such as Thailand, Singapore, Malaysia and Vietnam, topped the list. Many tourists have booked trips to Japan for the beautiful snow scenery and hot springs.
(Cover image by Du Chenxin and infographics by Yin Yating)