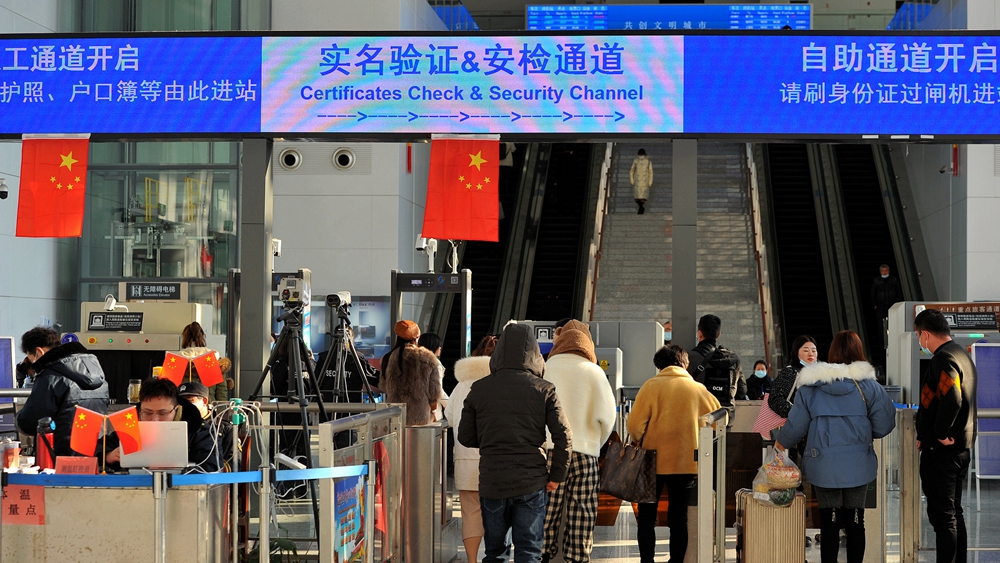 Passengers at a railway station in Jinhua City, east China's Zhejiang Province, December 30, 2020. /CFP
With the traditional Chinese Spring Festival around the corner, people in China have been advised not to travel to their hometowns in a bid to prevent the spread of the novel coronavirus during what is typically the world's largest human migration.
"People are advised to stay in their city or workplaces and reduce travel for the holiday as much as they can," said Zeng Yixin, deputy head of the National Health Commission, during a press conference on Saturday.
Zeng also encouraged staggered travel periods and advised people to shop online if possible.
With some parts of the country reporting confirmed cases of COVID-19 in recent days, many local governments issued notices calling on people not to make "unnecessary" trips to their hometowns to prevent the spread of the virus.
For example, in northern districts in east China's Anhui Province, a major exporter of migrant workers, local governments advised people from Anhui working in other provinces, municipalities and cities to spend the traditional festival in the place where they work.
Some provinces and cities, especially importers of migrant workers, have rolled out policies to encourage people to spend the annual family reunion holiday in their workplaces.
East China's Zhejiang Province is reportedly encouraging enterprises to arrange cultural activities and give traditional red envelopes holding money to workers who remain on duty instead of returning home.
Some cities require returning migrant workers to hold a negative nucleic test. According to authorities in Linquan County, Fuyang City, east China's Anhui Province, if migrant workers really need to return home in the upcoming Spring Festival, they have to have a negative nucleic acid test result from within the previous seven days.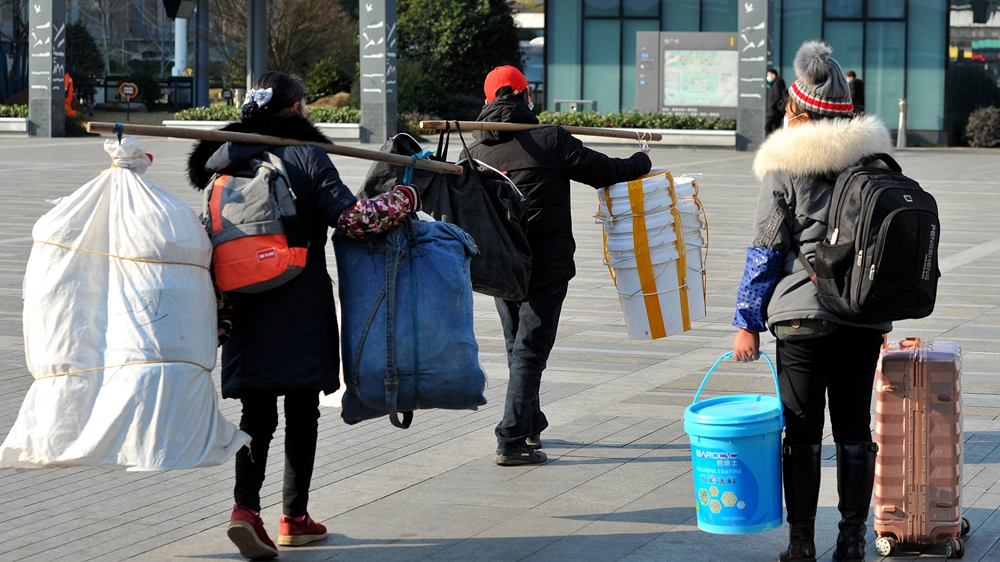 Migrant workers carry their belongings at a railway station in Jinhua City, east China's Zhejiang Province, December 30, 2020. /CFP
The authorities in Linquan County also stressed that migrant workers have to report their information to relevant authorities in the villages they return to and report their health conditions to the local authorities.
Moreover, some cities have advocated family reunion dinners of less than 10 people and urged greetings to be sent online or via telephone calls.
China's railways are expected to transport 407 million passengers during the upcoming Spring Festival travel rush. However, people are starting to reconsider their travel plans because of a recent resurgence in coronavirus cases.
"I was born in a village in east China's Anhui Province. Villagers are used to visiting relatives and friends during the Spring Festival holidays. Locals have a relative poor awareness of COVID-19 prevention," Mr. Huang, who works in Shenzhen City, south China's Guangdong Province, was quoted by Chinanews.com as saying.
Considering the cold winter at his hometown, Huang said that he has already invited his parents to spend the festival with him in Shenzhen, which is warmer than his hometown.
"Due to the novel coronavirus, we didn't return home and remained in Shanghai to spend the last Spring Festival. This time, we plan to return to our hometown if we can," Yang Jing was quoted by Chinanews.com as saying.
"If we cannot go back home this Spring Festival, we can see our parents as early as the public five-day holiday in May," said Cai Chuanlei, a law practitioner at the Chaoyang District People's Court in Beijing.
The upcoming two months will be pivotal to the country's anti-epidemic efforts, Zhang Boli of the Chinese Academy of Engineering said recently, noting that the cold weather in winter is especially favorable for the survival of the virus.