China's 10-year fishing ban in the Yangtze River will affect 280,000 fishermen, many of whom are happy to come ashore to protect biodiversity in the country's longest river.
by Xinhua writers Liu Fangqiang and Wang Haiyue





HEFEI, Jan. 9 (Xinhua) -- Zhu Changhong, an ex-fisherman on the Yangtze River, skillfully scooped up a plastic bottle with a net from his boat while patrolling the water on a cold afternoon in early January.





"There is not much trash to clean in winter since the water is low," said the 54-year-old.





He bid farewell to his fishing boat and gear for good as a 58-km waterway where he used to fish completely outlawed fishing for the protection of finless porpoises at the beginning of 2019.

Ex-fisherman Zhu Changhong and his wife clean floating trash as they patrol along the Yangtze River in east China's Anhui Province, on Jan. 7, 2020. TO GO WITH XINHUA HEADLINES OF JAN. 9, 2020. (Xinhua/Qu Yan)
One year later, China started a 10-year fishing ban on 332 key areas of the Yangtze River to protect biodiversity in the country's longest river, among which is the river section where Zhu lives, Datong Township of Tongling City, eastern China's Anhui Province.





The fishing moratorium is regarded as a key move in fighting depleting biological resources and degrading biodiversity in the Yangtze River, which has long been suffering from human activities such as overfishing and pollution, said Vice Minister of Agriculture and Rural Affairs Yu Kangzhen.





The 10-year ban is estimated to affect more than 110,000 fishing boats and nearly 280,000 fishermen in 10 provincial-level regions along the river. The ministry has promised to provide social security services, financial support and vocational training for fishermen who have to find a new way of earning a living.





Unlike other fishermen who have found jobs in factories or become security guards, Zhu and his wife continue to live by the river, but in a different way.





With the help of the local government, they joined a patrol team to clean floating trash and report sightings of finless porpoises, a job that earns them 5,000 yuan a month (about 720 U.S. dollars).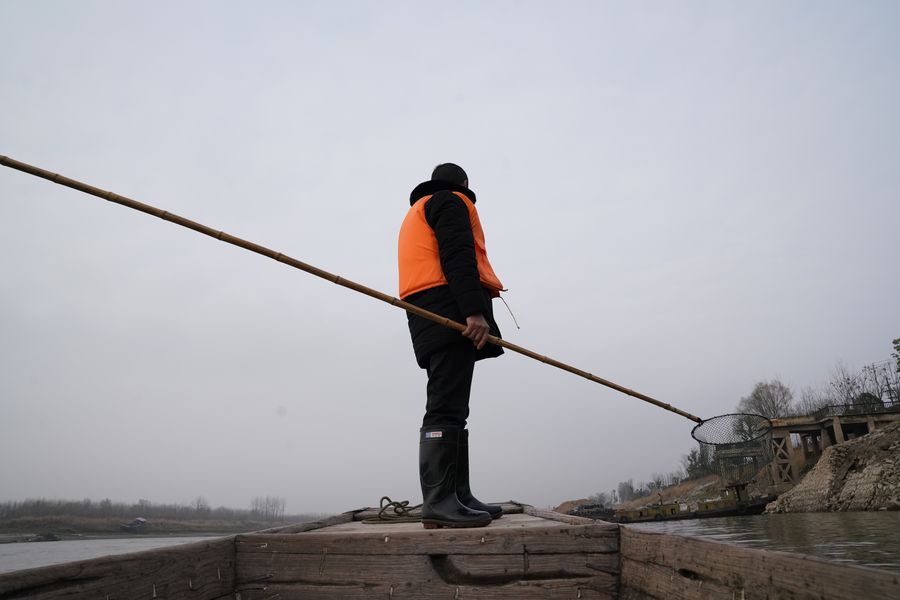 Ex-fisherman Zhu Changhong cleans floating trash as he patrols along the Yangtze River in east China's Anhui Province, on Jan. 6, 2020. TO GO WITH XINHUA HEADLINES OF JAN. 9, 2020. (Xinhua/Qu Yan)
Known for its mischievous smile, the finless porpoise has a level of intelligence comparable to that of a gorilla. However, they rely on abundant food supply for survival. In recent years, overfishing in the Yangtze River has contributed to the decrease in their number.





According to a research conducted in 2017, the river mammal is teetering on the brink of extinction with a population of around 1,000 in the main waterway of the Yangtze, even fewer than that of the giant panda.





Zhu used to love watching the river dolphins swimming near the shore searching for small fish. As he grew up, the dolphins became more and more terrified by the influx of fishing boats.





"I even saw dead dolphins injured by the blades of fishing boats as they love to follow them," said Zhu, adding that he and 1,000-plus fishermen in Datong Township understand the big picture of the fishing ban.





"There used to be a lot of fish in the river, and we always came back fully loaded. But now, we don't catch as much even with advanced gear," Zhu said.





Instead of fishing on the river, now Zhu and his wife patrol 10 to 15 km of water per day on average, collecting up to 200 kg of trash on a busy day.





"It reminds me of my childhood when I see finless porpoises again during the patrol," Zhu said. "It's an honor to protect these angels of the Yangtze River."





The city of Tongling is not alone in its endeavor to protect the Yangtze River. About 100 km downstream the Yangtze River from Datong Township lies the city of Ma'anshan, which also launched a fishing ban starting July 1st, 2019.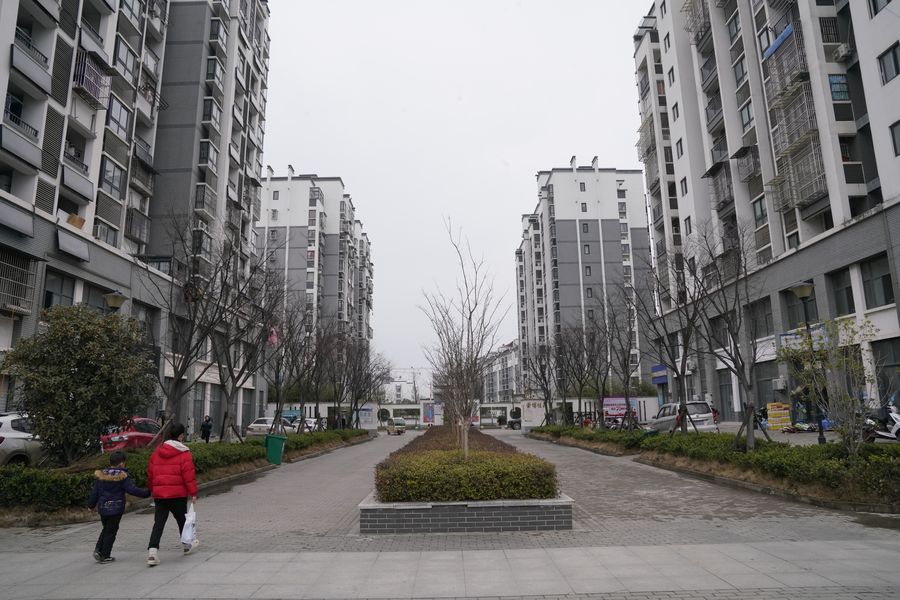 Photo taken on Jan. 8, 2020 shows a residential area built for fishermen moving ashore, in Maanshan, east China's Anhui Province. TO GO WITH XINHUA HEADLINES OF JAN. 9, 2020. (Xinhua/Qu Yan)
Zheng Laigen, a 44-year-old fisherman, moved ashore after floating on a boat his entire life. Taking advantage of his expertise in aquatic products garnered over the years, he is now the owner of a fishing farm and manages about 13 hectares of ponds, raising crabs, shrimp and fish.





"The last decade has witnessed the depletion of fish stock. We could catch about 40 kg of fish per day previously, but the number has slumped to less than 15 kg now," Zheng said.





For long-term development, more than 10,000 local fishermen like Zheng stopped fishing and settled on land in 2019.





Zheng's nine fishing boats were dismantled in May last year, with a subsidy of some 200,000 yuan from the local government. The government also offered him a housing allowance of 40,000 yuan.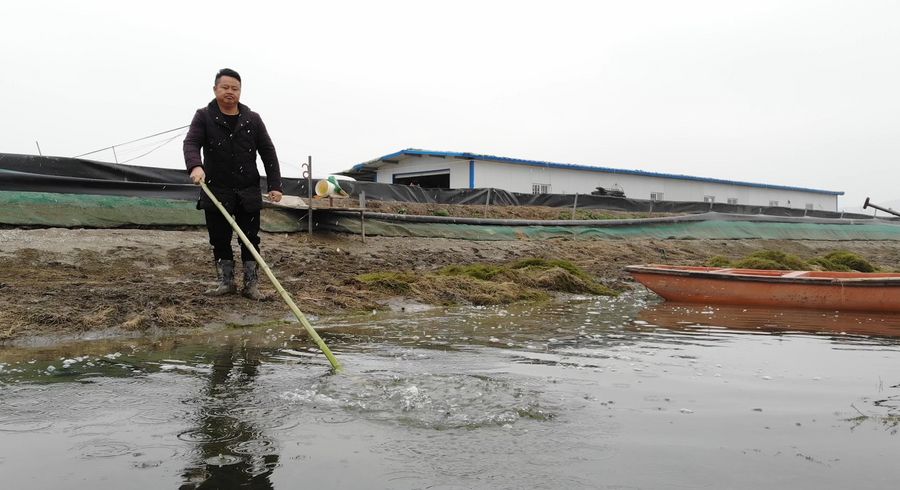 Ex-fisherman Zheng Laigen works at his fishing farm in Maanshan, east China's Anhui Province, on Jan. 8, 2020. TO GO WITH XINHUA HEADLINES OF JAN. 9, 2020. (Xinhua/Qu Yan)
His new business was prosperous last year, with an annual income of about 300,000 yuan. In the peak season in summer, he had to hire four people to help with his work.





To address their housing problem, efforts were made by the local government to help many families buy or rent a new house below the market price.





"The government grants 15 square meters for each person. I needed more, so I just paid for the extra space," said Zhang Laixi, an ex-fisherman, who owns a 60-square-meter apartment in a residential area specifically built for fishermen moving ashore.





Apart from housing, the local government also organized special job fairs and training classes for fishermen. As for Zhang who has been fishing for 20 years, he has no intention of working in factories since he prefers to work for himself.





The 33-year-old ex-fisherman now runs a convenience store in his community, serving more than 1,000 fellow fishermen in the area.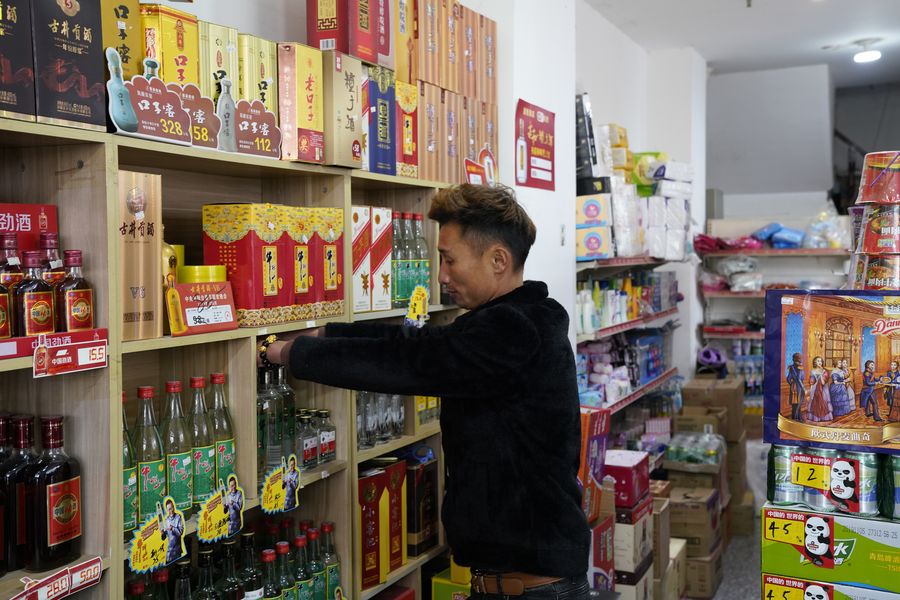 Ex-fisherman Zhang Laixi works at his convenient store in Maanshan, east China's Anhui Province, on Jan. 8, 2020. TO GO WITH XINHUA HEADLINES OF JAN. 9, 2020. (Xinhua/Qu Yan)
"It runs pretty well with an average daily turnover of 1,000 yuan. It's not too much, but I really enjoy the freedom I have," said Zhang. Enditem (Xinhua writer Yang Dingmiao also contributed to this article)





(Video editor: Li Ziwei; video reporters: Qu Yan)■