If you are not at a wedding, you are on the way to one. This statement became a reality during China's Golden Week, the first long holiday in the second half of the year. During the eight-day holiday, some chose to go on a trip, but others used the opportunity to tie the knot.
The usual peak wedding season dubbed "golden," became "a thousand pure gold" as the market became extremely hot this year after many couples, affected by the novel coronavirus pandemic prevention and control measures, rushed to get married as soon as the virus and the restrictions eased.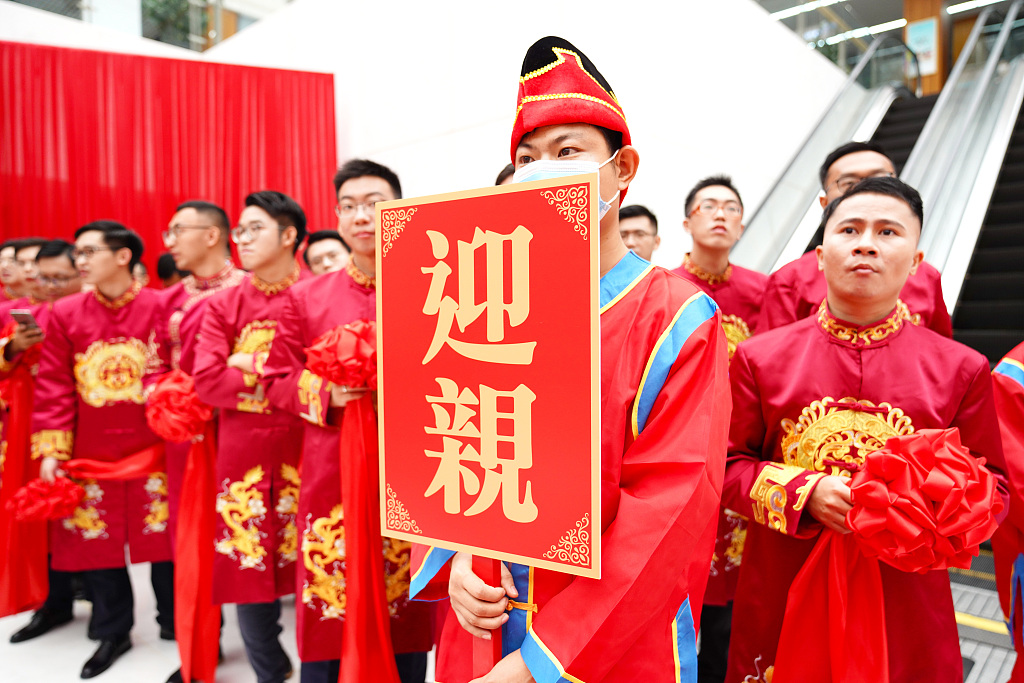 Twenty couples in the medical field held a group wedding on October 1 in Gongduan, south China's Guangdong Province. /CFP
"It's been too busy these days. Leave a message and I will take time to reply."
Xiaotian (pseudonym), a wedding planner in Beijing, has not worked since November last year until the resumption of work this August. He now brings two batteries to charge his mobile phone to book the highly sought after resources, especially the last-minute deals.
The most difficult part of arranging a wedding is the venue. Many popular sites have been booked 12 to 18 months in advance. Hotels with outdoor lawns and restaurants that have gone viral on the internet have all been booked to capacity. According to the Beijing Evening News, popular venues in Beijing's Chaoyang District are fully booked; the earliest opening is not until June next year and must be grabbed swiftly or else it will be gone.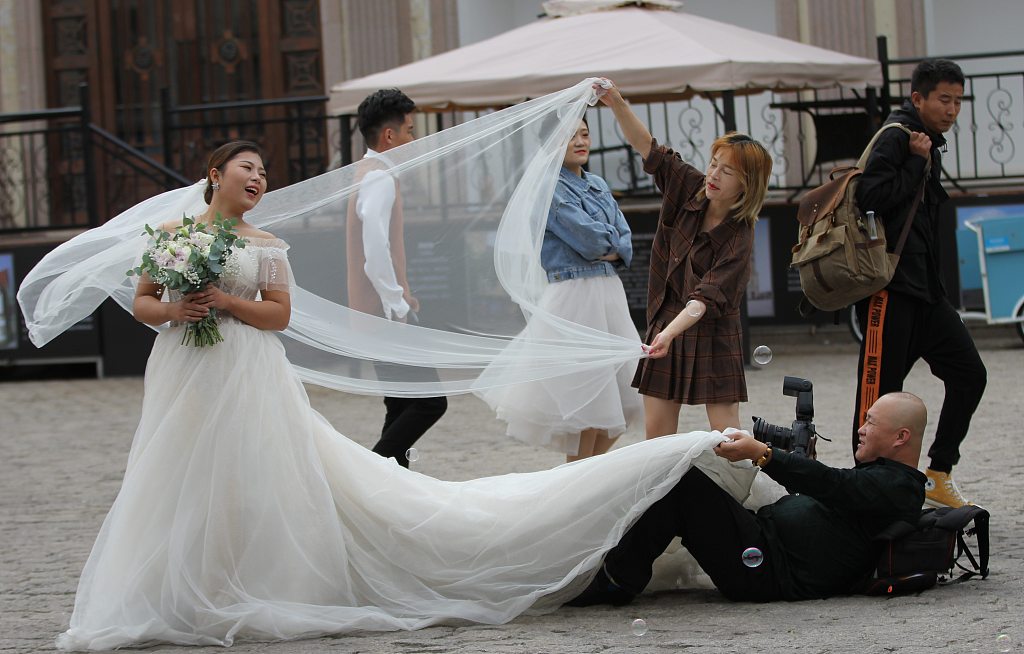 A couple in Qingdao, east China's Shandong Province, has their wedding photos taken by a team of photographers. /CFP
In addition to competing for a venue, the staff needed for a wedding, including those that do bridal makeup, can be demanding. A makeup artist Xiaotian works with charges 8,800 yuan (about $1,295.87) per session. During this Gold Week holiday alone, she has earned over 120,000 yuan working on 14 weddings.
But not everyone is making a lot. Xiaotian said although the wedding industry has recovered, the overall income for wedding planners this year has been cut in half due to the pandemic and is still significantly less compared to previous years.
"It's impossible to recoup the losses of this year," Xiaotian said. "Knowing that I would lose money, I'd still carry on just to minimize my loss."
According to data from Meituan Dianping, one of China's biggest online shopping platforms, the number of bookings for wedding jewelry during the Golden Week increased by 137 percent year-on-year. Meanwhile, the number of bookings for wedding follow-ups, wedding planners and wedding dresses increased by 51.7 percent, 43 percent and 42.6 percent, respectively.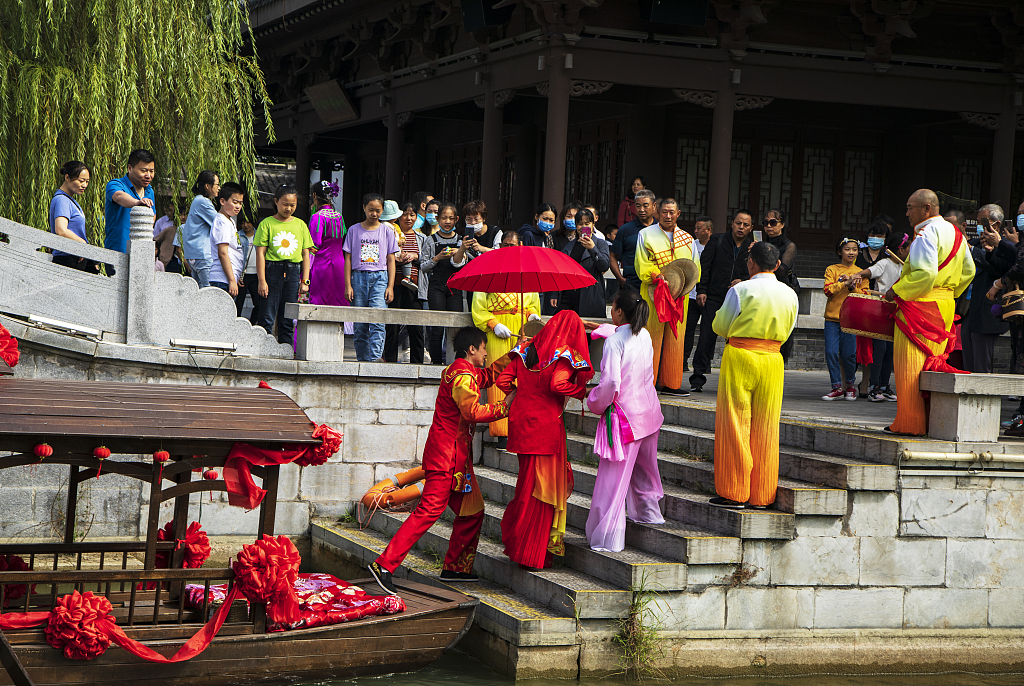 A traditional "fisherman" wedding ceremony held at a scenic spot in Jiangsu Province. /CFP
Experts said that as long as standard epidemic prevention and control measures, such as wearing a mask, remain in place, individuals should be able to enjoy the holiday to the fullest.