A soon-to-be graduate this summer, Li Xuan is now doing an internship in an internet company based in Beijing. "I'm working very hard in order to turn this internship into a job offer," said Li, who has concerns about finding a job because she heard many people around her being laid off because of the novel coronavirus pandemic.
China is expecting around 8.74 million college students to graduate this year, reaching a record high with 400,000 more compared with 2019.
Bleak future
"Graduation equals unemployment" is always used as a jest by university students, but for this year's fresh graduates these words may convey a dark reality. According to a report by Boss Zhipin, a recruitment website in China, during the spring recruitment season, the number of graduates seeking jobs this year increased by 56 percent compared with 2019, but demand from enterprises declined by 22 percent year on year.
Yang Yi, a senior student majoring in translation is still trying to find an internship. "I have already sent my resume to 22 companies, but only three gave me a chance for interview while others rejected me directly or there was no reply," she said, adding that less positions and lack of experience may be the reason for this.
Yang actually already had an offer for masters but there is uncertainty when it comes to enrollment schedule due to the coronavirus, so she has to be ready for both scenarios: working and studying.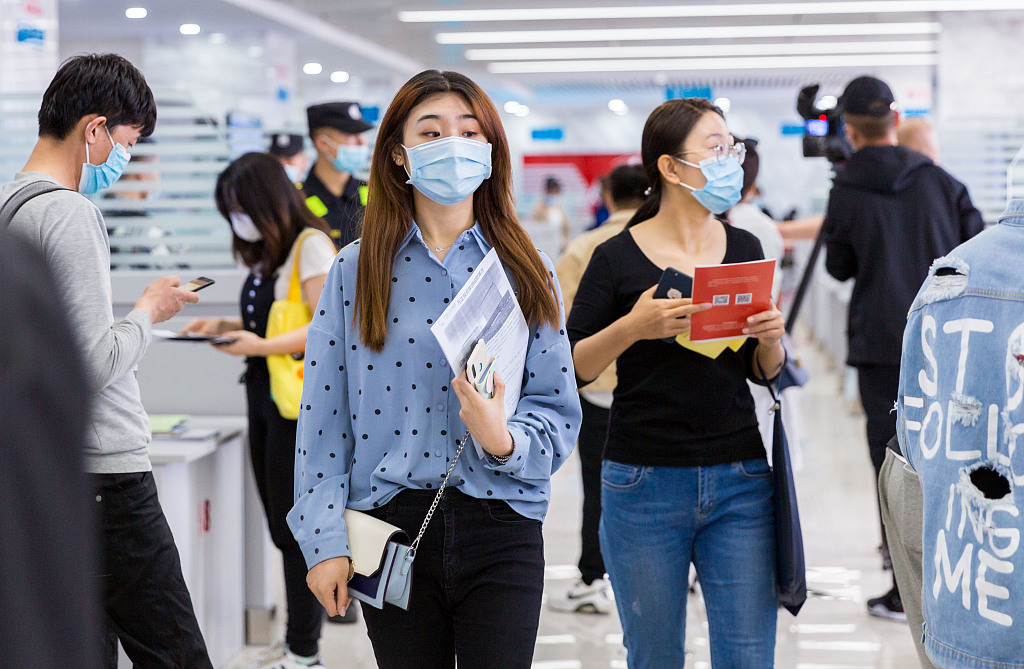 Graduates attend a recruitment fair in Hohhot, Inner Mongolia Autonomous Region, May 20. /VCG
A study by Peking University recently showed that in the first quarter of 2020, the number of jobs on offer shrank by 27 percent. The fall was led by the entertainment and services sector, followed by education, sports, information technology, and finance.
One of Li's roommates once had an internship in the film and television industry and was guaranteed a formal job offer. But unluckily, she didn't get that offer because the company laid off employees in response to the pandemic.
China's economy shrank for the first time since 1976 by 6.8 percent in the first quarter of 2020, and the COVID-19 pandemic is still crippling the global economy. China's class of 2020, born in the late 1990s, has never faced an economic downturn and is used to relentlessly strong economic growth. The bleak career future may be a great shock on them.
According to a survey by Renmin University of China and local recruitment website Zhaopin, 51 percent of respondents said that it is very difficult to find a job this year, while 41.2 percent said it's difficult but acceptable. The survey also showed that around 62 percent interviewees think the pandemic has an influence on their job-seeking process, because the number of job openings for new graduates and recruitment fairs both declined.
"I'm afraid that I'm the one left behind," Li said constantly worrying about finding a job after graduation, and the coronavirus pandemic has been heightening that anxiety.
Measures to ease graduation anxiety
The novel coronavirus pandemic has raised the specter of a looming unemployment crisis in China, and new graduates are facing unexpected challenges and heightened concerns about their careers. In order to stem a potential surge in youth unemployment, China's Ministry of Education launched a "100-day" national campaign in May, aiming to boost the employment and entrepreneurship of new graduates.
The campaign includes expansion of postgraduate enrollment and army enlistment, more hiring by state-owned enterprises, more subsidies for small businesses, etc. At the same time, universities and companies across the country move their recruitment procedures online after the on-site recruitment has been largely disrupted amid nationwide restrictions on public gatherings.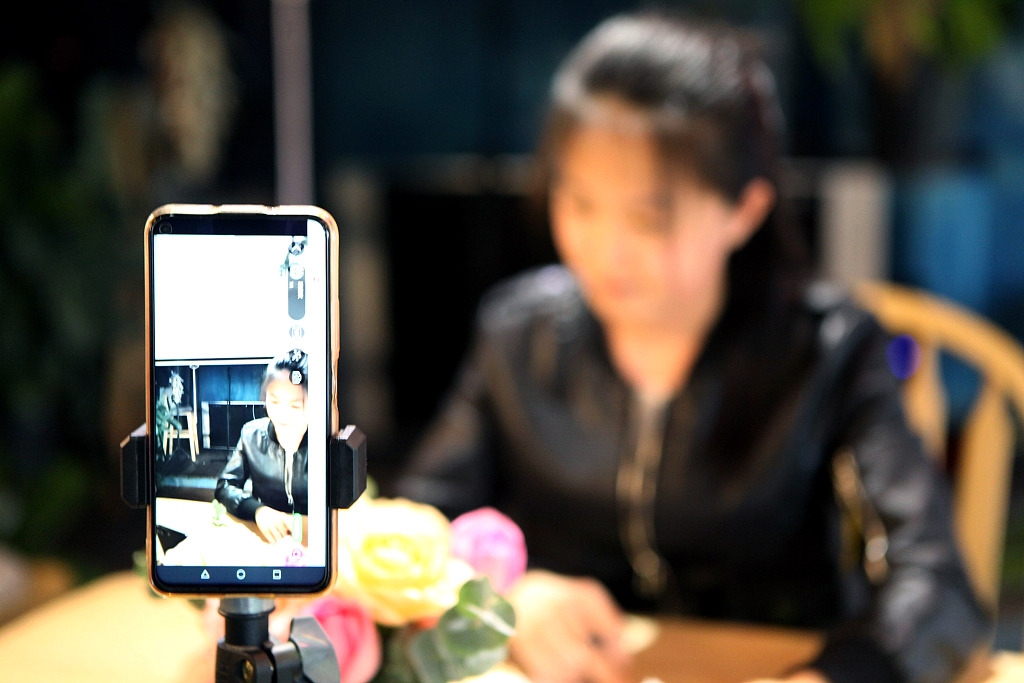 Many companies moved their recruitment procedures online due to the pandemic. /VCG
Influences in different industries
Under the background of a nationwide economic downturn, enterprises are adopting measures of financial compression, Zhang Yi, CEO and chief analyst of iiMedia Research told CGTN. "Companies are cutting headcount for fresh graduates," he said.
Boss Zhipin's report shows that the financial industry has experienced the biggest job contraction, with recruitment demand for fresh graduates dropping by more than 50 percent compared with 2019. The number of jobs for fresh graduates in import and export industry has also declined because the wide-spread novel coronavirus hit trade orders.
However, the report also observes that the recruitment demand in machinery and manufacturing industry has bucked the trend while they are resuming production steadily. At the same time, emerging industries are offering more positions for fresh graduates as the digital economy and advanced manufacturing have played a significant role in the pandemic. Industries such as AI, commercial 5G, Internet of Things are more friendly to new graduates.
Zhang also pointed out online services such as online education, e-commerce, and digital entertainment are booming. "When one wave of opportunities disappeared, another is born."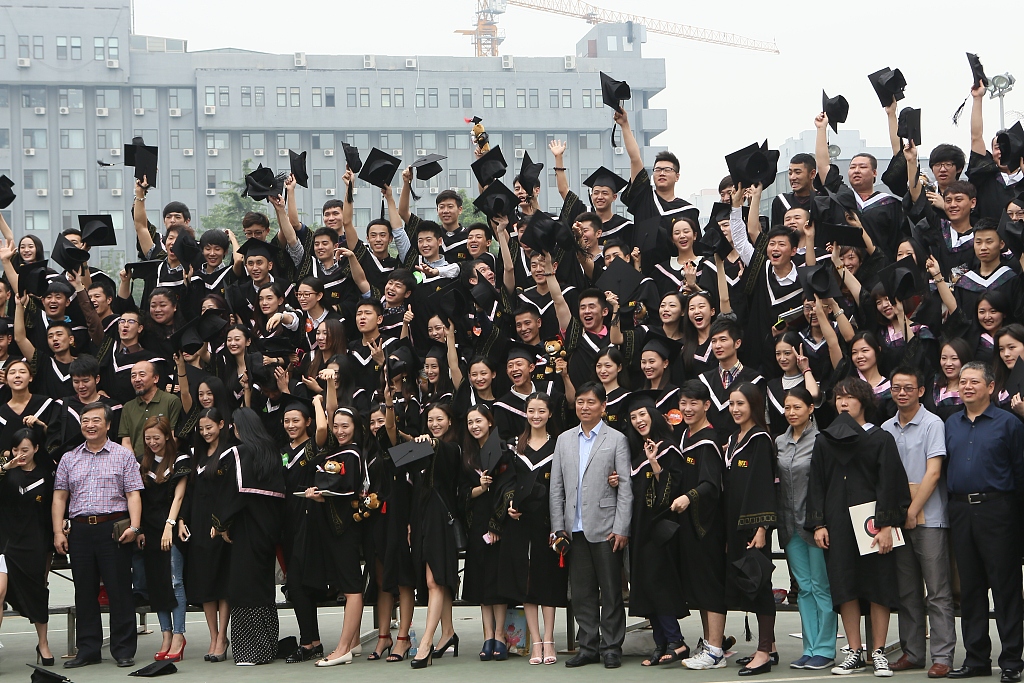 More than 8.7 million college students are set to graduate in China this year. /VCG
The pandemic has made it harder for the youth to find their ideal jobs and candidates may have to lower their expectations and standards.
Li said if she cannot turn her present internship into a job offer and cannot find any other good job, she will not wait and go ahead and accept another job, even if she doesn't like it. "I have to pay for rent and meals."
Yang holds a similar view, saying that she will find an internship with lower requirements and equip herself with more practical skills at the same time.
However, Wang Xue, a senior student in Shanghai, holds a more positive view of the future. "I will not change my standards and direction in job hunting, even if I can't find my ideal job," she said. "I believe the situation is becoming better. I will rest first."
In Zhang's opinion, throughout history, old industries have declined while new opportunities emerged. "Fresh graduates don't need to fix themselves into a particular industry," he said, "they should try to change their way of thinking and adapt to changes in society."
(Pseudonyms are used except Zhang Yi)
(Top image by Pan Yufei, Infographic by Yin Yating)