Viruses do not respect borders. The fight against coronavirus is also a test of international solidarity in the face of common enemies of humanity.
By Xinhua writers Wang Zhuolun, Zhu Chao





BEIJING, Feb. 19 (Xinhua) -- Chinese President Xi Jinping has had frequent phone conversations with his foreign counterparts over the past two weeks. With sympathies and solidarity pouring in from the international community, China has rallied global support as it wages a harsh war against the novel coronavirus outbreak, known as COVID-19.





China's measures to prevent and control the COVID-19 epidemic are achieving visible progress as the battle has reached a crucial time, Xi said in a phone call with British Prime Minister Boris Johnson on Tuesday.





Also on Tuesday, Xi had his second phone conversation with French President Emmanuel Macron within a month.





China not only safeguards the lives and health of the Chinese people but acts in a highly responsible manner for global public health security, Xi told Macron.





Since the outbreak, China has mobilized the entire country and adopted the most comprehensive, rigorous and thorough prevention and control measures, including locking down the 10-million-population city of Wuhan, the epicenter of the outbreak.

Combo photo shows an aerial view of the construction site of Huoshenshan (Fire God Mountain) Hospital, a makeshit hospital dedicated to treating patients infected with the novel coronavirus, during10 days from Jan. 24 to Feb. 2, 2020 in Wuhan, central China's Hubei Province. (Xinhua/Xiao Yijiu)
Both Johnson and Macron expressed their high appreciation for China's efforts to stop the virus from spreading on a worldwide scale as well as its high degree of openness and transparency.





In the past month, Chinese leaders, including the president, premier and foreign minister, had over 30 phone conversations with their foreign counterparts over China's fight against the epidemic, according to the website of the Foreign Ministry.





Cambodian Prime Minister Samdech Techo Hun Sen paid a special visit to Beijing in early February to show solidarity. "A friend in need is a friend indeed as the Cambodian people stand with the Chinese people at this special moment," Xi said.





Director-General of the World Health Organization (WHO) Tedros Adhanom Ghebreyesus arrived in China on Jan. 28, five days after Wuhan's lockdown.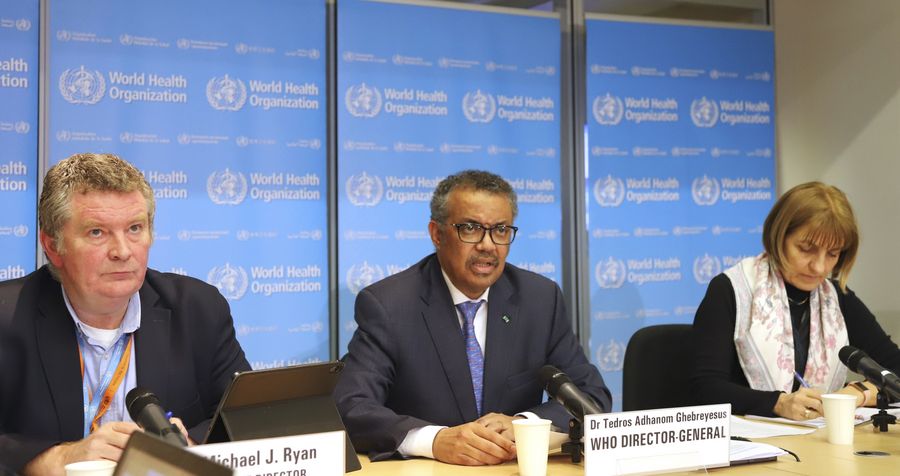 Dr. Tedros Adhanom Ghebreyesus (C), World Health Organization (WHO) Director-General, addresses a press conference, on which WHO said that China's latest epidemiological paper on COVID-19 is important in enabling it to provide advice to other countries, in Geneva, Switzerland, Feb. 17, 2020.(Xinhua/Chen Junxia)
During his meeting with Xi in Beijing, Tedros hailed that the high speed and massive scale of China's moves are rarely seen in the world, expressing his confidence in China to finally prevail over the epidemic.





OPENNESS, TRANSPARENCY





On Monday, a joint expert team consisting of experts from China and the WHO began their field inspections on the prevention and control of the outbreak in Beijing, Guangdong Province and Sichuan Province.





With a highly responsible attitude, China has conducted active international cooperation since the outbreak. It has immediately informed the WHO of the outbreak, shared technical information and the full gene sequence of the novel coronavirus with the WHO, and provided assistance to foreign nationals in China.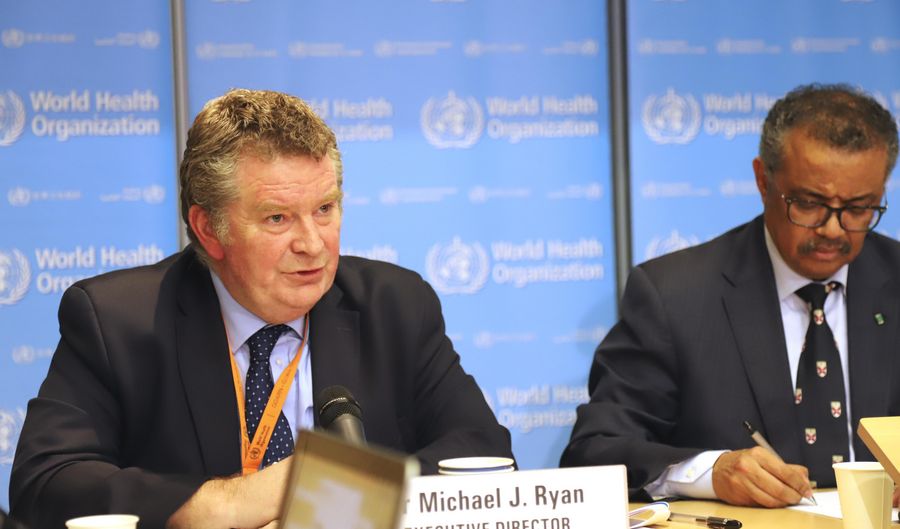 Dr. Michael Ryan(L), executive director of the World Health Organization (WHO) Health Emergencies Program, addresses a press conference, on which WHO said that measures to restrict people's movement in China amid the COVID-19 outbreak are a correct strategic and tactical approach, in Geneva, Switzerland, Feb. 18, 2020. (Photo by Chen Junxia/Xinhua)
Chinese Foreign Ministry held two briefings in late January and early February, respectively, for foreign embassies and missions in China on the prevention and control of the epidemic.





Chinese agencies abroad have also maintained close communication with the governments of receiving countries and updated them on the outbreak and China's efforts in a timely manner.





Due to the outbreak, the Foreign Ministry has held its daily press briefing online through WeChat, the country's most popular messaging app, since Feb. 3.





In a WeChat group of some 300 Chinese and foreign reporters, spokespersons update coronavirus-related data and respond to questions every weekday, together with an English version.





Hua Chunying, director-general of the information department and spokesperson of the Foreign Ministry, took a pioneering step in opening a personal Twitter account on Feb. 14.





Chinese State Councilor and Foreign Minister Wang Yi, in his interview with Reuters on the sidelines of the Munich Security Conference, elaborated on how China has shouldered responsibility for its own people and the world at large.





"We have taken the most comprehensive, stringent and thorough prevention and control measures, many of which are well beyond what is required by International Health Regulations and the recommendations of the WHO," Wang told Reuters.





Cui Tiankai, Chinese ambassador to the United States, responded to questions raised by U.S. media outlets, easing concerns and misunderstanding from the Western public.





The shared information conveys not only China's confidence and determination to win the battle but also the concrete measures on countering the epidemic, said Zhou Xinyu, a professor of international relations at Beijing Foreign Studies University.





"It shows Chinese diplomats are taking a candid, honest and open attitude when dealing with the epidemic," said Zhou. "They told the facts and did not evade harsh questions, which was helpful."





IN THE SAME BOAT





Viruses do not respect borders.





"The sudden outbreak of the epidemic reminds the world once again that no country can prosper in isolation or meet challenges on its own, as interests are closely interconnected," State Councilor and Foreign Minister Wang Yi said.





Thanks to China's voluntary sacrifices, the number of confirmed cases outside China is less than 1 percent of the total, and the world has so far not seen a major global outbreak.





"China's efforts to control the source of the virus and contain its spread have bought valuable time for the rest of the world," said Tedros, stressing that without China's efforts, the number of global cases would be much higher.





According to the Chinese Foreign Ministry, so far, leaders of more than 160 countries and international organizations have sent letters or messages to express their solidarity. Many countries offered moral and material support to China.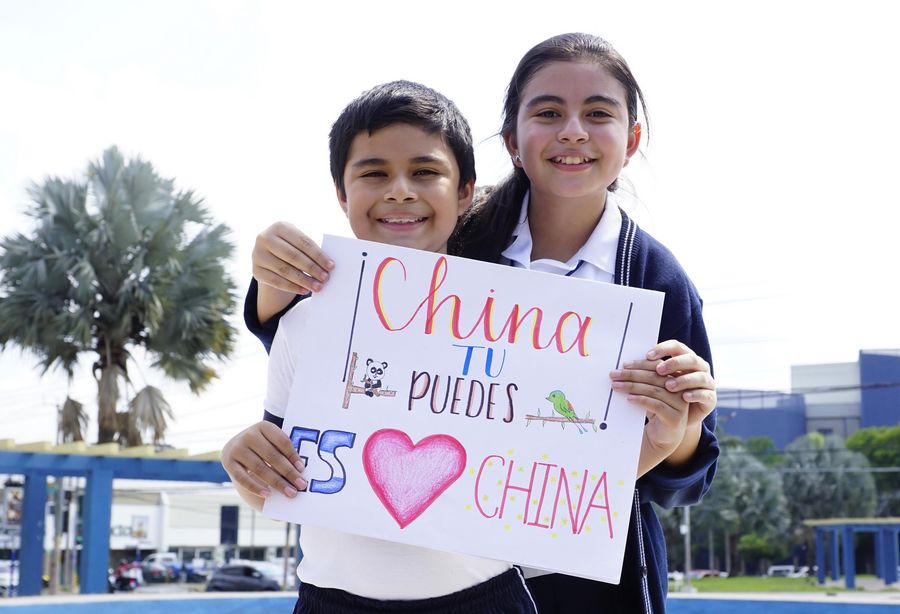 Valeria Castellano, 13, together with her 11-year-old little brother Javier Castellano, shows a painting with words of encouragement to China in San Salvador, El Salvador, Feb. 7, 2020. (Photo by Alexander Pena/Xinhua)
Russia, Belarus and the Republic of Korea delivered badly-needed medical supplies to Wuhan through chartered flights. Pakistan sent virtually all the face masks in its stock.





Japan's ruling Liberal Democratic Party decided to deduct 5,000 yen (around 45.43 U.S. dollars) from the March salary of every parliamentarian of the party and donate the money to support China's fight against the epidemic, a sum totaling 2 million yen (around 18,170 U.S. dollars).





The U.S. State Department has coordinated with relevant organizations and donated 16 tonnes of epidemic prevention goods of all sorts, including masks, protective suits and oxygenerators.





While mainly relying on the strength of the Chinese people to fight the epidemic, China is very grateful for the help offered by the international community, said Xi.





The stringent and efficient measures China has taken to contain the spread of the novel coronavirus are paying off.





According to the National Health Commission, China's daily new confirmed cases of the novel coronavirus pneumonia outside Hubei had dropped for 15 consecutive days as of Tuesday, and the number of cured cases reached 14,376.





"No winter lasts forever; every spring is sure to follow," Hua wrote in her first tweet.