Ge Manqi, 23, won her third gold medal at the Chinese National Games in Xi'an, northwest China's Shaanxi Province, on Friday.
Ge joined hands with Liang Xiaojing, Huang Guifen and Wei Yongli to finish first in the women's 4x100-meter relay race at 42.72 seconds. Before that, Ge claimed gold medals in the women's 100m and 200m events.
"We ran a lot before the final and it was raining so I was a bit worried that my muscles would be stiff," said Ge after the final on Friday night. "Fortunately, it all ended well. I'm so glad that my dream of winning three golds came true in Xi'an. I have no regrets this year."
One month ago, Ge, Liang, Huang and Wei finished sixth in the women's 4x100m relay final at the Tokyo Olympics with a time of 42.71 seconds. It was the best finish ever for Chinese athletes in the event.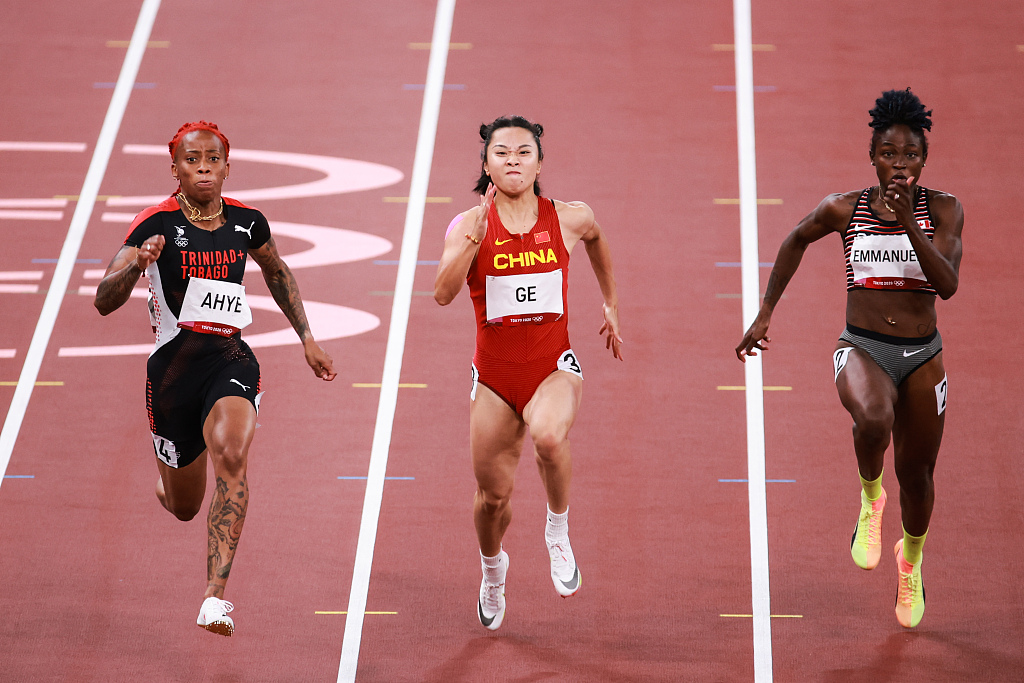 Ge Manqi (C) of China competes in the women's 100m semifinal at the Tokyo Olympics at the National Stadium in Tokyo, Japan, July 31, 2021. /CFP
Ge began competing in track and field when she was 10 years old and tried various events, including hurdles, long jump and pole vault, before she met her coach, Liu Zhaoxu, who helped Ge focus on becoming a sprinter.
"I'm grateful for the solid fundamentals I built trying so many different sports and I'm more grateful to Coach Liu Zhaoxu. He's been like a dad to me. He guided me through my rebellious stage and helped me find direction in my career," said Ge.
Though Liu could not come to Xi'an to be with Ge, he did not miss any of her races.
"We talk ahead of every race. She's a great sprinter. I have confidence in her for next year's Asian Games, the next Summer Olympics and the World Championships in the future. I want to make her a top athlete at the international level and help her show herself to the rest of the world," said Liu.
"When I decided to become an athlete as a child, they said I should aim at becoming the next Liu Xiang. I was too young to understand how difficult that goal is back then," Ge told Xinhua News Agency. "I suffered some setbacks later and felt that the goal was too far out of reach. I attended the Olympics, won three golds at the National Games and keep making breakthroughs. The childhood dream does not seem so distant now."
(CGTN)