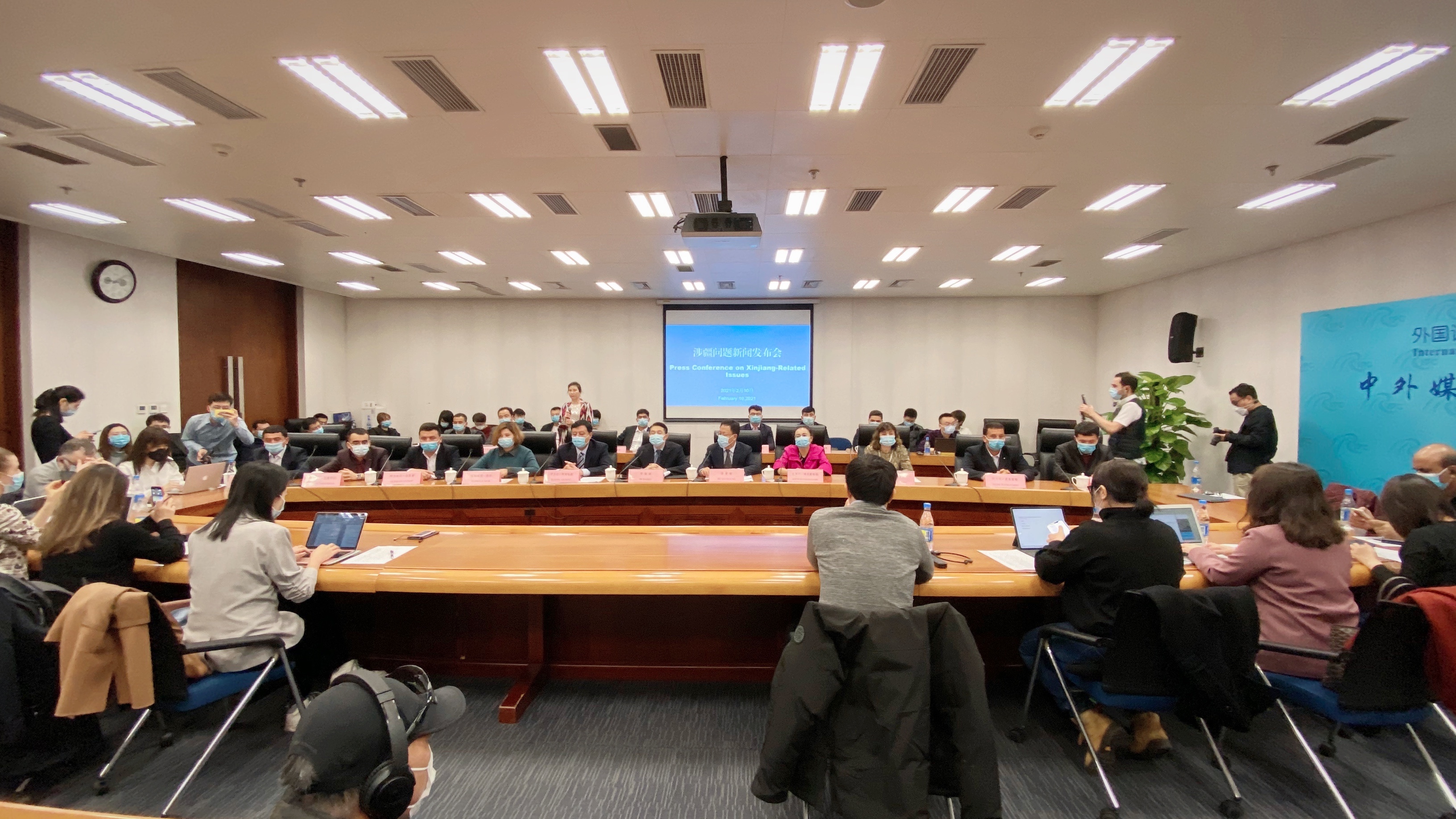 Miransa Kare (C-L), a former trainee of a vocational education and training center in Kashgar, northwest China's Xinjiang Uygur Autonomous Region, talks about how her life has changed since her graduation from the center, at a press conference in Beijing, China, February 10, 2021. /CGTN
After graduating from a vocational training center in Kashgar, northwest China's Xinjiang Uygur Autonomous Region, Tudigul Nur landed a job in her native village. She had a daughter after graduating, who will soon turn a year old.
"You can take a look at the picture of my daughters. This is the girl I gave birth to after I graduated. Isn't she adorable? If us female trainees were forced to go through sterilization, how could I have had the baby?" asked Tudigul Nur.
Miransa Kare, another graduate from a village in Kashgar, echoed Tudigul.
The 28-year-old is now a mother of two. She said, according to China's policies, she can have more children in the future if she wants.
As the head of women's affairs in the Village Committee, Miransa often guides fellow female villagers in prenatal and postnatal care.
"China has many preferential policies for women. For example, women can have a physical examination every year. We can also have premarital and pre-pregnancy checkups, all free of charge," said Miransa Kare.
Earlier, the BBC falsely claimed that women in Xinjiang's training centers were put through forced sterilization.
The UK news outlet made obnoxious allegations of women in Xinjiang being systematically raped, sexually abused and tortured.
Such preposterous accusations infuriated Zaynura Namatqari and all her classmates.
"Let me set the record straight, none of us female trainees were raped in the training center. What the BBC said is nonsense! We are all very angry! We want to tell the BBC and those who report fabricated stories, that if you continue to insult us then we will hold you legally accountable," said Zaynura Namatqari.
By the end of 2019, all trainees admitted to the training centers -- part of China's efforts to help residents learn life skills and weed out religious extremism in the region -- had graduated.
Local officials say trainees have learned standard spoken and written Chinese, gained an understanding of the laws, vocational skills, and have also undergone deradicalization.
They have now attained stable employment and are enjoying an improved quality of life.
In 2019, China released a white paper on vocational education and training in Xinjiang, saying these centers were established in accordance with the law and ensure social stability and regional security.