Every weekend, Asia Pacific Daily will provide you with a run-down of the latest hot news.
This week, the following hot news you should know:
---
Top 1 | UN chief urges Sudan's warring parties to pursue peace, reconciliation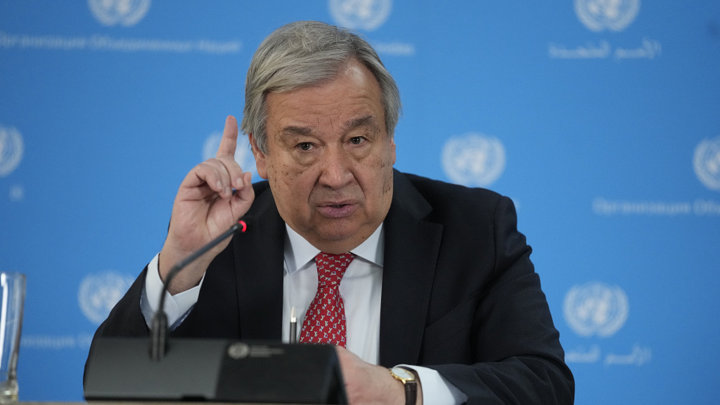 United Nations Secretary-General Antonio Guterres on Wednesday called upon Sudan's warring parties to pursue the path of peace and reconciliation in order to avert a humanitarian crisis that could engulf the greater Horn of the African region.
Guterres, who spoke at a media briefing in Nairobi, the Kenyan capital, said the conflict that broke out in Sudan in mid-April remains of grave concern, adding that laying down of arms among combatants is urgent.
"The fighting needs to stop now before more people die and this conflict explodes into an all-out war that could affect the region for years to come," Guterres said. "All parties must put the interests of the Sudanese people first -- that means peace, prosperity, and a return to civilian rule."
---
Top 2 | China, Myanmar agree to promote comprehensive strategic cooperation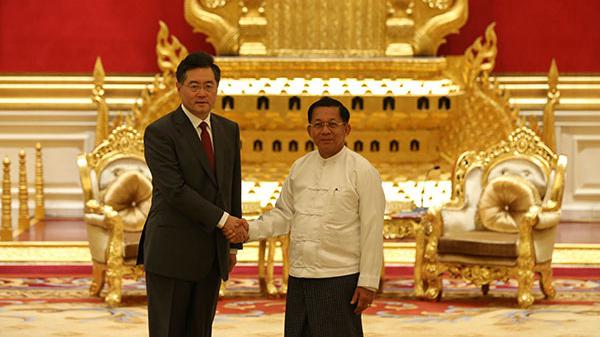 China and Myanmar agreed on Tuesday to further promote comprehensive strategic cooperation between the two countries.
At a meeting with Myanmar leader Min Aung Hlaing in Nay Pyi Daw, capital of Myanmar, Chinese State Councilor and Foreign Minister Qin Gang said China has attached great importance to its relations with Myanmar as the two neighbors share "Paukphaw" (fraternal) friendship.
China is ready to join hands with Myanmar to build a China-Myanmar community with a shared future and take the lead to implement the Global Development Initiative, Global Security Initiative and Global Civilization Initiative, Qin said.
---
Top 3 | Moscow says Kyiv attempted assassination of Putin by drone attack, Ukraine denies involvement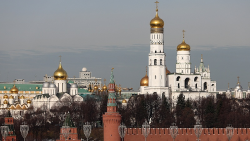 Russia on Wednesday accused Ukraine of attempting an assassination of President Vladimir Putin, and Kyiv denied involvement.
The Kremlin said Ukraine launched an unmanned aerial vehicle strike against the Kremlin presidential residence on Wednesday, according to Russian media reports.
The strike, what the Kremlin called "a planned terrorist act and an attempt on the life of the President of Russia" in a statement, involved two unmanned aerial vehicles that were shot down by Russian forces. Putin had not been in the Kremlin at the time, according to RIA news agency, and his work would continue as scheduled.
---
Top 4 | Raisi arrives in Syria for first visit by Iranian president since Syrian war began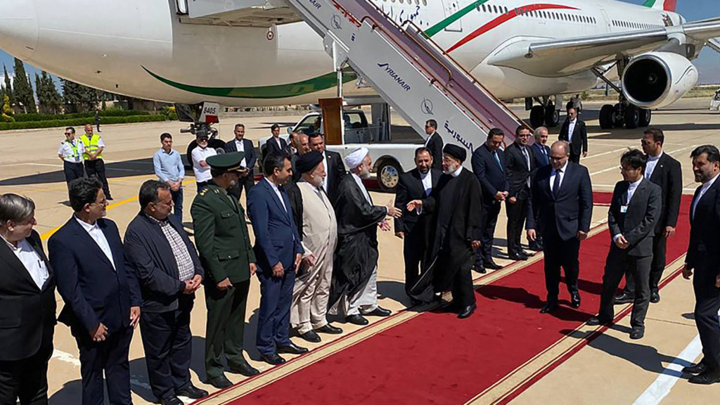 Iran's President Ebrahim Raisi arrived in Damascus on Wednesday, Syrian state media SANA news agency reported, on the first visit by a head of state from Iran since Syria's civil war broke out in 2011.
Raisi's visit comes as Iran and regional rival Saudi Arabia rebuild ties after years of tensions. Arab nations which had isolated Syria over its crackdown against protests in 2011 are developing a roadmap to end the 12-year war and reintegrate Syria into the Arab fold.
---
Top 5 | UN chief sends envoy over 'unprecedented' Sudan situation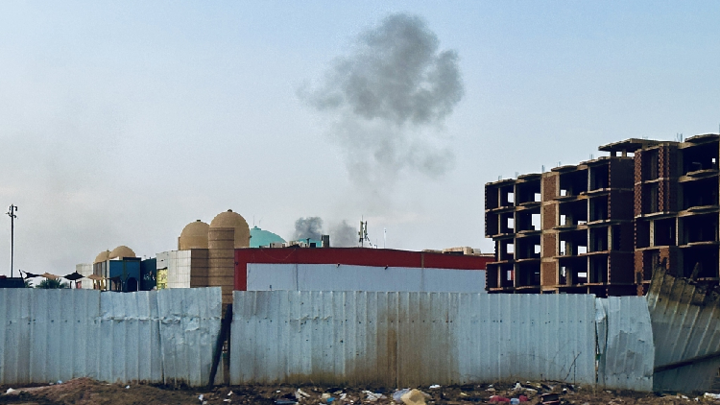 Secretary-General of the United Nations (UN) Antonio Guterres is sending UN Humanitarian Affairs chief Martin Griffiths as an envoy to the Sudan region, his spokesman said Sunday.
The announcement came as the army and heavily armed paramilitaries in Khartoum continued fighting, even as a widely breached ceasefire was extended for 72 hours.
"The scale and speed of what is unfolding is unprecedented in Sudan," UN Spokesperson Stéphane Dujarric said in a statement.
---
Top 6 | Chinese FM meets with UN special envoy over Myanmar issue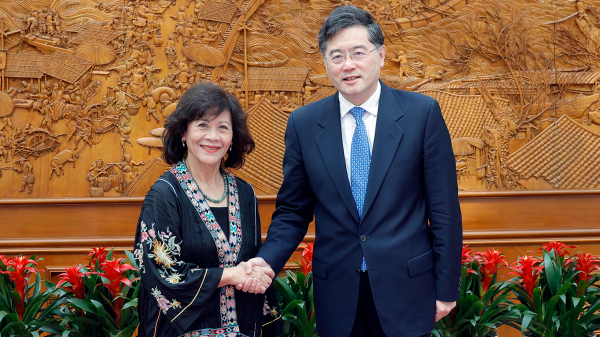 The international society should respect Myanmar's sovereignty and promote political dialogue to restore peace and stability in Myanmar, Chinese State Councilor and Foreign Minister Qin Gang said on Monday when meeting with UN Secretary-General's special envoy on Myanmar Noeleen Heyzer.
Qin said that China, more than any other country, hopes Myanmar can achieve stable development as it's a close neighbor, but the background of the Myanmar issue is complex and there is no quick fix to its problems. The international society should respect Myanmar's sovereignty, support all parties in Myanmar to bridge differences and restart the political transition process through political dialogue under the constitutional and legal framework, Qin noted.
He added that the international society should respect mediation efforts by the Association of Southeast Asian Nations (ASEAN) and promote the implementation of ASEAN's Five-Point Consensus, which includes immediate end of violence, dialogue among parties, humanitarian assistance and the bloc's special envoy to Myanmar.
---
Top 7 | Fighting continues in Khartoum as thousands more evacuate from Sudan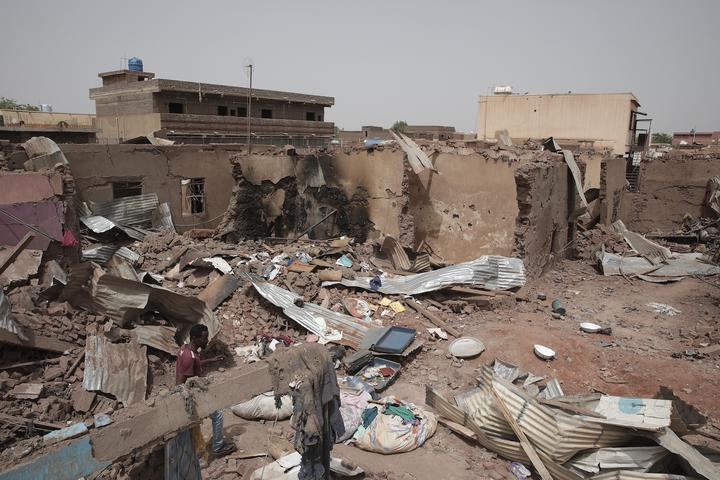 As foreign countries continue to evacuate their citizens from Sudan by land, sea and air, Sudanese citizens report gunfire and heavy artillery fire in parts of Khartoum on Saturday.
The military activity continues amid the extension of a ceasefire between the country's two top generals, warring with each other for power. Hundreds of Sudanese civilians thronged the borders as renewed warnings grow louder of the wider instability to come if the fighting does not stop. At least 528 people have been killed and 4,599 wounded, with the United Nations saying it believes the real toll is much higher.
At least 75,000 people have been internally displaced by the fighting, the UN said. Satellite views shows buses gathered at the Arqeen border crossing into Egypt.
---
Top 8 | China reveals more details on upcoming Tianzhou-6 launch in early May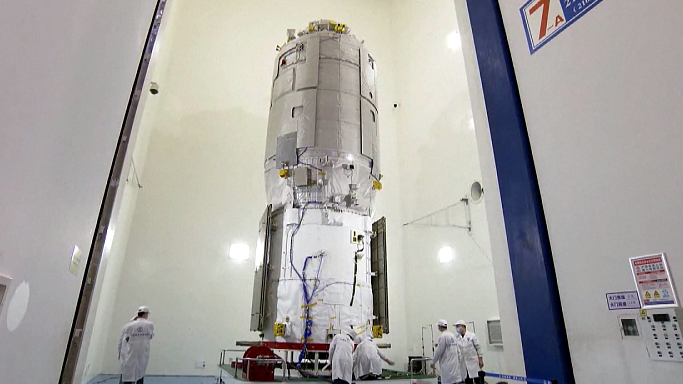 China revealed more details about its upcoming space launch Tianzhou-6 cargo mission for the space enthusiasts to dig in as the launch is expected to have only a few days for countdown.
Weighed 13.5 tonnes in total, the Tianzhou-6 cargo craft will be the first cargo craft of its series to boost its loading capacity from previous 6.9 tonnes to 7.4 tonnes. The craft is compromised of two parts: the small lower part is the propulsion module and the upper big part is for cargo storage.
"We moved some equipment in a previous unsealed compartment to the lower part of the craft so the storage can be 20 percent bigger," said Wang Ran, the chief designer of cargo craft system at China Academy of Space Technology (CAST).
---
Top 9 | Mexican president accuses U.S. of funding groups hostile to his administration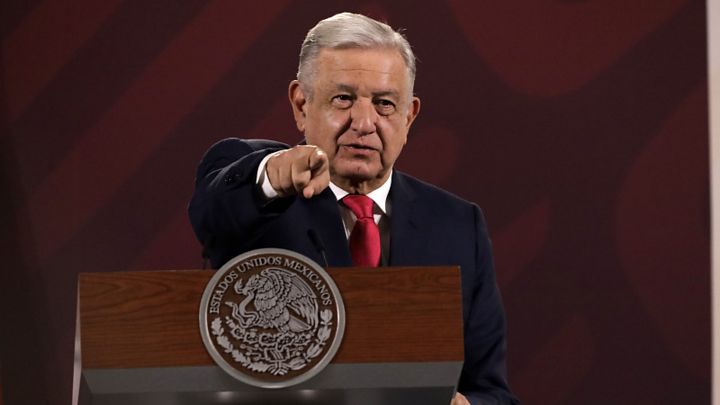 Mexican president asked his U.S. counterpart Joe Biden to stop the United States Agency for International Development (USAID) from funding groups hostile to his government, according to a letter presented to journalists on Wednesday, echoing previous Mexican criticism of U.S. interventionism.
Speaking at a press conference, Andres Manuel López Obrador read from a letter he sent to President Biden the day prior.
"The U.S. government, specifically through USAID, has for some time been financing organizations openly against the legal and legitimate government I represent," he said in the letter.
---
Top 10 | Biden to huddle with top donors as 2024 effort kicks off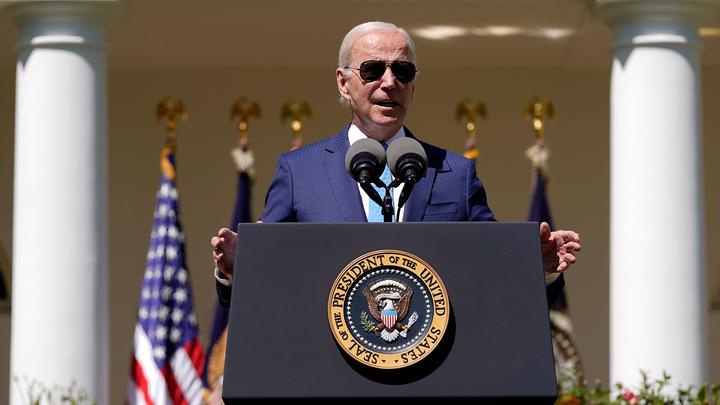 President Joe Biden thanked some of his top donors Friday night as he launches a reelection campaign that is expected to need to raise well over $1 billion to secure his second term.
"It's because of you, I'm standing here," Biden said in the ballroom of a Washington hotel. "And it's because of you, we're going to win this time around."
The weekend summit is not a fundraiser and it was not clear how many of the attendees had yet cut checks to Biden's campaign. Rather, it is billed as a strategy session for about 150 high-dollar donors and fundraisers who will tap their networks to help fund Biden's campaign over the next 18 months.
(ASIA PACIFIC DAILY)