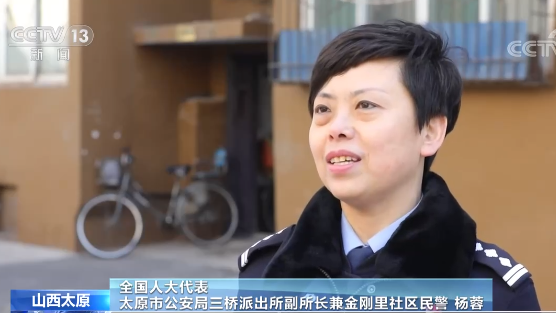 A screenshot of Yang Rong receiving an interview with CMG. /CMG
Amid the ongoing annual Two Sessions in Beijing, many deputies of the National People's Congress (NPC) and members of Chinese People's Political Consultative Conference (CPPCC) have brought their proposals and motions in a bid to improve local people's livelihood.
Reporters from China Media Group (CMG) have interviewed some of them to take a look at how they thought up proposals or motions. Here are two of them.
Grassroots policewoman wants a smarter platform for elderly care
Yang Rong, 39, is a community police officer at a community in Taiyuan City, north China's Shanxi Province. The community Yang works at is a large community where people aged 60 or older make up one fifth of the residents.
In the community, there are many empty-nest elderly people, disabled and semi-disabled elderly people and those who cannot take care of themselves, said Yang, adding that there are two safety issues for them. One is to keep them healthy and the other is for them to have quality of life, said Yang.
She also pointed out that facilities are inadequate at some daily care centers in the community questioned how their needs can be met without sufficient facilities.
Yang said there is an urgent need to build an elderly care platform that incorporates big data to efficiently complement physical elderly care organizations, facilities and resources.
At present, Taiyuan City is gradually setting up a big data platform to serve stay-at-home elderly people, said Yang.
After gathering the information on a smart elderly care platform, we can classify the elderly in terms of their health conditions and their demands, said Yang, adding that then the elderly will receive targeted service.
For example, we can arrange some cultural activities to entertain the seniors who can take care of themselves and provide housekeeping service for those who are physically weak, said Yang.
With the pervasiveness of information technology in people's lives, Yang hopes IT technology and smart wearables can be used to help solve and prevent safety issues in elderly people's daily lives.
Through visiting relevant companies and organizations and talking with their owners, Yang learned about the development of smart elderly care and realized large gaps remain.
One of her proposals during the Two Sessions will be to build up smart elderly care.
A screenshot of Cheng Mengxing receiving an interview with CMG. /CMG
Building up a skilled workforce in rural areas
After graduating from Hubei Light Industry Technology Institute in Wuhan City, central China's Hubei Province in 2014, Cheng Mengxing returned to her hometown and helped her father develop his traditional business of making tofu skin.
Cheng persuaded her father to buy a modern production facility, improve production technology, enrich raw materials and launch more categories to make brand new tofu skins while broadening sales channels online and offline.
From small workshops with no branding, its new products have attracted buyers nationwide over the past few years.
While developing the business, Cheng kept in mind her original intention – helping impoverished people in her hometown by providing jobs.
Through working at Cheng's factory, most impoverished people at Cheng's hometown have cast off poverty.
However, with the factory's development, Cheng found that the lack of skilled labor is an obstacle for the future development of the factory. It is also hindering the development of other small and medium-sized enterprises in rural areas, Cheng said after speaking with other business owners in the past months.
Modern agriculture often requires those with technical, sales and promotion background to help boost production and increase farmers' income by processing farm produce and selling products, said Cheng, adding that unlike the resource-abundant urban areas, rural areas are often faced with inadequate infrastructure, education and medical equipment.
Cheng said one of her proposals during the ongoing two sessions will be to attract and retain the talents in accelerating the rural vitalization in the future.