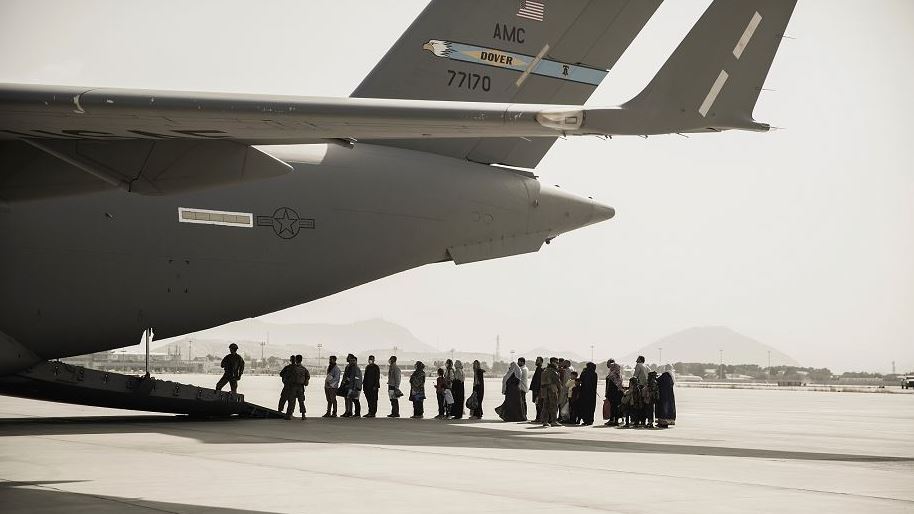 In this image provided by the U.S. Marine Corps, evacuees wait to board a Boeing C-17 Globemaster III during an evacuation at Hamid Karzai International Airport in Kabul, Afghanistan, Monday, Aug. 30, 2021./AP
Most of the over 57,000 people that were evacuated from Afghanistan to Qatar have bee moved out of the Gulf state to the U.S. and Europe, Reuters reports citing a U.S. general said on Saturday.
Around 124,000 people were evacuated from Kabul in a U.S.-led airlift of U.S. and other foreign citizens as well as other Afghans considered to be vulnerable following the Taliban's takeover in the capital.
Many of them, including some with no documentation or pending U.S. visa applications, were evacuated through military bases in the Middle East, including Al Udeid in Doha, Qatar.
Reuters reports Brigadier General Gerald Donohue to say fewer than 1,400 evacuees were still on the base, with many scheduled to be flown out on Saturday while a small group needing medical care would remain until they can travel.
It was not immediately clear how many exactly were now in the U.S. or Europe, and an unspecified number were also at a nearby base in Qatar.
Meanwhile in Afghanistan, the Taliban is expected to announce a new government in 'two to three days.'
In an
earlier interview with CGTN
, spokesperson Suhail Shaheen confirmed the new government will be under an Islamic mechanism with a top leader and a leadership council.
(With input from Reuters)