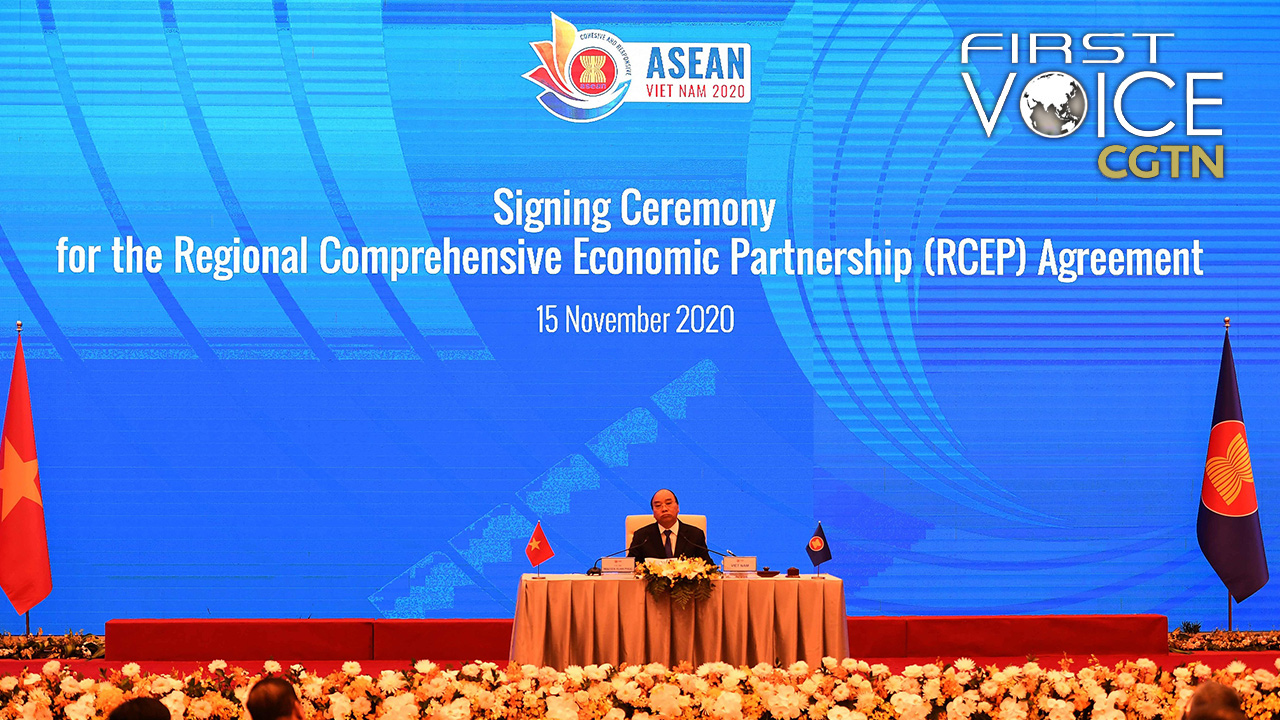 VCG
Editor's note : CGTN's First Voice provides instant commentary on breaking stories. The daily column clarifies emerging issues and better defines the news agenda, offering a Chinese perspective on the latest global events.
The signing of the Regional Comprehensive Economic Partnership (RCEP) was a milestone for economic integration, multilateralism and free trade in East Asia. Whilst mainstream media sought to depict it in binary terms as a struggle between China and the U.S., in reality the gains are mutual and relative. It is a win for everyone, not just for Beijing.
More importantly, the deal places China-Japan relations on a new trajectory amid a hype by Western media around Tokyo's alleged pursuit of economic "decoupling"with China over COVID-19, ignited by a plan to repatriate manufacturing operations from Beijing.
The RCEP shows that China-Japan relations are in fact more complicated than presented by popular commentary, are not zero-sum and there is no real "decoupling"happening. Tokyo's move was about supply-chain resilience above anything else.
While intrinsic differences remain between the two countries, their bilateral relationship continues to wield importance. Japan has not "given up"on China and if anything is committed to the Chinese market as a source of business and growth. Tokyo retains a strong partnership with the U.S. but has not signed up to its new Cold War mentality.
A question of manufacturing
Japan's economy is deeply integrated with China's – an inevitable product of geography. That alone speaks volumes. The first wave of the globalCOVID-19 pandemic and the initial lockdown in Wuhan of course generated a shockwave to supply chains and the Japanese economy, as well as competition for initial supplies of masks and personal protective equipment (PPE). This scenario forced Tokyo to consider the strategic implications of supply-chain resilience and in turn created a fund which was designed to "repatriate"companies from China back to Japan, or to other countries.
But many mainstream media outlets misinterpreted this, especially that it happened at a time when a coronavirus-triggered anti-China narrative was on the rise. Tokyo's decision was seen, erroneously, as a desire to cut economic ties with Beijing. It was presented as "Japan leaving China"and celebrated by some critics in the West. But of course, this was not the case in reality. The Japanese companies that left China are mostly concerned low-cost medical and PPE providers which were essential to Japan's own fight against COVID-19, for example, companies like "Sumitomo Rubber Industries Ltd" according to SP Global – simple, yet essential firms.
A screen grab taken from Vietnam Host Broadcaster's November 15, 2020 live video shows Japan's Prime Minister Yoshihide Suga (left) standing next to Japan's Minister of Economics, Trade and Industry Hiroshi Kajiyama as he signs the agreement during the signing ceremony for the Regional Comprehensive Economic Partnership (RCEP). /AFP
Japan hasn't given up on China
What rarely gets reported however is that larger Japanese companies continue to invest with a focus on the Chinese market. For example in recent weeks alone Yicai Global has reported that Uniqlo is looking to open up to 80 new stores a year in China, whereas Nissan announced it will increase its output in China. If protectionism was truly on Japan's agenda, why did Tokyo sign the RCEP, an agreement that only seeks to expand trade and investment ties between Japan, China and others?
As Nikkei Asia correspondent Mitsuru Obe noted on Twitter, Japan despite all its differences with China, has participated in the agreement because it still desires to "open up to China."It seeks more, not less market access and continues to commit itself to "global trade liberalization." This is the opposite of decoupling. The fact that Tokyo also shunned joining Mike Pompeo's "clean network"initiative is also compelling evidence.
Of course, it should be noted that Tokyo does commit itself to America's agenda in Asia and has sought to diversify its partnerships and "compete"with Beijing with lending and infrastructure across several countries. Yet, it is important to understand that crucially, Japan-China relations are neither zero-sum game nor truly adversarial, despite flashpoints and historical enmities. Thus, the media portrayal of "decoupling"between Tokyo and Beijing is not only false, but also inherently misleading.
As a whole, Tokyo continues to see that it can derive benefits from economic ties with Beijing and just like in the 1980s, wants to encourage opening-up and leaning on China's market. In this case, this is a relationship that continues to have great potential, and the two countries have space to engage with each other and manage, balance and stabilize any differences and disruptions that may emerge. The RCEP offers a new chapter and foundation in China-Japan ties which will subsequently help propel talks forward on advancing the China-South Korea-Japan trilateral agreement.
(If you want to contribute and have specific expertise, please contact us at [email protected])