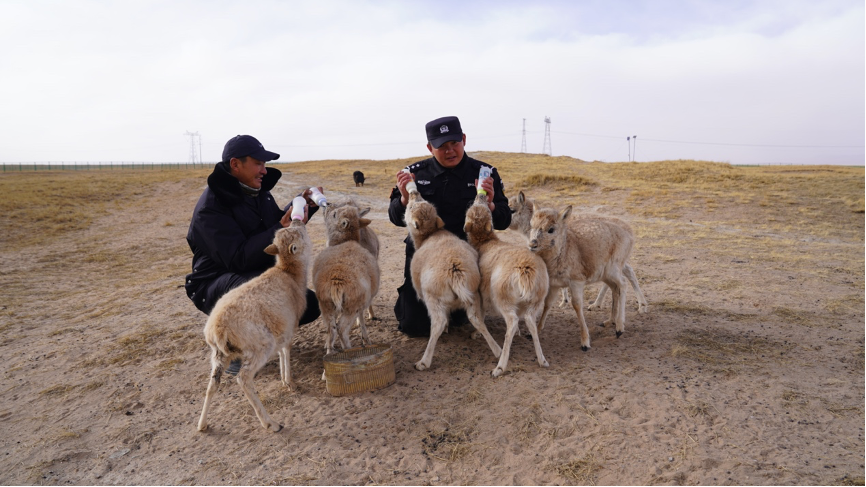 **Editor's note: **
As "green development" is taken as an important aspect of China's development blueprint, the country has stepped up its ecological protection efforts. The Sanjiangyuan area in northwestern Qinghai Province holds a unique role as a "water tower" as well as a pure land with rich biodiversity. As a national park is to be formally launched here as a significant step to show China's determination in this regard, CGTN reporter Yang Jinghao travels there to record the changes taking place and the efforts behind. This story is the second one of a six-episode series.
Conservation of wildlife in northwest China's Hoh Xil has made significant progress, with official records pointing to steady growth of the total population of animals through the years.
High up on the Qinghai-Tibet Plateau, sitting at about 4,600 meters above sea level, Hoh Xil encompasses China's largest uninhabited land. Its remoteness and inaccessibility make the nature reserve an ideal place for wildlife, being home to some 230 animal species, including the Tibetan antelope.
Wangyal Kunpo is a veteran ranger with more than 20 years of experience patrolling the 4.5-million-hectare land for poaching and illegal mining.
"When the area was designated a national nature reserve in 1997, I quickly applied to work here. I wanted to protect the wild animals and nature," Kunpo, who used to be a government employee, told CGTN.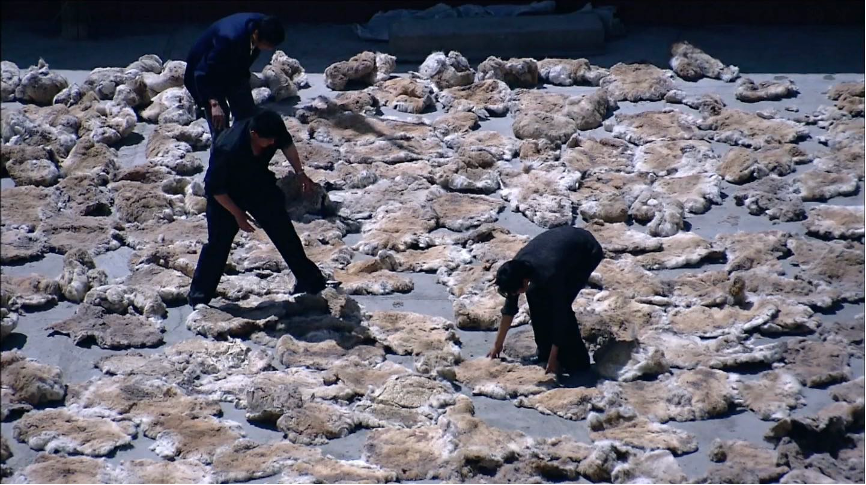 Staff of Hoh Xil nature reserve check the hides of Tibetan antelope confiscated from poachers. /Hoh Xil National Nature Reserve Administration
Kunpo's decision was largely motivated by Jesang Sonam Dargye, a pioneering activist devoted to defending this pristine land.
Since the 80s, many poachers swarm the region to hunt antelopes for their hides, which can be used to make expensive Shatoosh shawls. Each shawl requires three to five antelopes.
Sonam Dargy, a local Tibetan, set up a patrol team in 1992 to fight off greedy poachers. On January 18, 1994, the environmentalist was killed while fighting against a group of trespassers.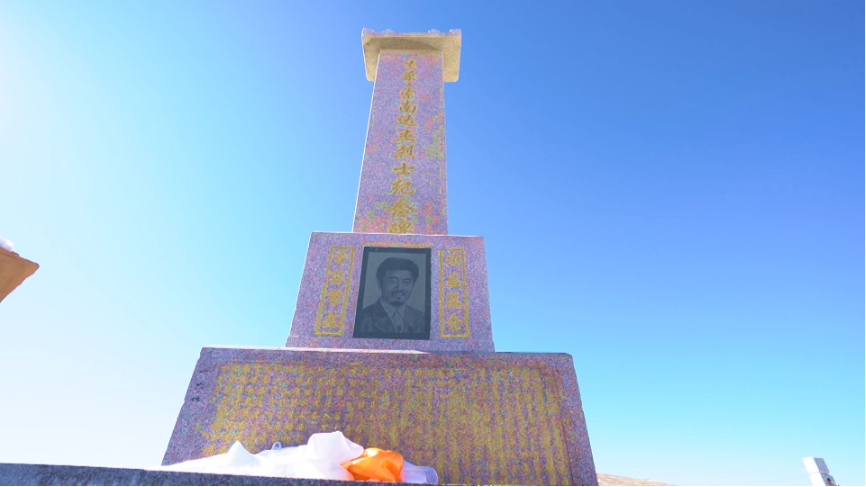 A monument set up at the entrance to the Hoh Xil nature reserve in honor of Sonam Dargy. CGTN/Luo Caiwen
The tragedy prompted initiatives from both the government and civil society, including the establishment of the nature reserve and a ranger station named after the hero.
Kunpo still bears in mind how tough it was when conservation efforts began. He said many protection stations were temporarily established in shabby shelters.
"We had to live in tents. There wasn't any power supply either, and we had to use candles only. A candle had to last three to four days," recalled the ranger.
Currently, a total of five better-equipped stations have been set up across Hoh Xil, with about 50 rangers working in the vast no-man zone.
Behind the dedication of these rangers lie multiple challenges and risks – from both man and nature. In the summer, their cars are always bogged in the swamps, making the patrols even harder. While in the winter, they have to endure extremely low temperatures and gales.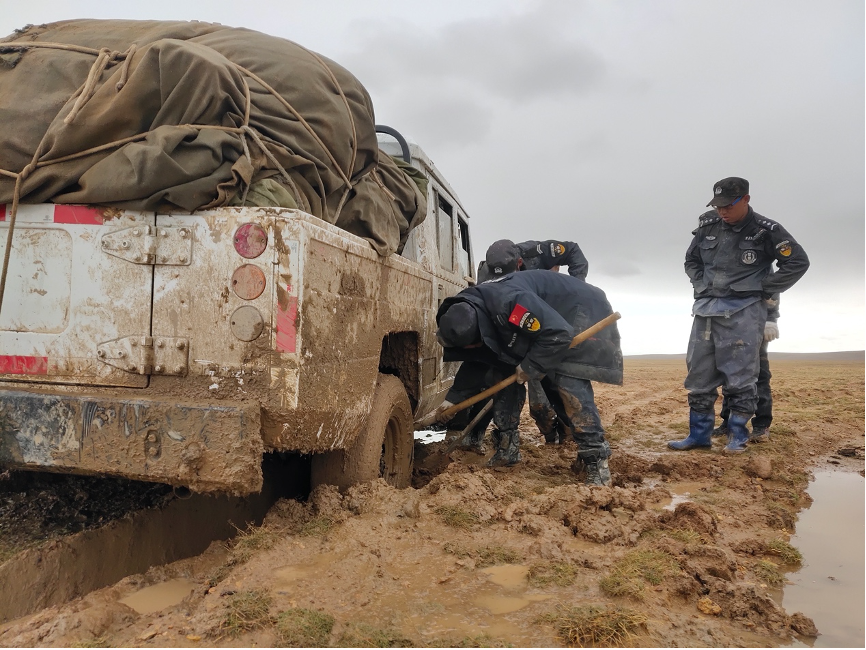 Rangers try to haul their patrol car out of a swamp. /Hoh Xil National Nature Reserve Administration
But as a reward for their efforts, the environment has impressively improved. No gunshots have been heard in recent years, and the population of wild animals has increased. Take the Tibetan antelopes, for example, its number grew from about 20,000, when the nature reserve was established, to approximately 70,000 now.
The population of other species such as the wild yak, the Tibetan wild donkey and the Tibetan gazelle continues expanding.
In fact, better prospects have come by way of a landmark move – the creation of China's first national park, the Sanjiangyuan National Park, which covers the whole Hoh Xil reserve. Following four years of trial operation, it's expected to be formally set up later this year.
"With the launch of the national park, we'll carry out the most stringent protection measures and law enforcement system, guarding the land against any new damages," He Wancheng, chief of the Sanjiangyuan National Park Administration, told CGTN.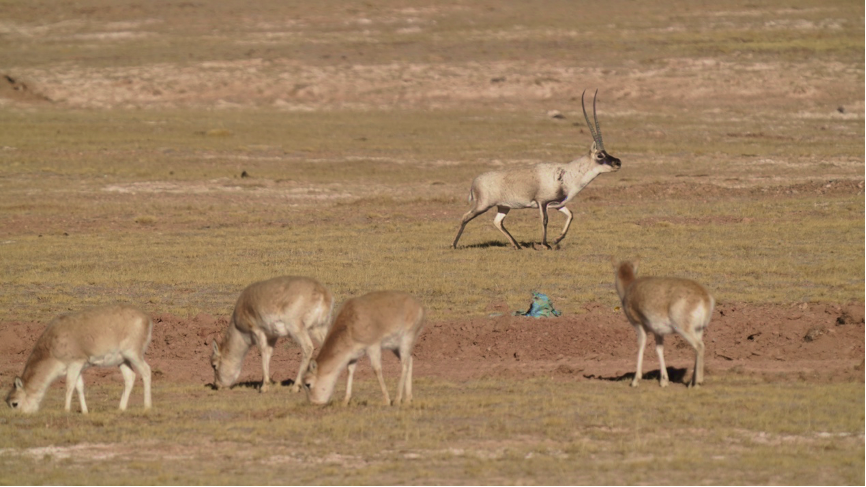 Group of Tibetan antelopes in the Hoh Xil National Nature Reserve forage. CGTN/Luo Caiwen
As the country shows greater determination in the conservation of biodiversity, younger generations of Chinese are also engaged in this undertaking with great passion.
Deng Haiping, in his twenties, is working in the reserve for five years. One of his important daily routines is to look after baby Tibetan antelopes rescued in the wild.
"I spend a lot more time with these baby antelopes than with my own child, for which I feel upset sometimes. But I think it's all worth it after seeing them get healthy and strong due to our care," said Deng.
Despite the serenity, the rangers say they remain vigilant and protect the creatures wholeheartedly like their family.
"It isn't just an act of love, but also one of responsibility," Deng said.
(Cover: Ranger Wangyal Kunpo and Deng Haiping bottle-feed baby Tibetan antelopes rescued from the wild./ Luo Caiwen)
(If you want to contribute and have specific expertise, please contact us at [email protected].)