05:51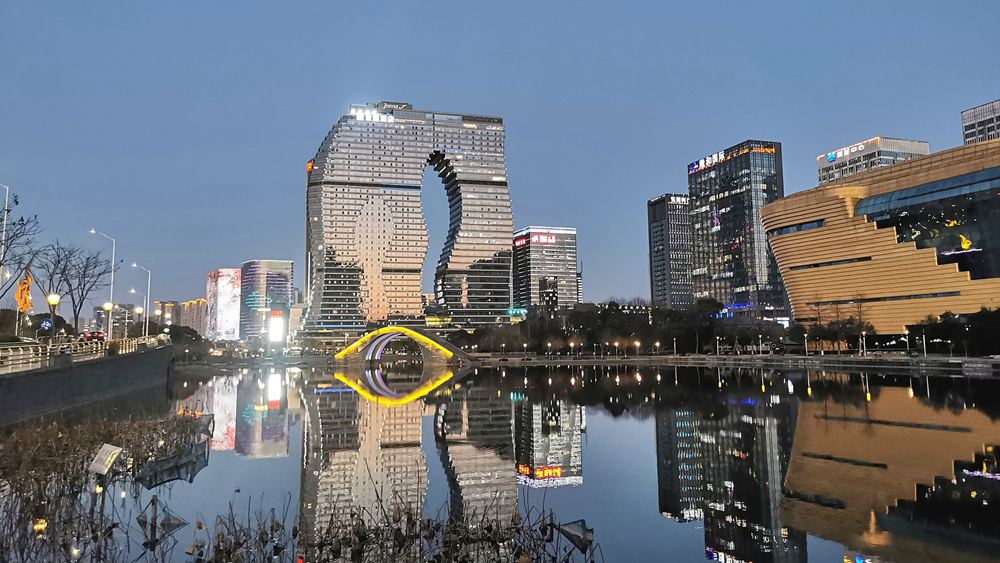 East China's Zhejiang Province is home to some of the world's leading companies, including tech giant Alibaba and automobile manufacturer Geely. The provincial capital city Hangzhou is to host the Asian Games in 2022. But with the COVID-19 epidemic, how is the province planning to keep boosting its economy? CGTN's Wu Lei has this exclusive interview with Yuan Jiajun, secretary of the CPC's Zhejiang Provincial Committee, who shares his vision and outlook for the next five years.
CGTN: Building a digital society has been a key trend across most countries around the world. Zhejiang province recently held a special meeting to promote digitalization and plan a global digital hub. How do you plan to achieve these targets?
Yuan: The goal of this digital reform is to promote the modernization of provincial governance. At the same time, we need to systematically improve our economic growth, social development, legal system and the provincial government, boosting overall vitality.
In the past, we made certain breakthroughs in certain areas of digital transformation. But this time, digital reforms cover every aspect of our society. We will encourage enterprises, social organizations, the legal system, and government departments to move forward with digital reforms. We've set up a systematic and intelligent public data platform. In addition, we also need to enhance the theoretical and legislative system of digital reforms. At present, the whole province is in action. We hope to achieve some positive results in a year, big changes in two years, and a systematic upgrade in five years, which will be at the end of our 14th Five-Year Plan. We hope Zhejiang Province can offer a new set of solutions in this digital age.
CGTN: Global trade and foreign investment have been hit hard by the pandemic. What progress has Zhejiang made in attracting foreign investment and expanding opening up in the past year, and what are the next steps?
Yuan: Indeed, the key to Zhejiang's recovery was to get the pandemic under control first and then resume our work and production. Our foreign trade volume reached a record high in 2020. The total value of Zhejiang's imports and exports reached 3.38 trillion yuan (about $520 billion), with the exports at 2.5 trillion yuan, an increase of 9 percent and accounting for 14 percent of China's total share of exports. We also achieved rapid growth in attracting foreign investment. Last year, the province had 2,821 foreign investment projects at a total amount of $15.78 billion, accounting for 10.9 percent of China's total foreign investment share in 2020. We have also made significant progress in expanding the free trade zone. Besides the Zhoushan free trade zone, we also added cities like Ningbo, Hangzhou and Yiwu into the free trade zone.
Through this series of initiatives, we hope to boost domestic consumption and dual circulation in both domestic and overseas markets. As far as dual circulation is concerned, we will focus on enhancing cooperation with countries involved in the Belt and Road Initiative. We will expand the opening up of the market for Zhoushan's oil and gas industrial chain. At the same time, we will build a global commodity storage and transportation trade hub to push forward global business reforms. In particular, we will coordinate major ports including airports, seaports, land ports and the internet to promote the development of dual circulation.
CGTN: The 14th Five-Year Plan (FYP) and a longer-term vision for 2035 are key agendas for this year's Two Sessions. As a National People's Congress Deputy from Zhejiang Province, can you outline what Zhejiang will look like in the next five years and how it will adhere to the 2035 goals?
Yuan: To build an important window to fully demonstrate the superiority of the socialist system with Chinese characteristics is a key mission for Zhejiang province in our 14th FYP. So we will follow the strategy of "making full use of eight advantages and implementing eight major measures," which was proposed by President Xi Jinping when he worked in Zhejiang Province from 2002 to 2007. We will strive to build a pioneer province in a modern socialist country. Specifically, we will focus on building "golden name cards" for Zhejiang development in various fields, such as the leading cluster of private enterprises, dynamic digital economies, expanded opening up, social safety, and ecological and green development. So we've made systematic planning and policies around these objects in the 14th FYP. All in all, Zhejiang's future development is to build a happy and beautiful grand garden for people living and working here.
CGTN: Private enterprises play an increasingly important role in the Chinese economy. Zhejiang is home to many leading private manufacturers. So what measures will you take to promote the growth of the manufacturing sector further?
Yuan: The private economy is seen as the biggest feature of Zhejiang's economic growth, with private entrepreneurs becoming the most valuable asset. Each year China has a key list of its top 500 private companies. In 2020, there were 96 private companies from Zhejiang on that list, a number that has ranked first across China for 22 consecutive years. We will continue to introduce tailor-made measures to help these private companies. For instance, we have made specific plans to help and foster listed companies, to attract more multinational companies and to boost small and medium innovative companies.
The most important thing is to create a market-oriented, law-based and internationalized business environment. Last year, Zhejiang Province reduced tax, rent, interest and the government's own spending to help these private companies hit by the epidemic. Since the most difficult thing for private companies now is financing, a special project has been launched to solve the problems and difficulties of financing. In a word, we are taking series of innovative means to promote the healthy development of the private economy in Zhejiang.
CGTN: China aims to achieve a CO2 emissions peak before 2030 and carbon neutrality by 2060. As a major province in eastern China, how does Zhejiang plan to meet these requirements while maintaining economic growth?
Yuan: Zhejiang is the origin of the concept that lucid waters and lush mountains are invaluable assets proposed by President Xi Jinping. So the province has always followed the green and high-quality development pattern. We've set up a special team to carefully analyze a series of indicators in terms of our total energy consumption, total carbon emissions and so on. The overall goal is to achieve low-carbon transformations in social production. Firstly, we need to adjust and reform the structures in fields including industry, transport, agriculture and energy. Secondly, we need to extensively promote the application of green energy. Thirdly, we need to promote low-carbon and green lifestyles. And at last, we still need to achieve carbon capture and trade through scientific and technological innovation. We are now making very detailed plans in accordance with the requirements of the central government. And we are very confident to achieve CO2 emissions peak before the national timeline, which is one of the major targets in our 14th FYP.
CGTN: Hangzhou, the capital city of Zhejiang Province, will host the 19th Asian Games in 2022. How is the preparation going?
Yuan: Because the 2022 Asian Games is set to be held in September next year, we're making sure that all venues will be finished by next April, with the rest of the infrastructure basically in place. We are also improving the urban quality by such as enhancing barrier-free and other necessary facilities. We hope that the world will have a better understanding and affection for Hangzhou through the Asian Games.
Marco Polo, a 13th-century Italian-Roman traveler, once traveled to Hangzhou. He described Hangzhou as the most splendid city in the world. President Xi Jinping has also praised Hangzhou as a historic and cultural city full of innovation and vitality. The G20 Summit in Hangzhou in 2016 has shown the world a unique combination of history and the modern development of the city. Now the Asian Games offers Hangzhou a new opportunity. We are very confident that we'll offer people a wonderful, unforgettable, green and frugal Asian Games.
CGTN: Any welcoming words for global athletes and audiences?
Yuan: Zhejiang Province has the most beautiful landscape, rich cultural heritage, and an innovative dynamic economy, especially in terms of the digital economy. We have beautiful countryside, lucid waters and green mountains, a dynamic team of entrepreneurs, a pragmatic and efficient government, as well as intelligent, hard-working and friendly people. I would like to give our friends from Asia and the whole world our warmest welcome to the city of Hangzhou. I'm certain that you will have a fulfilling trip.