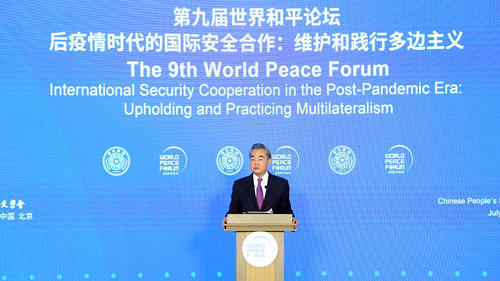 Chinese State Councilor and Foreign Minister Wang Yi delivers a speech at the 9th World Peace Forum at Tsinghua University in Beijing, capital of China, July 3, 2021. /China's Foreign Ministry
Upholding and practicing true multilateralism is the only way to solve the complex problems in today's world to achieve lasting peace and common security, said Chinese State Councilor and Foreign Minister Wang Yi on Saturday.
He made the remarks at the opening ceremony of the 9th World Peace Forum themed "International Security Cooperation in the Post-Pandemic Era: Upholding and Practicing Multilateralism" at Tsinghua University in Beijing.
Recalling
Chinese President Xi Jinping's remarks
at a gathering marking the centenary of the Communist Party of China in Beijing on Thursday, Wang said that China has always stayed committed to the path of peaceful development, opposed hegemony and power politics, and will use its achievements in development to provide the world with new opportunities.
Joint efforts 'essential' and 'urgent' to address global challenges
Stressing the concept of creating a global community of health for all, Wang called for urgent efforts at building a "great wall" against the COVID-19 pandemic that eschews political division.
On addressing climate change, he reiterated China's promise to strive to peak carbon dioxide emissions by 2030 and achieve carbon neutrality by 2060.
He also mentioned Japan's disposal of nuclear wastewater, urging Tokyo to revoke its decision to discharge contaminated water from the Fukushima nuclear plant into the ocean.
As for non-traditional security challenges such as terrorism, he emphasized that there should be no double standards and counterterrorism, deradicalization cannot be tied to a particular country, ethnic group or religion.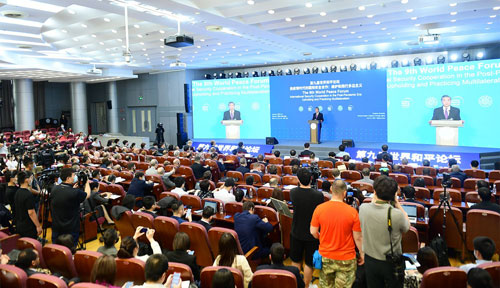 The 9th World Peace Forum at Tsinghua University in Beijing, capital of China, July 3, 2021. /China's Foreign Ministry
Jointly promoting political settlement of global hot-spot issues
On the solution to the Afghan issue, he said that the U.S. should take responsible measures to ensure a smooth transition of the Afghanistan situation.
He also stressed China's stance on the current situation in Myanmar, saying that China firmly supports the Association of Southeast Asian Nations (ASEAN) to promote the solution to the Myanmar situation.
China stands ready to work with ASEAN to provide assistance to Myanmar in the face of COVID-19, he added.
A peaceful settlement through dialogue and negotiation is the fundamental principle for solving the Korean Peninsula issue, the two-state solution is the basis to restart negotiations for the Israeli-Palestinian conflict, and the U.S. should completely lift illegal unilateral sanctions against Iran and involved third parties, according to Wang.
Jointly opposing artificial confrontation
A divided world cannot meet the common challenges of mankind, Wang stressed.
"We must unequivocally oppose bloc confrontation, power politics and interference in internal affairs," he said and expounded China's stance on Hong Kong Special Administrative Region (HKSAR) and Taiwan region.
"No one should underestimate the great resolve, the strong will, and the extraordinary ability of the Chinese people to defend their national sovereignty, territorial integrity, and development interests," he said.
Initiated in 2012, the World Peace Forum is organized by Tsinghua University with the coordination of the Chinese People's Institute of Foreign Affairs. As the first high-level non-governmental international security forum in China, it aims to create a platform for global strategists and think tanks to discuss international security issues and search for constructive solutions.