03:24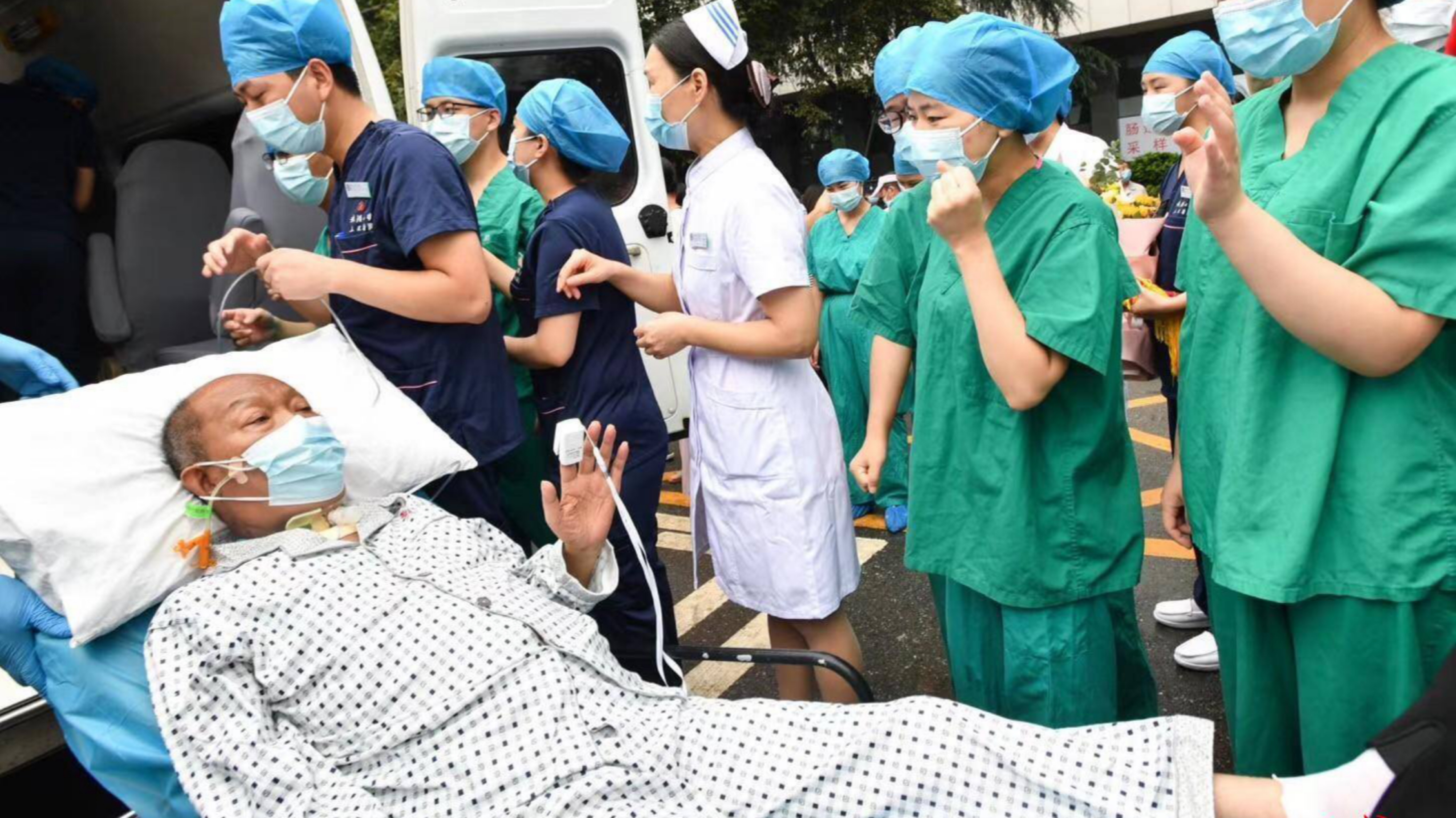 After 166 days in hospital, Cui Zhiqiang, a critically ill COVID-19 patient, who received a double-lung transplant after his lungs were irreversibly fiberized, was discharged from the People's Hospital of Wuhan University two weeks ago and then transferred to a local rehabilitation center.
Ten COVID-19 patients worldwide have undergone such lung surgeries, and Cui was the first one to be discharged from the hospital. From getting confirmed of COVID-19 to being transferred to ICU, from ECMO to lung transplant, Cui survived through layers of grinding difficulties.
Cui, 65, was diagnosed with COVID-19 on February 7. His condition deteriorated rapidly after the diagnosis. On February 16, he was admitted to the ICU and put on a ventilator. Two days later, it turned out that the ventilator was not sufficient to sustain his blood oxygenation levels, so ECMO was used to provide oxygen to sustain his life.
ECMO works by temporarily drawing blood from the body to allow artificial oxygenation of the red blood cells and removal of carbon dioxide.
"When we took him over, despite severe lung failure, other internal organs were relatively stable. So at the time, we adjusted and optimized the treatment plan, hoping to create a good condition for the recovery of his lungs by keeping other organs in good condition," said Kang Yan, one of China's top experts in critical care medicine.
Kang said he tried to help Cui get rid of the ECMO by lowering the index of the instrument, expecting his lungs to function a little bit, but it failed. It turned out that Cui could get enough oxygen to support his life only when the machine maintained at a "full flow" level.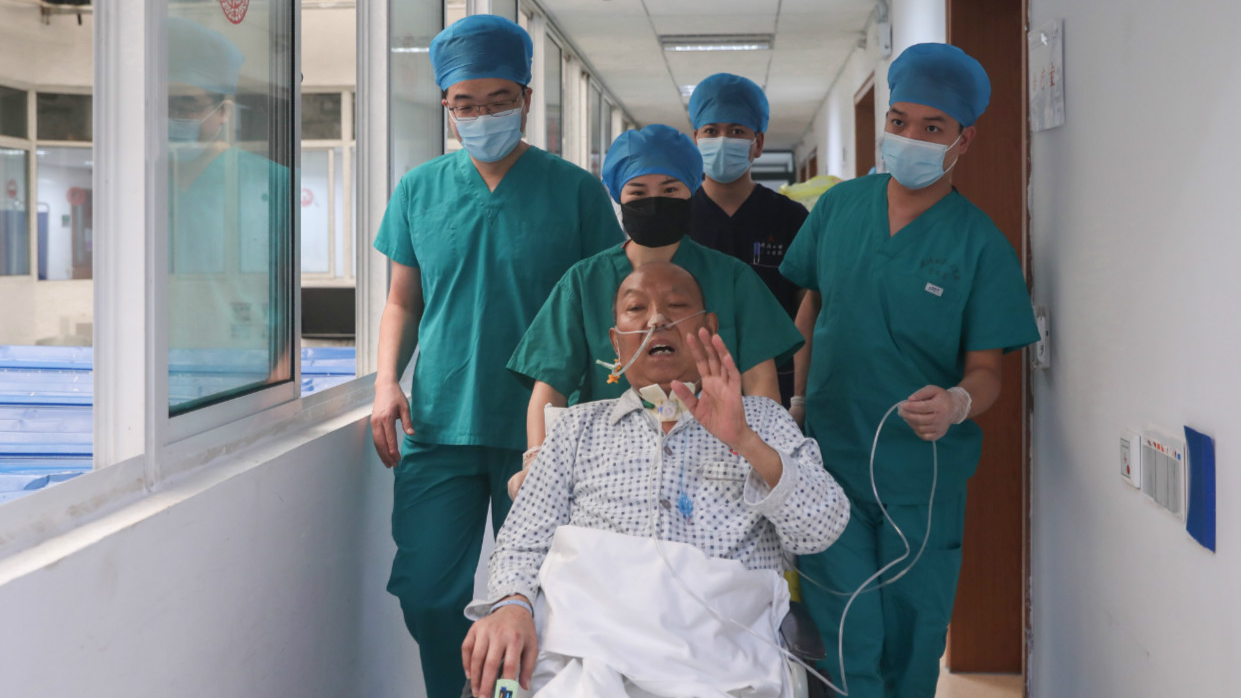 Cui Zhiqiang was the first one to be discharged from the hospital after lung transplant. /People's Daily
One more month after using ECMO, complications appeared: a serious bacterial infection at the puncture site. The only way to save him at that point was to replace the tube that linked his body to the machine. However, replacing the tube meant temporary shutdown of ECMO, during which he could suffer profuse bleeding.
"When we pulled the tube out, the blood spurted out and blurred our entire vision of surgical operations. Most of the gauzes were dyed red. We put pressure to stop the bleeding," said Zhou Chenliang, director of Critical Care Medicine Department in People's Hospital of Wuhan University, adding the whole process lasted about 10 minutes and they finally proceeded when bleeding reduced.
When medics tried numerous measures to sustain Cui's life, others were considering lung transplant as pulmonary dysfunction had no chance to be cured and ECMO would sooner or later cause complications like bleeding and infection.
"Doctors in organ transplant have been discussing lung transplant for critically ill COVID-19 patients whose lungs are severely damaged but other organs are in good condition," said Lin Huiqing, a thoracic surgeon at People's Hospital of Wuhan University.
She said that after thorough discussion among experts, medical requirements for lung transplant for COVID-19 patients became clear: heart, liver and kidney functions should be normal, blood coagulation should be regular, the bacterial infection should be in control and coronavirus test result should be negative. The most important thing is to get consent from the patient.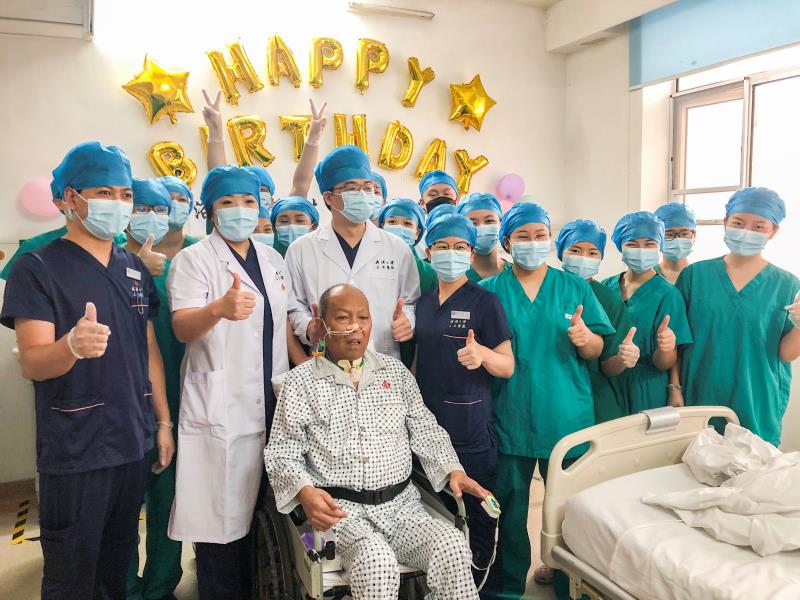 The surgery took about eight hours and cost 10,000 milliliters of blood – the total volume of blood in two male adults. /People's Daily
"Our country's organ transplant system is gradually improving together with our organ donation system and surgical techniques. China's transplant technology is now gaining worldwide recognition," Lin said. "Respect for the autonomy of life is a must for organ transplant."
Over 40 medics entered the operation room at 3 p.m. on April 20. The surgery was performed under the highest level of surgical protection, with medics wearing three layers of surgical gloves and full face and head shields, each weighing four to five kilograms.
The surgery took about eight hours and cost 10,000 milliliters of blood – the total volume of blood in two male adults.
Chen Jingyu, one of China's top lung transplant specialists, termed the surgery unprecedented.
Even some doctors questioned if it was worthy to save a 65-year-old man at such a high cost.
Zhou said the government policy "Leave no one unattended; Leave no one untreated" assured most experts, allowing them to just focus on saving lives without worrying about financial costs and other social pressures. During the pandemic, COVID-19 treatment fees are all covered by the government.
"I've participated in several COVID-19 discussions with other experts. In that atmosphere, I felt there was no need to hold back, reserve or fear," Zhou said. "In that situation, if I held back, it would have been wrong."
He said he and other doctors could have given up, but they chose to step up efforts as they had the support of the entire country.
(Editor: Yang Xuemin)
If you would like to contribute stories, feedback or your experience in China, please contact us via [email protected]