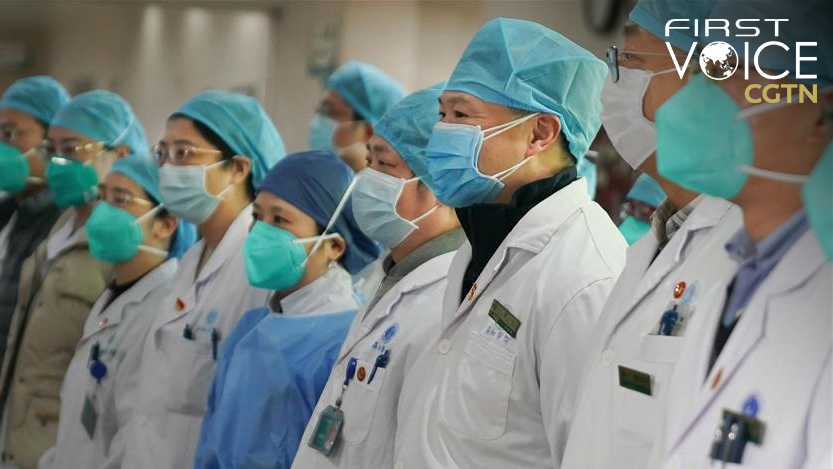 Editor's note: CGTN's First Voice provides instant commentary on breaking stories. The daily column clarifies emerging issues and better defines the news agenda, offering a Chinese perspective on the latest global events.
Despite China's unprecedented mobilization, the COVID-19 outbreak has bore down on not just the public health system but also the economy. More than 66,000 cases and 1,500 deaths have been confirmed in China as of Saturday.
The country's services sector including tourism, transportation, and hotels that accounts for more than half of the GDP has taken a severe hit. There are even speculations that the virus could lead to "de-sinicization" of the global industrial chain.
How did the virus that originated in Wuhan spread so rapidly throughout China and beyond in just two months? How do you nip the virus in the bud? What problems have been exposed in China's public health system? Compared to disease control and economic recovery, these issues deserve more attention.
Insufficient investments in medical services have been put on full display in the ongoing fight against the virus.
In Wuhan, community clinics are not equipped to treat COVID-19 patients, and stories of patients waiting for days for a hospital bed have been commonplace in the past two months. This, to some extent, has contributed to the spread of the virus.
The huge gap between healthcare institutions in third-tier cities and those in first-tier metropolitan cities are no secret in China.
Limited cutting-edge medical equipment and technologies are always first allocated to hospitals in bigger cities. As a result, patients flood to hospitals in higher-tier cities for treatment.
This has created a vicious cycle where large-scale hospitals are more justified in asking for more resources, while smaller healthcare clinics remain ill-equipped.
And for several cities in virus-hit Hubei Province, the influx of patients has further intensified the supply pressure in bigger hospitals.
Establishing Huoshenshan and Leishenshan hospitals in just a few days has further proved the inefficiency of current medical services in China. Apart from infrastructure and equipment, medical workers are in shortage as well. A large number of frontline medical workers in Wuhan are volunteers from other provinces.
This calls for more fiscal spending on public health. If the government could invest more in healthcare facilities and medics before the outbreak, many patients would have been cured before being rejected by hospitals and spreading the virus further among the community.
This is also what Huang Qifan, vice-chairman of the National People's Congress Financial and Economic Affairs Committee, argued in his article published on Yicai.com "China's fiscal spending, if invested in public health, could better satisfy people's need and realize balanced social services."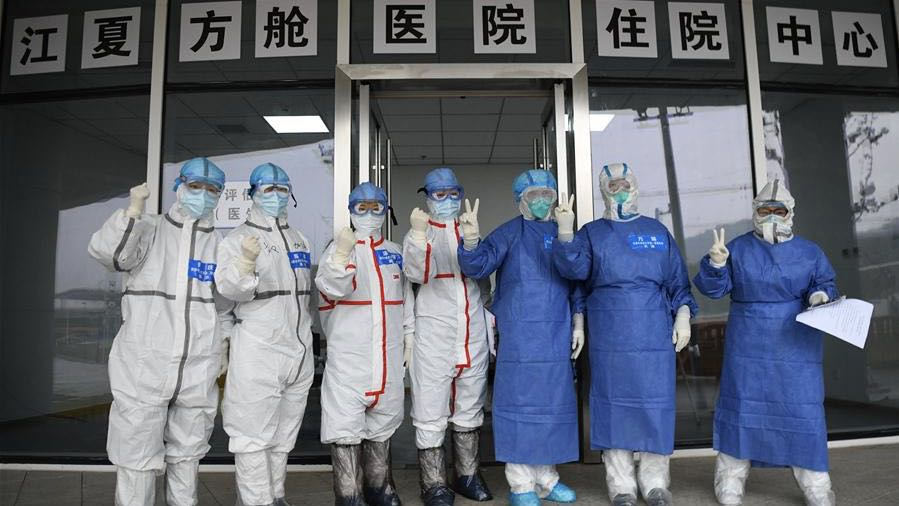 Medical workers pose for a group photo at Jiangxia temporary hospital in Wuhan, capital city of central China's Hubei Province, February 14, 2020. /Xinhua Photo
China, since its reform and opening up began in 1978, has astounded the world with its economic take-off. However, fast-speed growth does not necessarily mean balanced structure.
This is why China has been deepening supply-side structural reforms in recent years, striving to transform its export-oriented economy towards a consumption-based one. According to China's National Bureau of Statistics, the contribution of final consumption expenditure to the country's economic growth surged from 45.3 percent in 2007 to 76.2 percent in 2018.
The figures are encouraging. However, much of the investments have gone into roads, railways, buildings and other infrastructural projects.
Expenditures in public facilities, including education, health and culture, are far from satisfying, which the struggle to contain COVID-19 clearly shows.
Only a few hospitals in China have sufficient facilities to put contamination under strict control. The inputs in preventative facilities are not a waste of money, but a prerequisite to protecting cities and even the whole country from a devastating biomedical disaster.
Apart from more fiscal spending, an effective emergency-response mechanism is vital. Although the central government took strong measures immediately to limit people movement to control the spread of the virus, the current scale of COVID-19 infections, as many argue, is due largely to ill-prepared local officials who did not move to contain the virus when it was first detected in December.
An emergency-response mechanism would allow local authorities to alert the public of the virus at early stages and for the central government to set aside hotels, stadiums and other civilian facilities in emergency cases. These "wartime" measures would tremendously prevent the virus from spreading. Such a mechanism needs central planning and collaboration between government agencies at all levels.
In addition, anti-epidemic fight requires the knowledge of medical services, economics, politics, culture and a slew of other subjects. At present, there is still a lack of anti-epidemic talent in China. This means more focus should be put on education. Universities should be encouraged to set up public health departments and devote more resources in cultivating talent in this regard.
The COVID-19 has already inflicted heavy losses on not only China, but also the world. There is no denying that the Chinese society, from top to bottom, is being stretched to its limits in combating the virus.
But still, the outbreak exposes serious problems in China's public health sector. How do you prevent a similar incident from happening again in the future? This is arguably more important than recovering from the current outbreak. China must learn from COVID-19 and make changes.
Script writer: Liu Jianxi
(If you want to contribute and have specific expertise, please contact us at [email protected])