A never-before-seen Cantonese opera film showcasing a poetically beautiful fantasy world about China's White Snake myth in a modernized way is once again leaving audiences in awe of Chinese traditional culture.
The legend of the White Snake is one of China's most enduring folktales, that can date back as early as the Tang Dynasty (618-907). The story evolved and was written in text by Feng Menglong, a writer and poet of the late Ming Dynasty (1368-1644), for his Stories to Caution the World, resetting the White Snake story in the Southern Song Dynasty (1127-1279).
Since then, the story about how a white snake spirit falls in love with a human has been adapted in various art forms including novels, ballads, poems, stage plays, folk operas, TV series and films. Even the Hollywood studio Warner Bros. Pictures invested in a successful animated feature White Snake in 2019.
Now comes a new one from the subgenre to musical cinema -- the Cantonese opera film White Snake by Zhang Xianfeng, creating what is probably one of the most expensive opera films in Chinese history. Chinese audiences have been fascinated with it since its debut on May 20.
It brilliantly mixes traditional Cantonese stage opera, exquisite performances by professional opera artists, Chinese folk fantasy, Cantonese dialect, Chinese martial arts, classic Chinese paintings, magnificent music and dazzling visual effects and all in 4K high-definition.
With innovative reimagining, sometimes the film looks like a Broadway or Disney musical that should also appeal to Western audiences.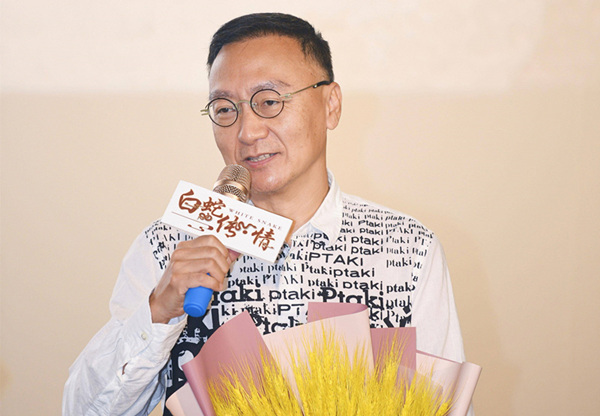 Director Zhang Xianfeng exchanges with the audience at the premiere of White Snake in Guangzhou, Guangdong province, May 20, 2021. [Photo courtesy of Pearl River Film Group]
The director told China.org cn: Many award jurors and film critics have told me they love it so much after previous screenings in film festivals around the world, and they were thrilled because they have never seen such film as this, which is totally different from theirs in terms of aesthetics.
I felt that China's traditional arts have strong appeals and distinctive charms for people outside the country and should be shown to the world when you can put them in an art form that can make breakthrough.
Director Zhang Xianfeng admitted that, before the film, he was a stranger to Cantonese Opera. Yet, I love the White Snake folklore. When Pearl River Film Group invited me on board, and I learnt more during the filming process, I felt that the Cantonese Opera is quite innovative compared to other folk operas in China.
White Snake has won several awards on the festival circuit, such as Best Artistic Contribution at the Hainan Island International Film Festival back in 2019, as well as Best Opera/Musical at the Golden Maple International Festival, and People's Choice Awards at the Pingyao International Film Festival in 2019. But due to the COVID-19 pandemic, its release was delayed to this year.
A still shows the leading female character Madame White Snake played by veteran opera actress Zeng Xiaomin. [Photo courtesy of Pearl River Film Group]
The leading actress, Zeng Xiaomin, who plays the Madame White Snake Bai Suzhen, is a legendary Cantonese Opera diva, and the president of Guangdong Cantonese Opera Institute, as well winner of Chinese Drama Plum Blossom Award, China's top award for drama.
The director said: Zeng and her fellow artists are veterans on opera stage, it was very easy for them to perform the opera and show the depth of the roles. But this time, they also adapt themselves to the film art form, in terms of singing, physical movements and many other aspects.
It is, too, the vision of the director Zhang, and Mo Fei, the screenplay writer. The two decided to make the work more like a film rather an opera, and thus more attractive to the general public, instead of only appealing to opera fans.
For example, she changed, cut, adjusted and modernized the lyrics and singing sections of the opera, to make this film closer to film audiences, especially young people, Zhang said, revealing that they even added orchestral music and electronic music to the film, fitting the tastes of contemporary moviegoers.
The core message the film conveys is that love endures through forgiveness and understanding, while it transcends time and space and does not care what you are -- which is quite universal and still resonates with hearts of people to this day.
For visual effects, they introduce eye-popping and impressive hairstyling and makeup and costume designs, as well as Chinese ink and wash painting beauty blending with a realistic world, with the aid of special effects companies and artists in China, Australia and New Zealand, including those behind The Lord of the Rings trilogy.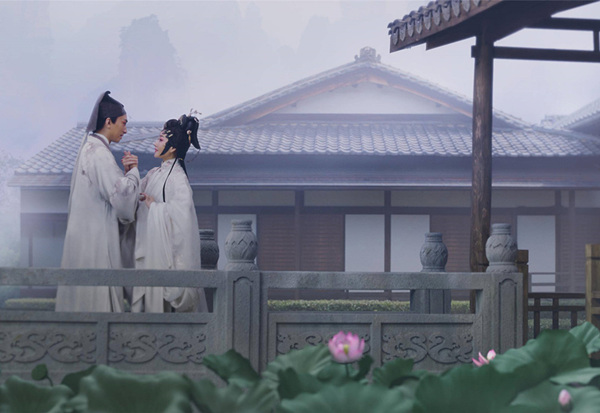 A still shows the poetic beauty of White Snake to promote Chinese traditional visual arts. [Photo courtesy of Pearl River Film Group]
Zhang concluded: The opera film genre in China does not develop well, and actually it disconnects with the audience, because most opera filmmakers only considered how to record the artists' wonderful performances. But they didn't consider what audiences need. So, I want my film to be a communication bridge between the traditional opera arts and the film audience.