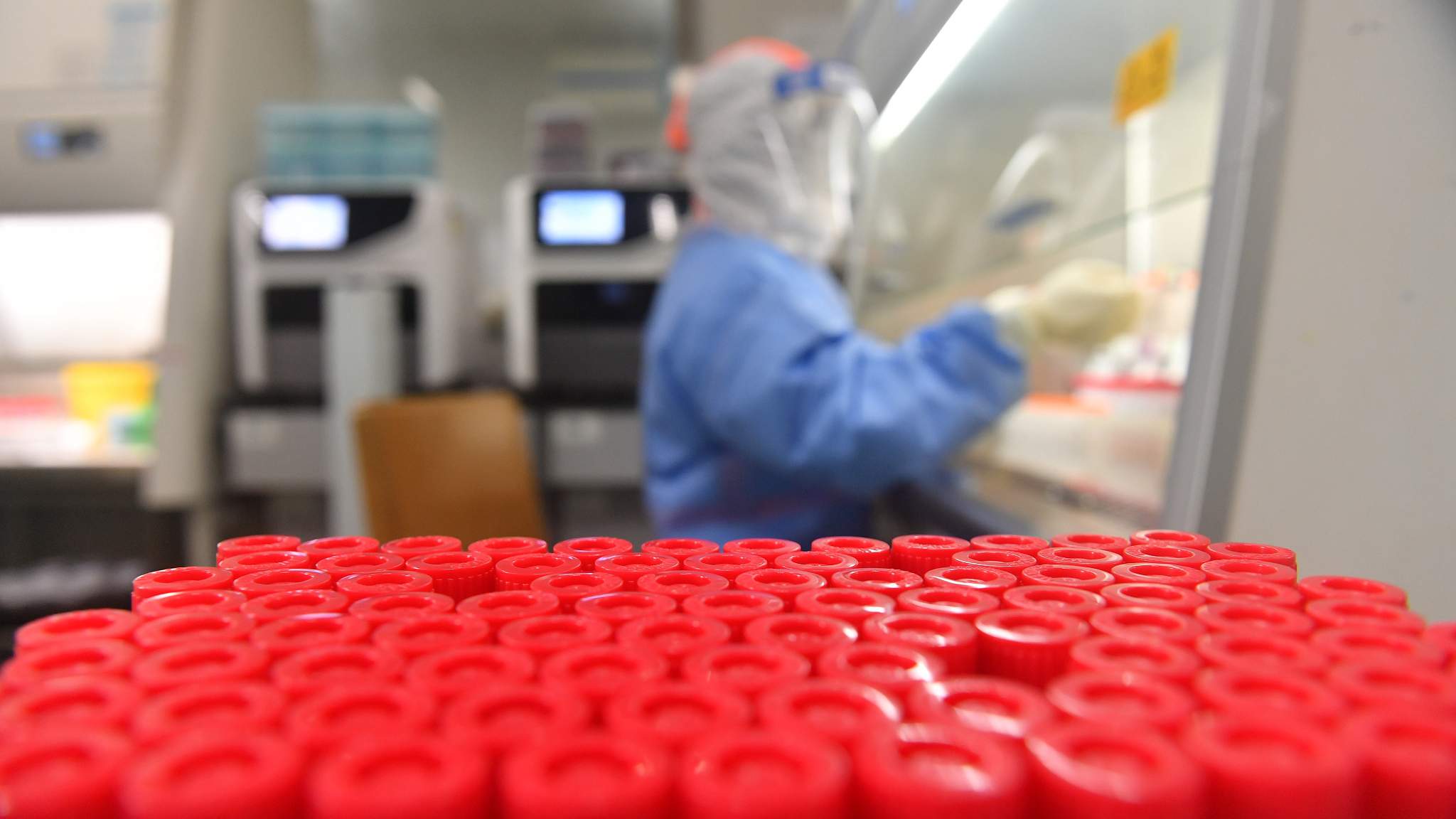 A medical worker tests nucleic acid samples at a local hospital in Wuhan, Hubei Province, central China, May 23, 2020. /CFP
Among the long-rumored stories of coronavirus origin tracing is that three staff from a lab at the Wuhan Institute of Virology (WIV) in central China were hospitalized for the same symptoms as COVID-19 back in November 2019.
Based on this rumor, first reported by some Western media citing a "previously undisclosed U.S. intelligence report," many media outlets concluded that the Chinese government lied about how the coronavirus started to spread in Wuhan.
However, what they hyped is "a pure lie," Zeng Yixin, vice minister of China's National Health Commission, said at a press conference on July 22. "So far, none of the staff or post-graduate students at the WIV have ever contracted SARS-CoV-2."
The National Biosafety Laboratory of the WIV is China's first BSL-4 laboratory, or P4 lab – highest safety level of all. It has never seen any laboratory leaks or human infections since it was put into operation in 2018, Yuan Zhiming, director of the laboratory and researcher at the WIV under the Chinese Academy of Sciences (CAS).
Yuan said the lab is designed, constructed and operated in line with both international requirements and domestic standards. It has stable and reliable biosafety precautions in place, and has established a set of complete biosafety management systems and a professional team to bolster, manage and maintain its operation.
"The infrastructure, management, team composition and working protocols at the Wuhan P4 lab are the same as other P4 labs in operation around the world," said Yuan, adding the reports saying the three researchers fell ill "were created out of thin air."
He said it would be very simple to know the truth if the reporters disclose the names of the three. "In fact, we have long proposed the solution, but received no response to date."
Australian virologist Danielle Anderson, a foreign scientist employed at the lab in 2019, also refuted the rumor in an interview with Bloomberg in June.
Anderson said no one she knew at the institute was ill toward the end of 2019, as she was on the ground in Wuhan at the time.
She paid daily visits to the lab in late 2019 and was a member of a group that gathered each morning at the CAS to catch a bus that shuttled them to the institute.
"We went to dinners together, lunches, we saw each other outside of the lab," Anderson told Bloomberg, saying the other researchers there looked out for her.
"If people were sick, I assume that I would have been sick – and I wasn't," she said, adding that there is a procedure for reporting symptoms that correspond with the pathogens handled in high-risk containment labs.
"I was tested for coronavirus in Singapore before I was vaccinated, and had never had it," said Anderson.
Not only herself but her collaborators in Wuhan who joined her in Singapore at the end of December didn't report any illnesses, as "there was no chatter," said Anderson. "Scientists are gossipy and excited. There was nothing strange from my point of view going on at that point that would make you think something is going on here."