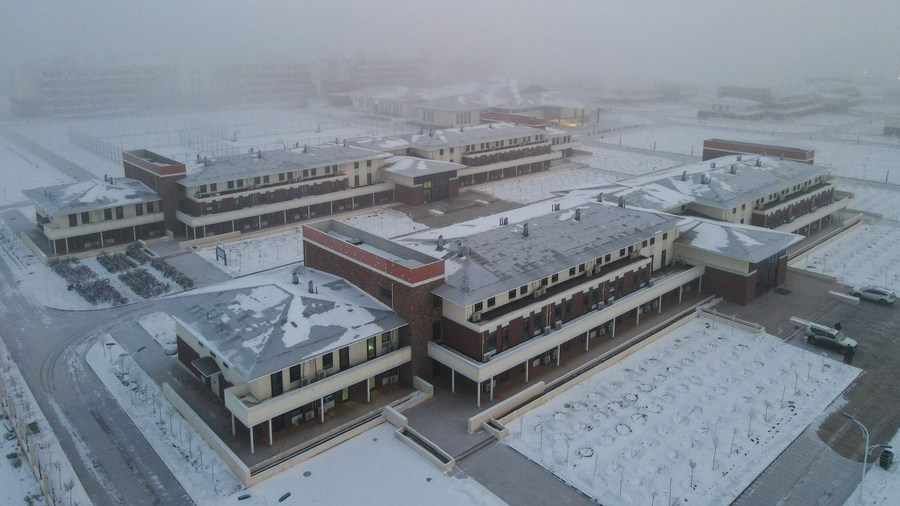 An aerial photo showing accommodation and recreation facilities at a polysilicon company in northwest China's Xinjiang Uygur Autonomous Region, December 16, 2021. /Xinhua
Editor's note: Hamzah Rifaat Hussain, a former visiting fellow at the Stimson Center in Washington and former assistant researcher at the Islamabad Policy Research Institute, is a TV anchor at Indus News in Pakistan. The article reflects the author's opinions and not necessarily those of CGTN.
It seems as if tinkering with China's territories has become an obsession in Washington D.C., and U.S. President Joe Biden signing into law legislation banning imports from China's Xinjiang Uygur Autonomous Region is another addition.
Once again, the bedrock of legislation lacks concrete evidence and the law drafted hinges on the whims and wishes of American domestic politics. The truth is that the United States will not relent in its pursuit of geopolitical containment of China to the point of adopting policies grounded in fallacies and hurt economic prosperity.
This inherent obsession will only prove that Washington D.C. lacks sincerity in its efforts to pursue meaningful strategic cooperation in an apolitical manner, no matter how many pleasantries are exchanged.
Firstly, the demerit of the bill is a no-brainer, given the fact that they are based on "concerns" instead of "facts" parroted by hawkish lawmakers turned lobbyists in the U.S. Congress who have chosen to sideline two important realities.
America remains an outlier as no other sovereign state in the international system has attempted, let alone legislated, against trading ties with another state's sovereign territory, acknowledging the immorality attached with this kind of political adventurism.
Besides, had forced labor actually been taken place in Xinjiang, then a total of 2.14 million market entities with an increase of 6.9 percent in the year 2021 alone would not have been witnessed.
Furthermore, the "rebuttable presumption" in the bill which focuses on all goods imported and being denied access into U.S. territory comes without an iota of data. No U.S. congressman, lawmaker, analyst or spokesperson has cited any statistics to back these claims up.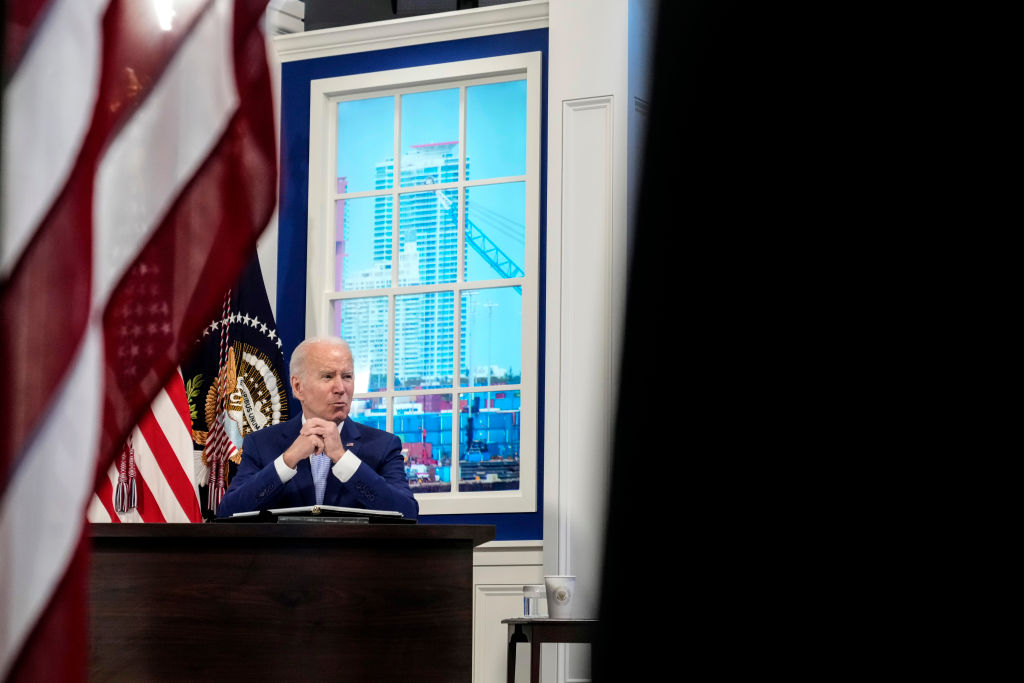 U.S. President Joe Biden speaks during a meeting in the South Court Auditorium of the White House in Washington, D.C., December 22, 2021. /Getty
What was cited, however, was the same old discredited mantra of "genocide"taking place by the U.S. Secretary of State Antony Blinken. Recall that former U.S. Secretary of State Mike Pompeo had termed vocational training centers in Xinjiang to be state-sponsored acts of genocide which was debunked given that terms such as "possibly" were used in the Congressional-Executive Commission on China (CECC) report while former National Security Advisor Robert O'Brien claimed that "something close to" genocide is happening in the territory.
The fact that the Biden administration has chosen to do the same with assumptions that forced labor is taking place in the territory underlines the sole point that the United States cannot be trusted with China. With the merits of the counterarguments established, this latest move should be considered as nothing more than another attempt to violate international law and interfere in another state's sovereign affairs by promoting a long-discredited mantra on the human rights situation in Xinjiang.
No American official has been able to answer the simple question that if forced labor is taking place on Chinese territory, then how does that constitute genocide which by definition is the systematic attempt by the state to exterminate an entire population. What can be established instead is that Xinjiang continues to record impressive economic growth, with the local population taking part in the production of tomatoes, cotton and polysilicon used in solar panel manufacturing.
Given the importance attached to the development of China's western territory and the role it plays in the national economy, an open question remains as to whether the actual objective of the United States was to strangulate progress by parroting a human rights narrative that is nonexistent.
If so, then that constitutes blatant Cold War power play which is precisely what Liu Pengyu, spokesperson of the Chinese Embassy in the U.S., had talked about by citing the malicious slandering of the human rights situation in the territory by the Biden administration and how the administration chose to ignore the truth.
The alleged Uygur Forced Labor Prevention Act is the latest tool being employed not for the sake of protecting human rights, but to contain China as part of America's smear campaign.
(If you want to contribute and have specific expertise, please contact us at [email protected].)