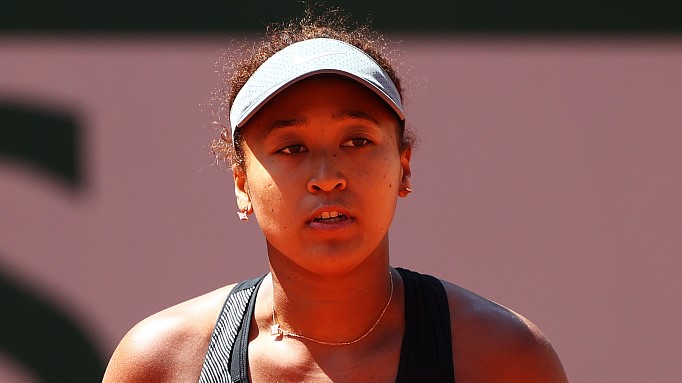 Naomi Osaka of Japan looks on in the French Open women's singles match against Patricia Maria Tig of Romania at Roland Garros in Paris, France, May 30, 2021. /CFP
World's No. 2 women's singles tennis player Naomi Osaka was fined $15,000 after refusing to show up at the post-match press conference on Sunday in the French Open. She may be thrown out of the Roland Garros event if Osaka continues to do so in the future.
"We have advised Naomi Osaka that should she continue to ignore her media obligations during the tournament, she would be exposing herself to possible further Code of Conduct infringement consequences," said the board of Grand Slam tennis tournaments – French Open, U.S. Open, The Championships, Wimbledon and Australian Open – in a statement. "As might be expected, repeat violations attract tougher sanctions including default from the tournament."
Last Wednesday, Osaka posted on Twitter that she would not face press during the French Open for mental health reasons. "I've often felt that people have no regard for athletes mental health and this rings very true whenever I see a press conference or partake in one… I'm just not going to subject myself to people who doubt me."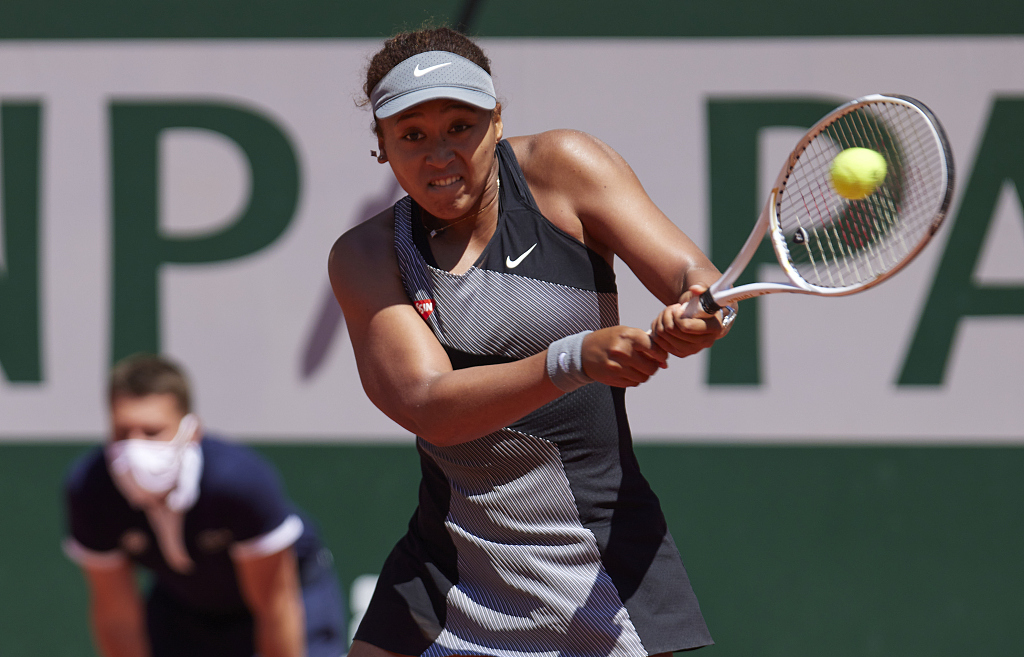 Naomi Osaka of Japan plays a backhand shot in the French Open women's singles match against Patricia Maria Tig of Romania at Roland Garros, May 30, 2021. /CFP
After her 2-0 victory over Patricia Maria Tig on Sunday, Osaka did not attend the following news conference and received punishments from the Grand Slam tournaments board.
"The Australian Open, Roland-Garros, Wimbledon and the US Open jointly wrote to her to check on her well-being and offer support, underline their commitment to all athletes' well-being and suggest dialog," said the board in the statement as a reminder.
Other athletes were asked about Osaka's stance.
"I understand her, but on the other hand, for me, I mean, without the press, without the people who normally travel, who are writing the news and achievements that we are having around the world, we probably will not be the athletes that we are today. We [wouldn't] have the recognition that we have around the world, and we will not be that popular, no?" World No. 3 men's singles player Rafael Nadal said.
"We know what we sign up for as professional tennis players. I can't really comment on what Naomi is feeling or her decisions she makes. At times press conferences are hard, of course, but it's also not something that bothers me. I've never had problems answering questions or being completely honest with you guys. It's not something that's ever fazed me too much," said world No. 1 women's singles player Ashleigh Barty.
Osaka is meeting Ana Bogdan in the second round.