**Editor's note: **On March 12, 2020, the World Health Organization (WHO) declared COVID-19 a pandemic, and as of Saturday (May 9), about 200 countries and regions have confirmed over 3,767,700 cases, according to the WHO. On CGTN's live program "COVID-19 Frontline," we invited medical workers and experts from China's epicenter Wuhan and from all over the world to share their experiences and take questions from social media, in the hope of providing more information for those who are battling against the pandemic.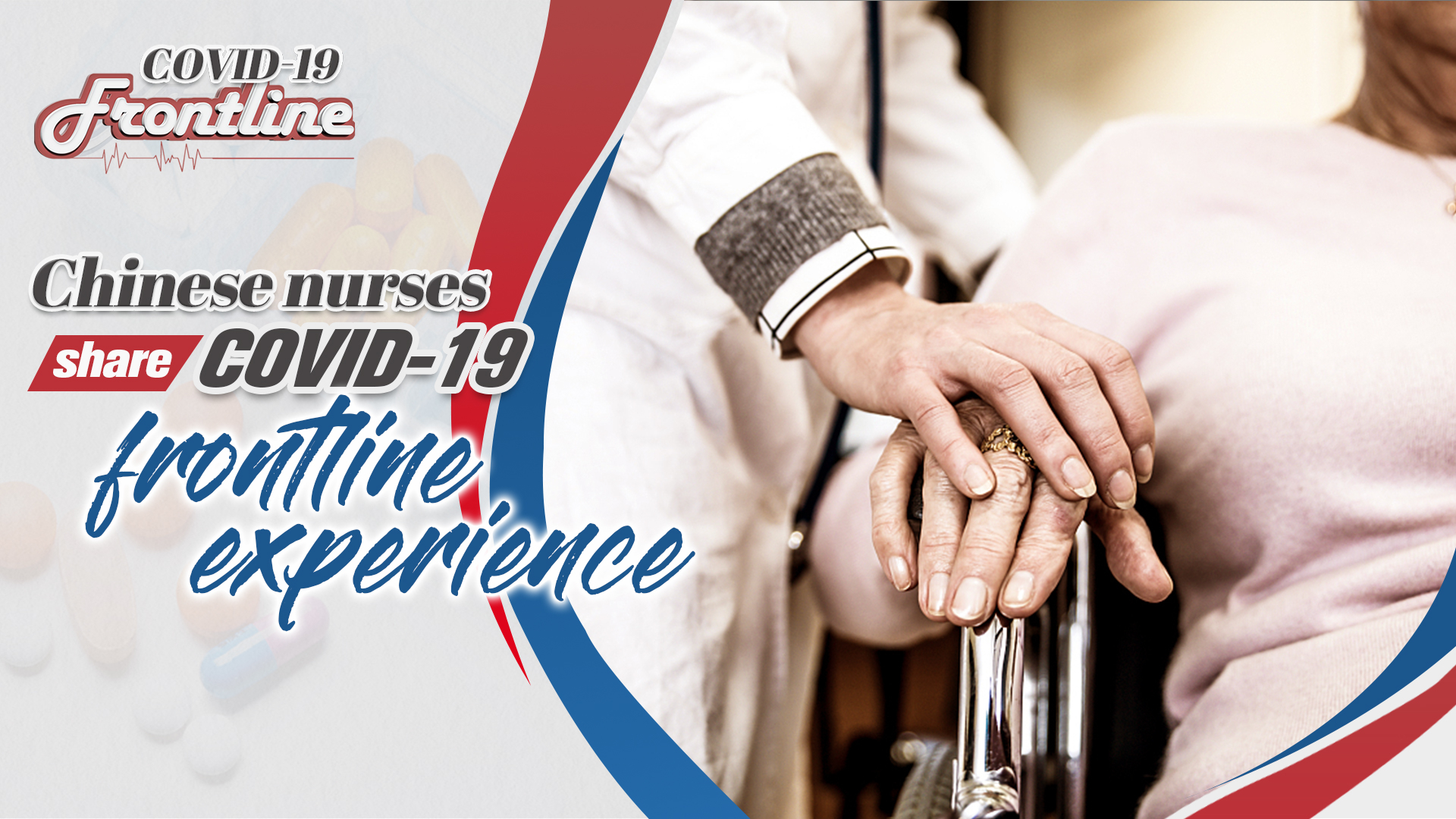 After a 65-day hard battle against coronavirus in Wuhan, Beijing Chaoyang Hospital's medical team returned to the Chinese capital on April 14. In the latest episode of the livestream program "COVID-19 Frontline" held on May 8, CGTN invitednurses from the medical team to share their firsthand experience of nursingCOVID-19 patients with their counterpartsfrom the United States and South Africa.
Live: Nurses from Beijing Chaoyang Hospital share COVID-19 frontline experience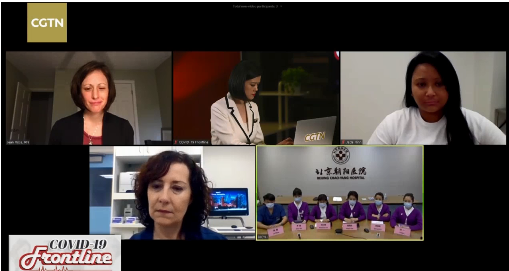 Nurses from Beijing Chaoyang Hospital share their experience of taking care of COVID-19 patients. /CGTN
Affiliated Beijing Chaoyang Hospital of Capital Medical University, founded in1958, is a Level III A hospital located in China's capital. It has eight key clinical specialtiesincluding its department of respiration, cardiovascular medicine, and the technologies of kidney, liver and lung transplantation,which are influential in Beijing and nationwide.
As of today, the total number of confirmed COVID-19 cases in the United States has reached 1.32 million, with more than 78,000 deaths. More than 8,800 cases have been confirmed in South Africa, with 178 deaths.
How to deal with fear when working on the frontline?
Janine Jade Borromeo Flinn, nurse educator of Johns Hopkins Hospital, asked about the emotional response Chinese nurses had when they first learned that they were going to take care of COVID-19 patients.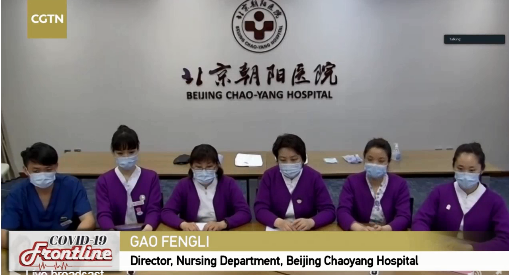 Nurses from Beijing Chaoyang Hospital. /CGTN
Liu Xiaojuan, head nurse of Beijing Chaoyang Hospital's medical team to Wuhan, said most patients they were taking care of back in Wuhan were in critical or even severe conditions. So, many nurses did encounter some psychological problems when they arrived. Some of the nurses feared they might get infected in Wuhan, some of them worried about their family members in Beijing, and some got so anxious that they couldn't fall asleep. But the medical team had two psychologists who provided tips to help the nurses stay clearheaded.
Liu said the head nurse should also pay attention to the emotional changes of the team members and make use of the existing conditions to reduce their anxiety such as by doing some recreational activities including dancing, playing badminton, jumping rope and so on.
In addition, nurses were told that as long as they followed the right protection procedures, they would be fine. Stress weakens the immune system while relaxation strengthens health. If anyone got infected, the hospital would take care of them. Besides, they also talked with their family by video, which made them less worried as well.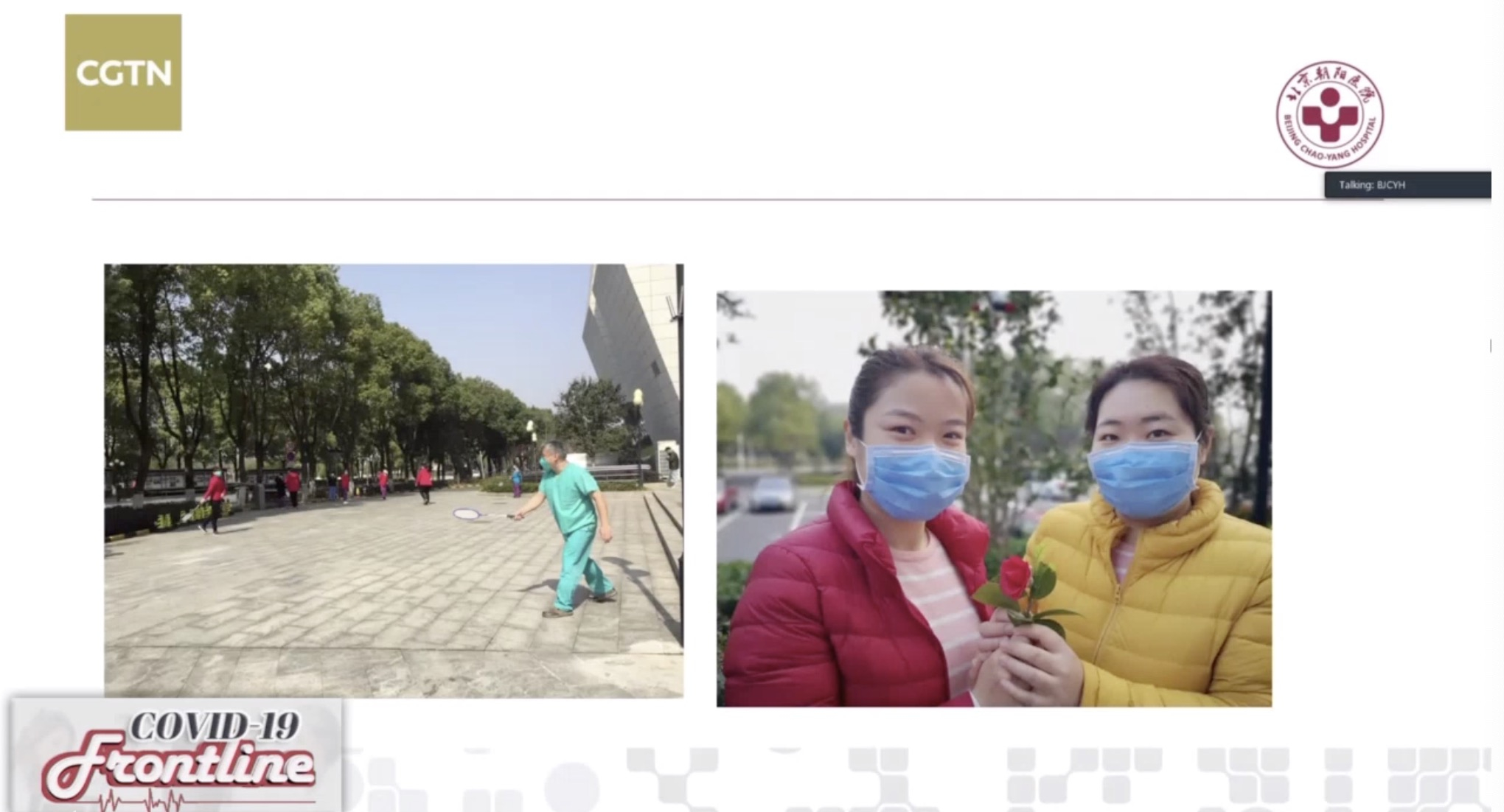 Nurses did recreational activities to reduce anxiety. /CGTN
"We had fears over unknown and uncertain things. But as we gradually got to know more about the disease and we saw our patients were recovering and discharged, we had less fears and more confidence," Li Qianqian, nursing educator of Emergency Care Unitof Beijing Chaoyang Hospital, added.
Experience of a male nurse working on the frontline
"There are more male nurses in China than before," said Zhao Lu, head nurseof blood collection centerin Beijing Chaoyang Hospital. In isolation wards, male nurses have some advantages over female nurses in terms of physical strength and endurance. It is very tiring working while wearing protective equipment.
05:35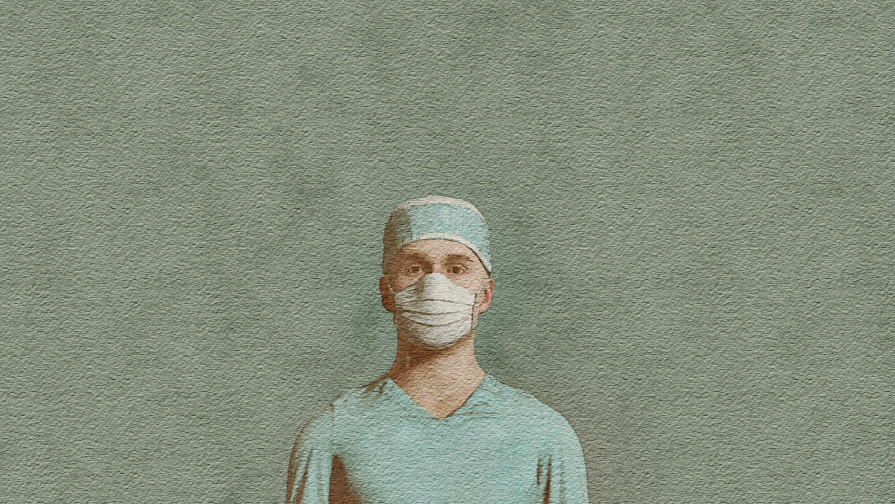 The difficult part of nursing duties on the frontline
Janine Jade Borromeo Flinnalso asked about the challenges that nurses faced when taking care of the COVID-19 patients in Wuhan.
Liu Xiaojuan said medics needed to speak louder when wearing protective equipment, so they could be understood clearly. The language barrier was another challenge, as the Mandarin spoken in Beijing is slightly different to the dialect in Wuhan. So, nurses found it difficult to communicate with some patients. Besides, nurses needed to wear three layers of gloves for protection, making it a lot harder to operate intravenous injections than usual.
06:19
In later episodes of "COVID-19 Frontline," more frontline doctors and experts from Wuhan will join in to share their experience with their colleagues from other parts of the world. If you have any questions regarding COVID-19, you can share with us using #MyOpinionOnCOVID19 on Facebook.
Videos by Zhang Rongyi
Cover image by Du Chenxin