NANJING, July 31 (Xinhua) -- In China, gold foil is widely used as decoration for architectures and also for sculptures, craftworks, food and clothes.





Forging gold foil, a traditional craft in Nanjing, has a long history.The making has to go through a dozen of procedures. The gold foil produced here is famous for its pure color and luster, smooth and filmy thickness and has been exported to about 20 countries and regions.





Wang Bisheng, 68 years old, was born in Nanjing. He began to work at Nanjing Goldthread Goldfoil General Factory in 1973 and learned from the elder master Tan Zhushi. Studying hard and being modest, Wang soon grasped the craft. In 1991, the large gold foil he made won the copper prize during the third Beijing International Expo. He was recognized as the national intangible cultural inheritor of the craft in 2009.





The work Wang did in the making procedure was to beat the gold brick into a thin piece of about 0.1 micrometers, which needed about tens of thousands of hammering. Thus the gold foil he made can be as thin as the cicada's wing.





Nowadays, at Nanjing Goldthread Goldfoil General Factory, the traditional forging ways of gold foil are resumed and a master studio is also set up to pass down the traditional craft. Wang, although retired, is re-employed to teach the youngsters the hand-made craft, which can make softer and perfect gold foil compared with those made by machine.

Craftsmen forge gold foil at Nanjing Goldthread Goldfoil General Factory in Nanjing, capital of east China's Jiangsu Province, July 14, 2020. (Xinhua/Yang Lei)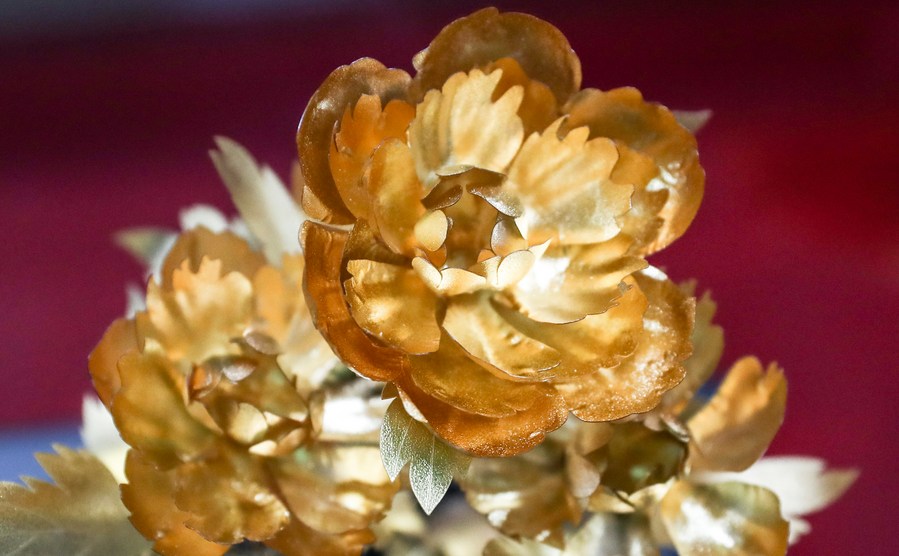 Photo taken on Dec. 12, 2019 shows a gold foil decoration displayed at Nanjing Goldthread Goldfoil General Factory in Nanjing, capital of east China's Jiangsu Province. (Xinhua/Yang Lei)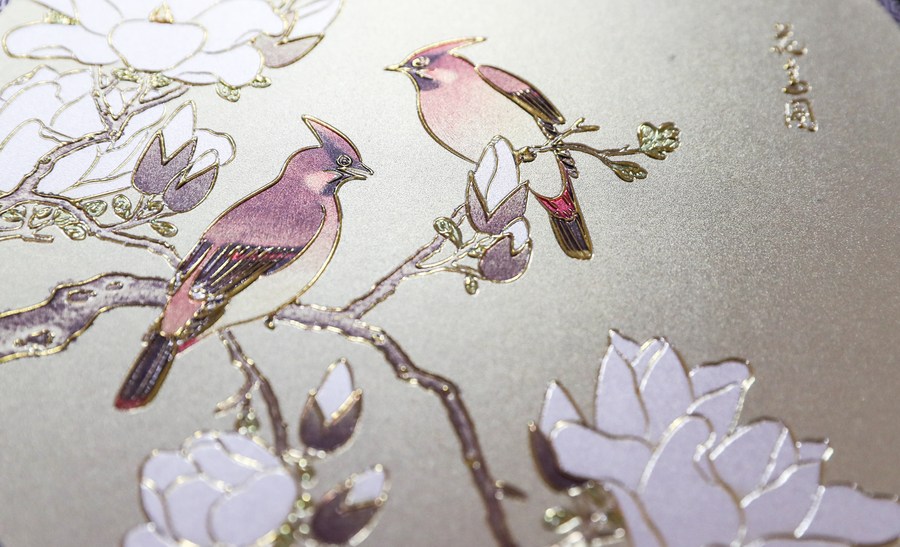 Photo taken on Dec. 12, 2019 shows a gold foil decoration displayed at Nanjing Goldthread Goldfoil General Factory in Nanjing, capital of east China's Jiangsu Province. (Xinhua/Yang Lei)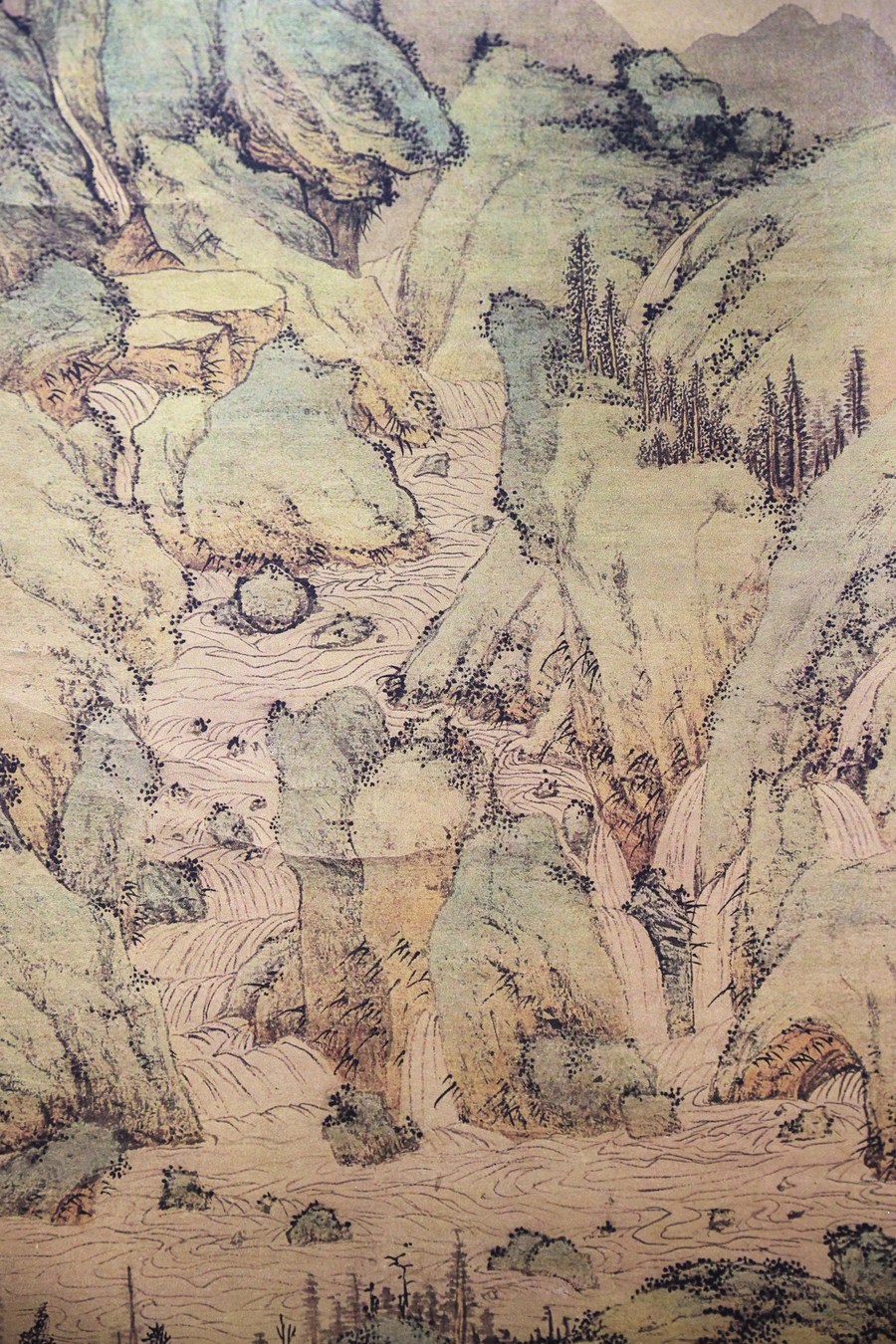 The replica of an ancient painting is printed on the gold foil at Nanjing Goldthread Goldfoil General Factory in Nanjing, capital of east China's Jiangsu Province, July 14, 2020. (Xinhua/Yang Lei)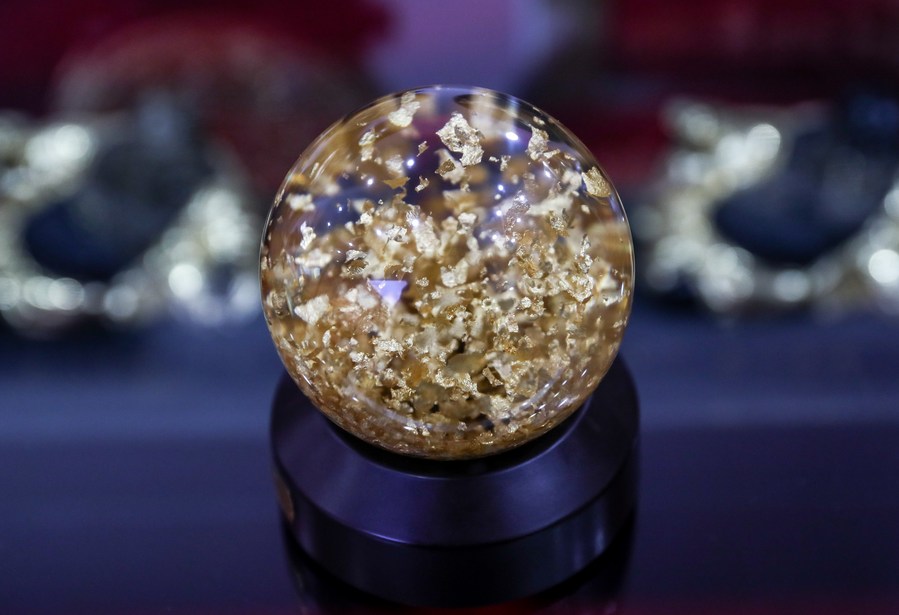 Photo taken on Dec. 12, 2019 shows a gold foil decoration displayed at Nanjing Goldthread Goldfoil General Factory in Nanjing, capital of east China's Jiangsu Province. (Xinhua/Yang Lei)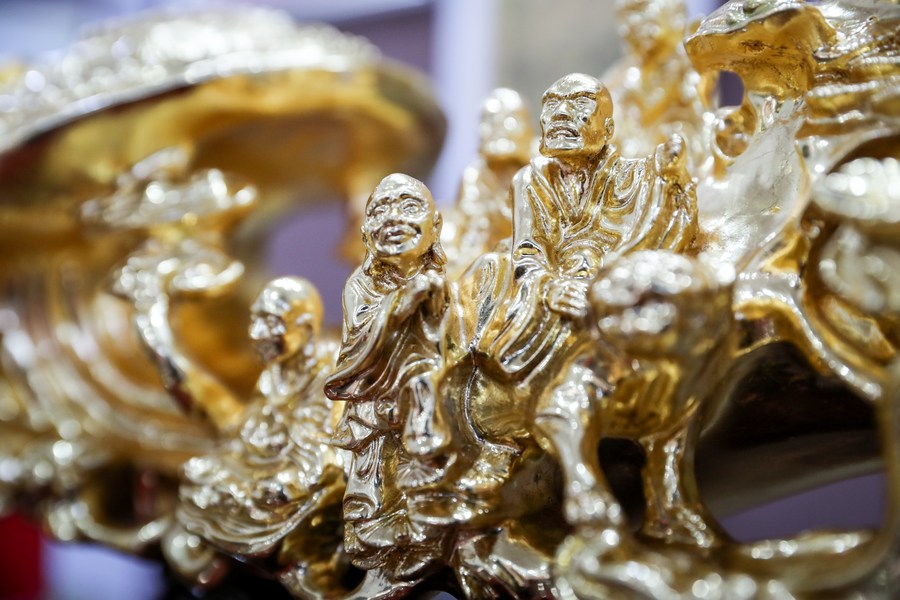 Photo taken on Dec. 12, 2019 shows a gold foil decoration displayed at Nanjing Goldthread Goldfoil General Factory in Nanjing, capital of east China's Jiangsu Province. (Xinhua/Yang Lei)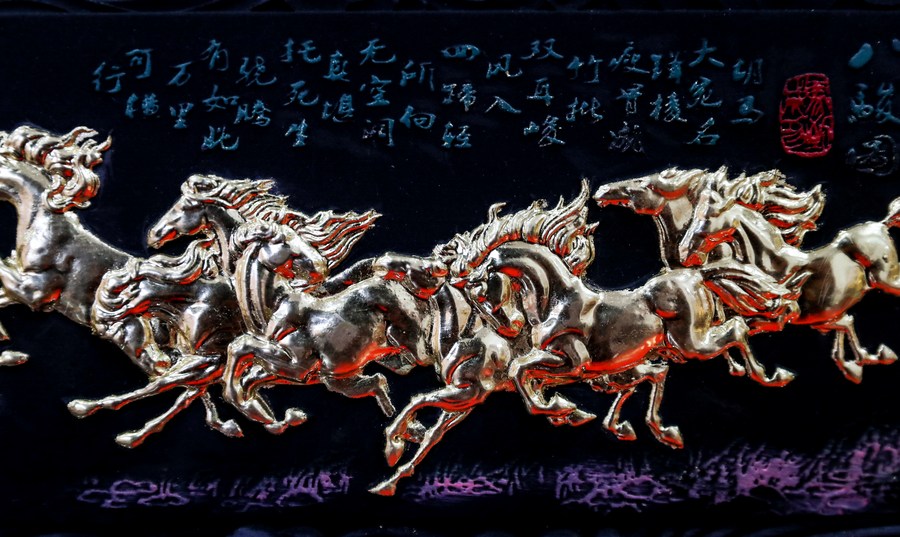 Photo taken on Dec. 12, 2019 shows a gold foil decoration displayed at Nanjing Goldthread Goldfoil General Factory in Nanjing, capital of east China's Jiangsu Province. (Xinhua/Yang Lei)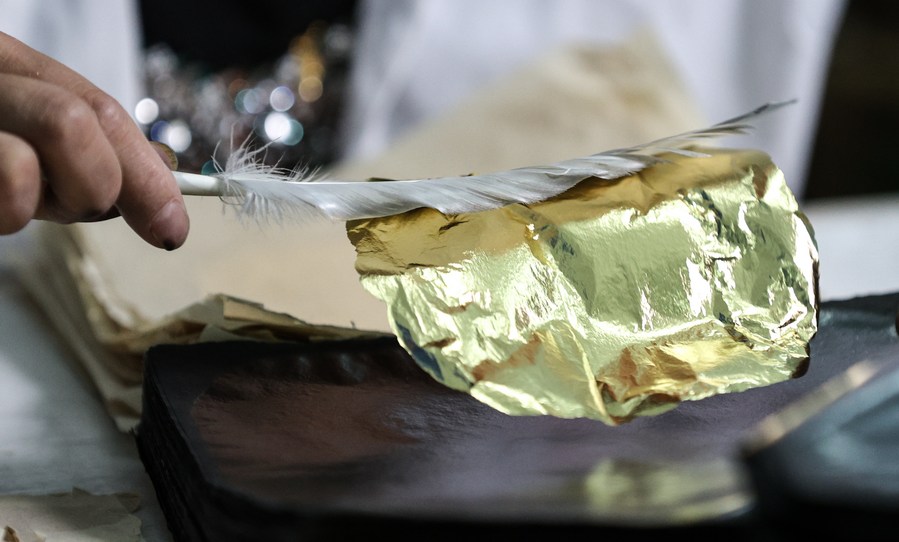 A craftswoman uses a goose feather to move a piece of gold foil at Nanjing Goldthread Goldfoil General Factory in Nanjing, capital of east China's Jiangsu Province, July 14, 2020. (Xinhua/Yang Lei)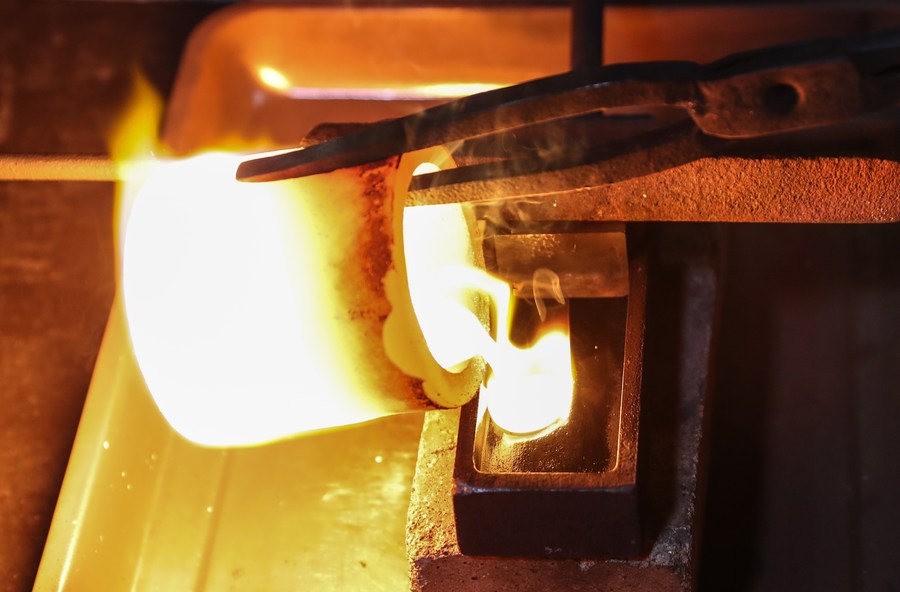 Photo taken on Dec. 12, 2019 shows the melted gold being poured into a container at Nanjing Goldthread Goldfoil General Factory in Nanjing, capital of east China's Jiangsu Province. (Xinhua/Yang Lei)
Wang Bisheng forges gold foil at Nanjing Goldthread Goldfoil General Factory in Nanjing, capital of east China's Jiangsu Province, July 14, 2020. (Xinhua/Yang Lei)
A craftswoman cuts a piece of gold foil into the standard size at Nanjing Goldthread Goldfoil General Factory in Nanjing, capital of east China's Jiangsu Province, July 14, 2020. (Xinhua/Yang Lei)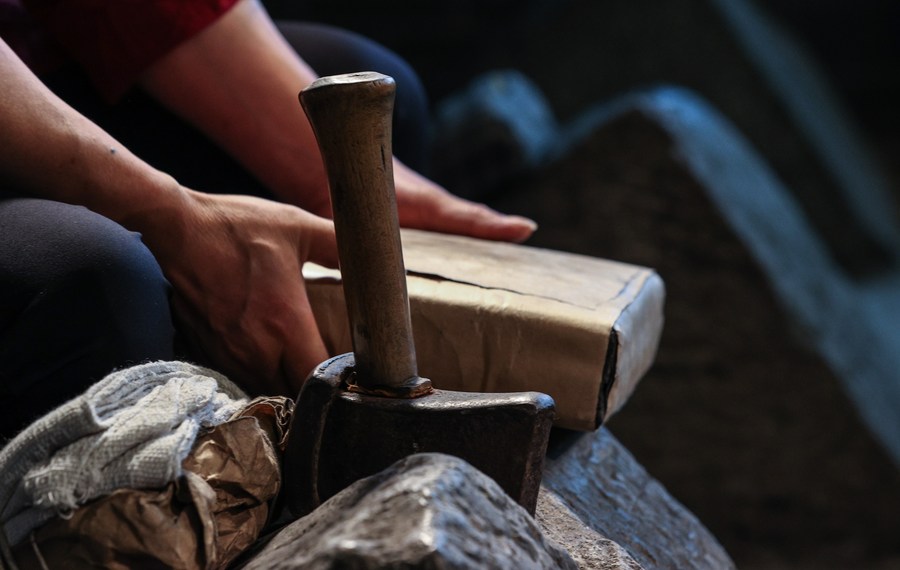 A craftsman prepares to forge gold foil at Nanjing Goldthread Goldfoil General Factory in Nanjing, capital of east China's Jiangsu Province, July 14, 2020. (Xinhua/Yang Lei)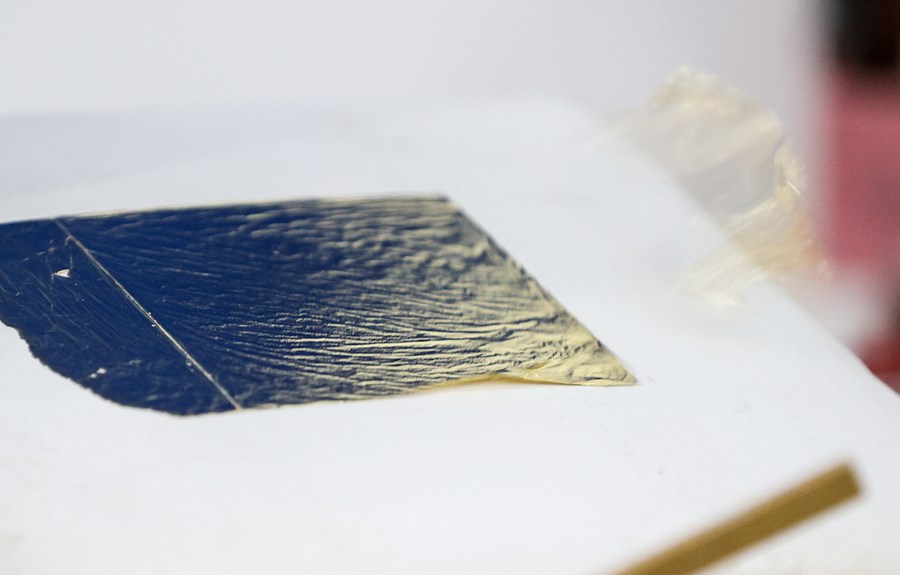 A craftswoman cuts a piece of gold foil into the standard size at Nanjing Goldthread Goldfoil General Factory in Nanjing, capital of east China's Jiangsu Province, July 14, 2020. (Xinhua/Yang Lei)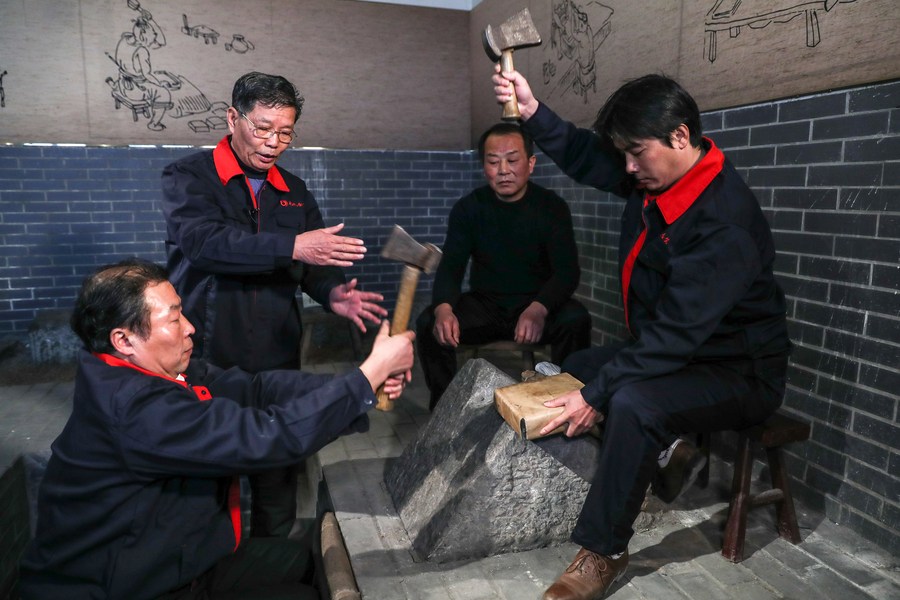 Photo taken on Dec. 12, 2019 shows Wang Bisheng (L, back) instructs as his apprentices forge gold foil at Nanjing Goldthread Goldfoil General Factory in Nanjing, capital of east China's Jiangsu Province. (Xinhua/Yang Lei)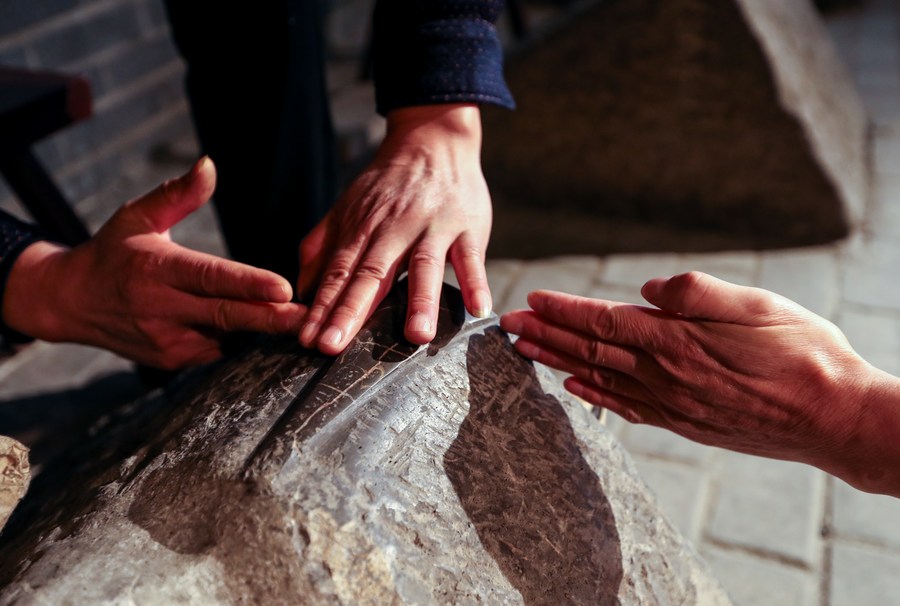 Photo taken on Dec. 3, 2019 shows Wang Bisheng (R) and his coworker preparing for forging gold foil at Nanjing Goldthread Goldfoil General Factory in Nanjing, capital of east China's Jiangsu Province. (Xinhua/Yang Lei)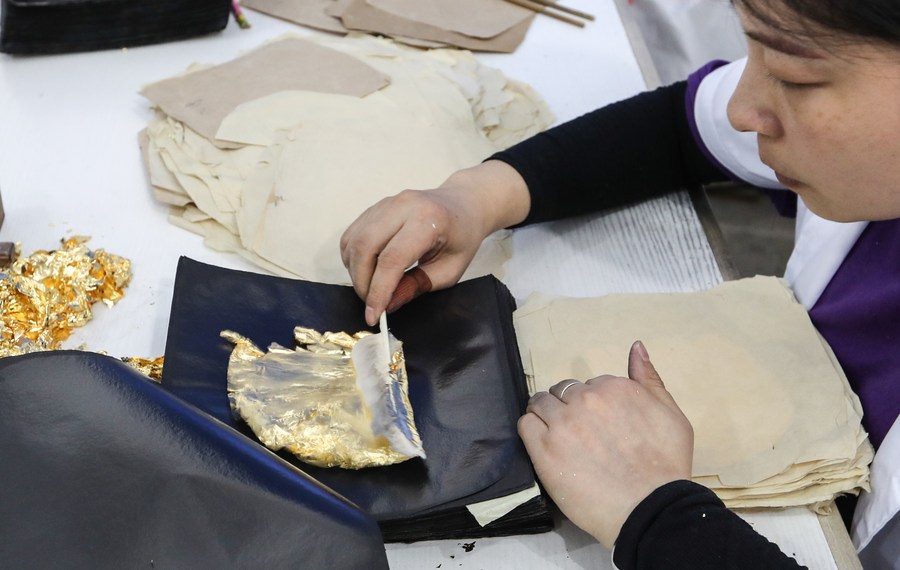 A craftswoman uses a goose feather to move a piece of gold foil at Nanjing Goldthread Goldfoil General Factory in Nanjing, capital of east China's Jiangsu Province, July 14, 2020. (Xinhua/Yang Lei)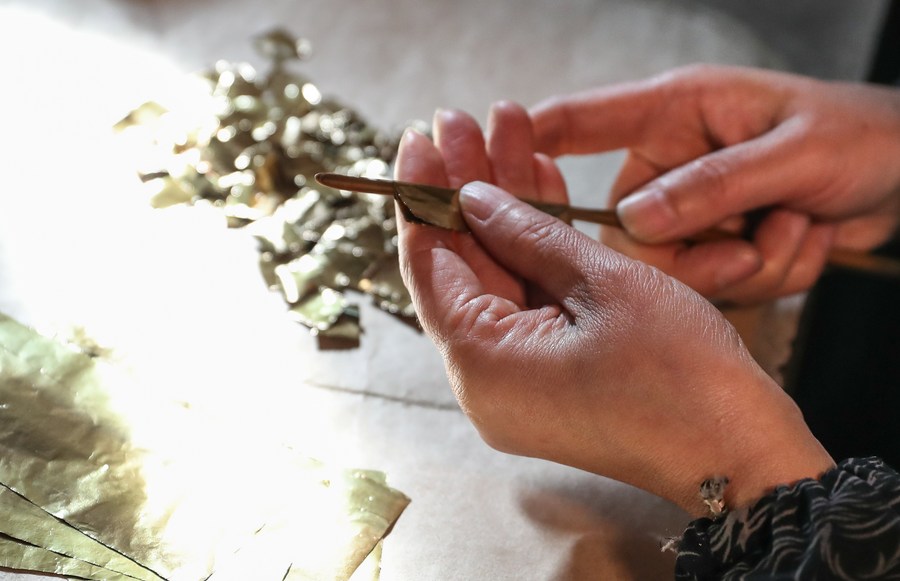 Photo taken on Dec. 12, 2019 shows a craftsman cutting gold foil into small pieces at Nanjing Goldthread Goldfoil General Factory in Nanjing, capital of east China's Jiangsu Province. (Xinhua/Yang Lei)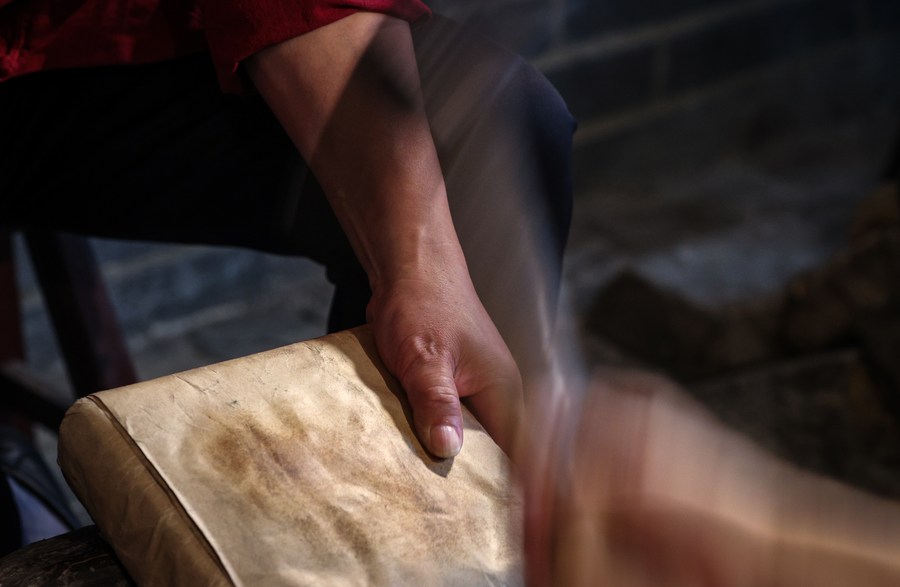 Craftsmen forge gold foil at Nanjing Goldthread Goldfoil General Factory in Nanjing, capital of east China's Jiangsu Province, July 14, 2020. (Xinhua/Yang Lei)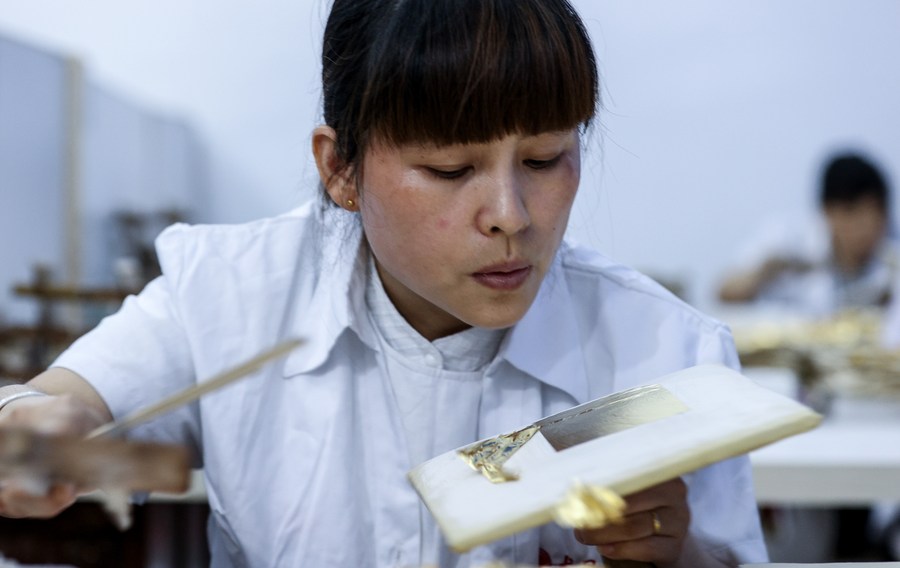 A craftswoman cuts a piece of gold foil into the standard size at Nanjing Goldthread Goldfoil General Factory in Nanjing, capital of east China's Jiangsu Province, July 14, 2020. (Xinhua/Yang Lei)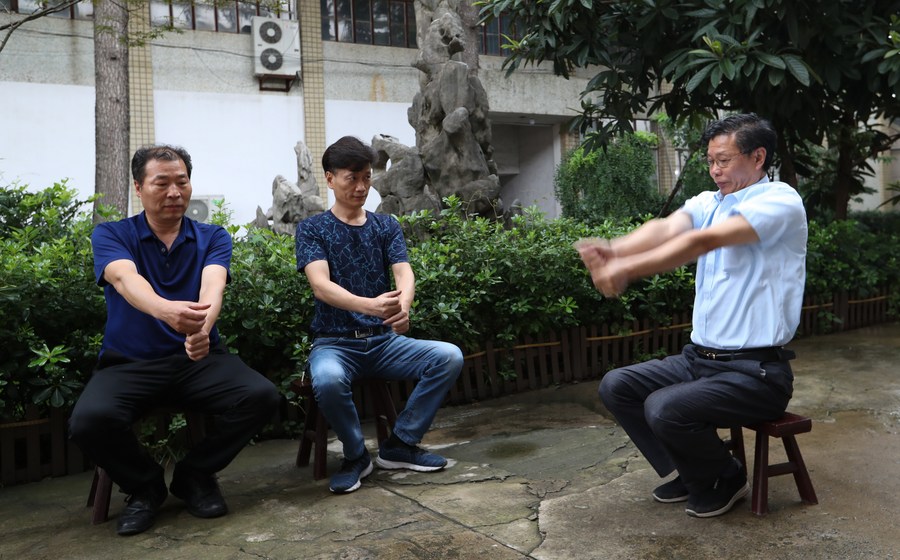 Wang Bisheng (R) exercises shoulders with his apprentices as basic training in forging gold foil at Nanjing Goldthread Goldfoil General Factory in Nanjing, capital of east China's Jiangsu Province, July 14, 2020. (Xinhua/Yang Lei)
Producers: Wang Jianhua, Liu Zhaoquan





Photographers Camerman: Yang Lei, Li Guangzheng, Ren Ying





Planners: Zhu Weixi, Wang Haijing, Wang Qingqin





Editors: Li Xiao, Tian Weiwei, Zhu Weixi, Yu Yang, Meng Tao, An Xiya, Zhang Yudong, Chen Liqun, Wang Haijing, Lin Fanjing





Video Editor: Tian Weiwei