The Ningbo-Zhoushan Port in east China's Zhejiang Province has been the world's largest port by cargo tonnage for 12 years, with cargo handling capacity of nearly 1.2 billion tonnes in 2020. But now, it is set to further expand once its new terminal, Meishan Port Area, is finished.
Over 40 years ago, it was just a small local port, with an annual cargo throughput of 2.14 million tonnes. Thanks to the country's opening-up, it has become a miracle in the history of global port development.
"We are the most popular port for 100,000-tonne class ships. And we have more than 100 berths for 50,000-tonne ships as well," said Jiang Wei, secretary of Board of Directors, Ningbo Zhoushan Port.
Going smart
03:46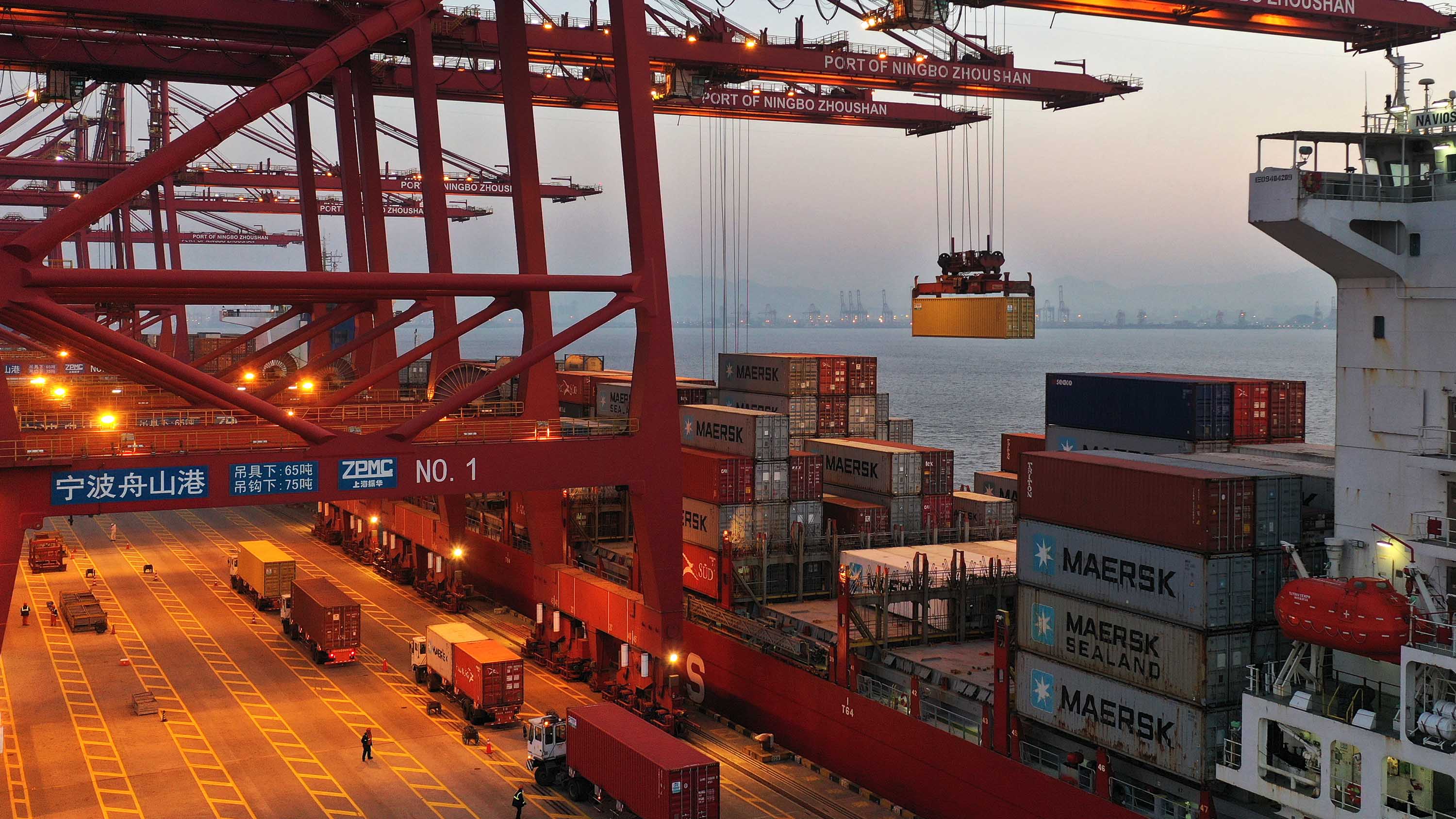 This state-of-the-art port is equipped with high technologies. Containers are remotely monitored through screens and 19 cameras, and controlled via game-console-like handles, ensuring higher accuracy and safety in operations.
"In the past, we worked at more than 40 meters high, with our backs bent and bowing our heads for long periods," recalled Wu Qifei, a supervisor for quay crane operation at the Ningbo Meidong Container Terminal.
"Now, the working environment of our drivers has been greatly improved, and their careers will be greatly extended. We now have 36 cranes, and 18 of which are remotely operated. Our goal is to achieve remote control operations for all quay cranes," Wu said.
Meanwhile, the Ningbo-Zhoushan Port is at the forefront of the trendy driverless technology, experimenting with 5G empowered autonomous trucks to transport cargo at its facilities.
The move will unleash the potential of a futuristic technology with higher efficiency, lower costs, and above all, more safety.
Apart from upgrading the "hardware," elevating the "software" is also essential for the port's effort to go smart.
"Smart port is an important direction of future port development. We have integrated the port, shipping and cargo into a single management platform, which can coordinate several key ports in the province. We believe this is an area that we can further improve in the future," said Jiang.
Expanding further
02:23
The Ningbo-Zhoushan Port will be even larger in size after construction completes for the new terminal Meishan Port Area.
The Meishan Port Area is a new bonded area, where goods are stored temporarily without duty payment. With an area of 7.7 square kilometers, it will be the port's second "ten million container class" terminal after Chuanshan Port Area.
After the completion of the new bonded area, the Ningbo-Zhoushan port will become the only port in China and even in the world to have two such terminals, according to Hu Jinxiong, chief engineer at Ningbo Branch of China Communications Construction Third Harbor Engineering.
Hu said the construction has been sped up, and about 90 percent of the project will be completed this June. More than 300 construction staff have been working for five to six months at "Meishan Speed."
(CGTN's Global Business, Lily Lyu and Zhang Haixiang contributed to the story.)