Editor's note: CGTN's First Voice provides instant commentary on breaking stories. The daily column clarifies emerging issues and better defines the news agenda, offering a Chinese perspective on the latest global events.
"Beyond heartbreaking" is the phrase World Health Organization Director-General Tedros Adhanom Ghebreyesus used to describe the situation in India.
For the past two weeks, the global community gasped at the free-falling health condition in the world's second most populous country. Images and videos coming out of the country have been telling stories of patients having to share hospital beds, overwhelmed crematorium leading people to burn the deceased on the streets, and relatives ferrying their loved-ones from one hospital to another in an often-fruitless quest of seeking life-saving oxygen. On April 26, after kept breaking records on COVID-19 infections for days, India registered more than 350,000 new cases, surpassing the global highest single-day figure set by itself.
How did this happen?
First Voice
analyzed various media reports to offer a synthesized look at the situation.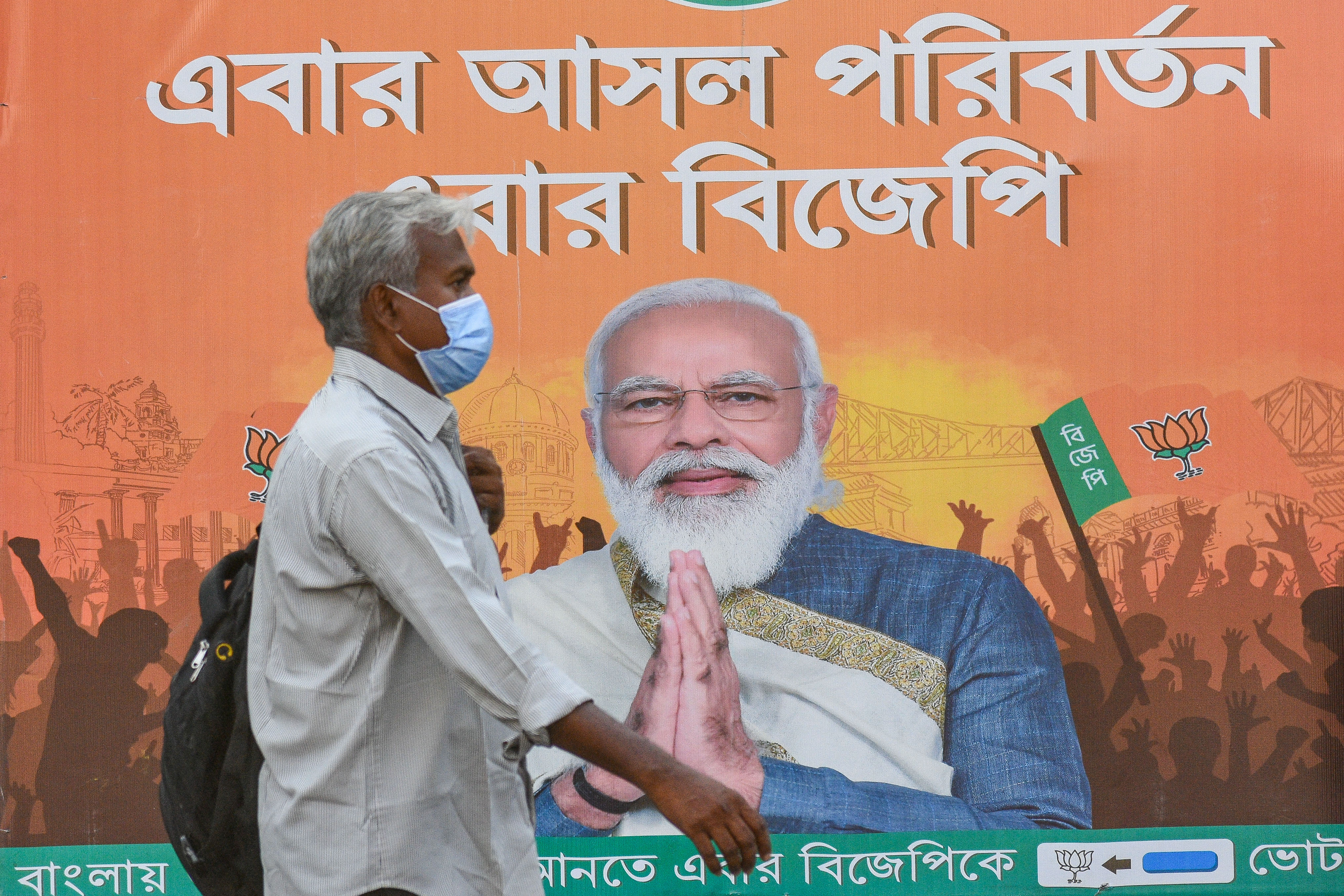 A man wearing mask walks by a poster of PM Narendra Modi, which was installed for political promotion ahead of 4th Phase of West Bengal assembly elections in Kolkata, India, 7 April, 2021. /Getty
'A vacuum of leadership within the central government'
According to a CNN report on April 23, state ministers and local authorities in India have been warning and preparing for the incoming wave since February. Prime Minister Narendra Modi, on the other hand, remained "largely silent" on the situation and only ordered increasing testing and tracking and asked for public's vigilance. He kept praising the country's successes on pandemic management until April 20 when he finally addressed the urgency to the nation.
"The government's premature declarations of victory encouraged people to relax when they should have continued strict adherence to physical distancing, wearing masks and avoiding large crowds," ABC News reported.
Indian journalist Rana Ayyub wrote in a TIME's article that Modi has organized large political rallies and allowed religious events since January while making little efforts to educate or mobilize the public to get vaccines. The BJP Chief in West Bengal, where Modi campaigned, advocated the public to drink cow urine to treat the virus. In Maharashtra, a state with the highest number of COVID-19 cases, majority of vaccination centers were closed due to a lack of vaccine supplies. "The government was not quick to step in," Ayyub wrote.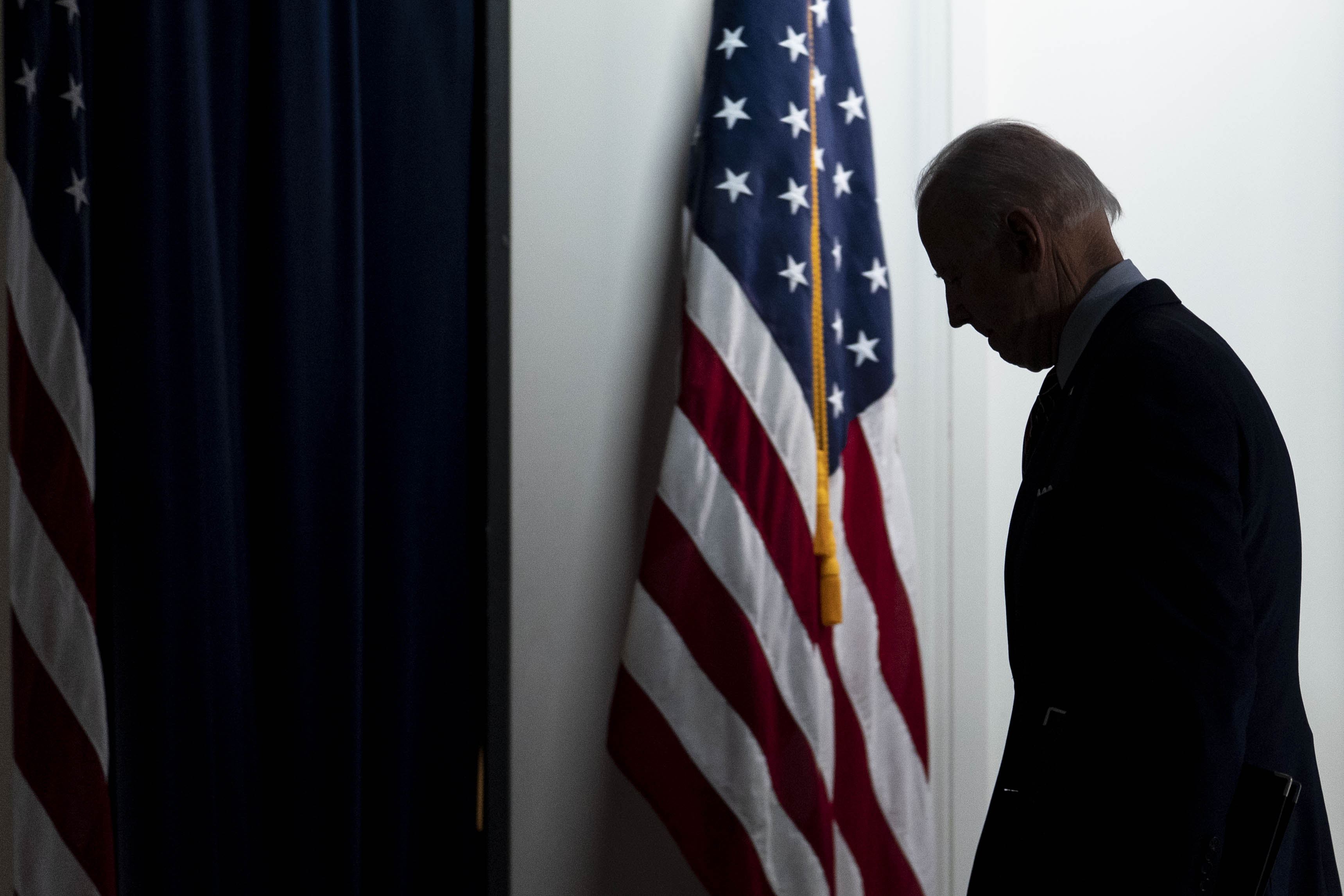 U.S. President Joe Biden exits after speaking in the Eisenhower Executive Office Building in Washington, D.C., U.S., April 21, 2021. /Getty
U.S. and the Defense Production Act
In an attempt to boost U.S.' domestic vaccine production, U.S. President Joe Biden invoked the Defense Production Act on February 5 to restrict exporting raw materials. According to Mint, the U.S. holding off on its export causes India's vaccine manufactures to have difficulties in "obtaining the raw materials involved in all these processes, which in turn is also putting hurdles in scaling up production capacity." Things like bioreactor bags and filters are key to make vaccines.
When asked about easing the export on April 22, State Department Spokesperson Ned Price said "the United States first and foremost is engaged in an ambitious and effective and, so far, successful effort to vaccinate the American people.
As pointed out by the New York Times, "that did not go down well in India."
Just last month, during the Quadrilateral Security Dialogue, U.S. made the promise to help in raising the India's COVID-19 production capacity. Milind Deora, a politician from Mumbai, wrote on Twitter that "By stockpiling vaccines blocking the export of crucial raw materials needed for vaccine production, the United States is undermining the strategic Indo-US partnership."
It wasn't until April 26 were the restriction eased, after daily infection cases have broken records several times.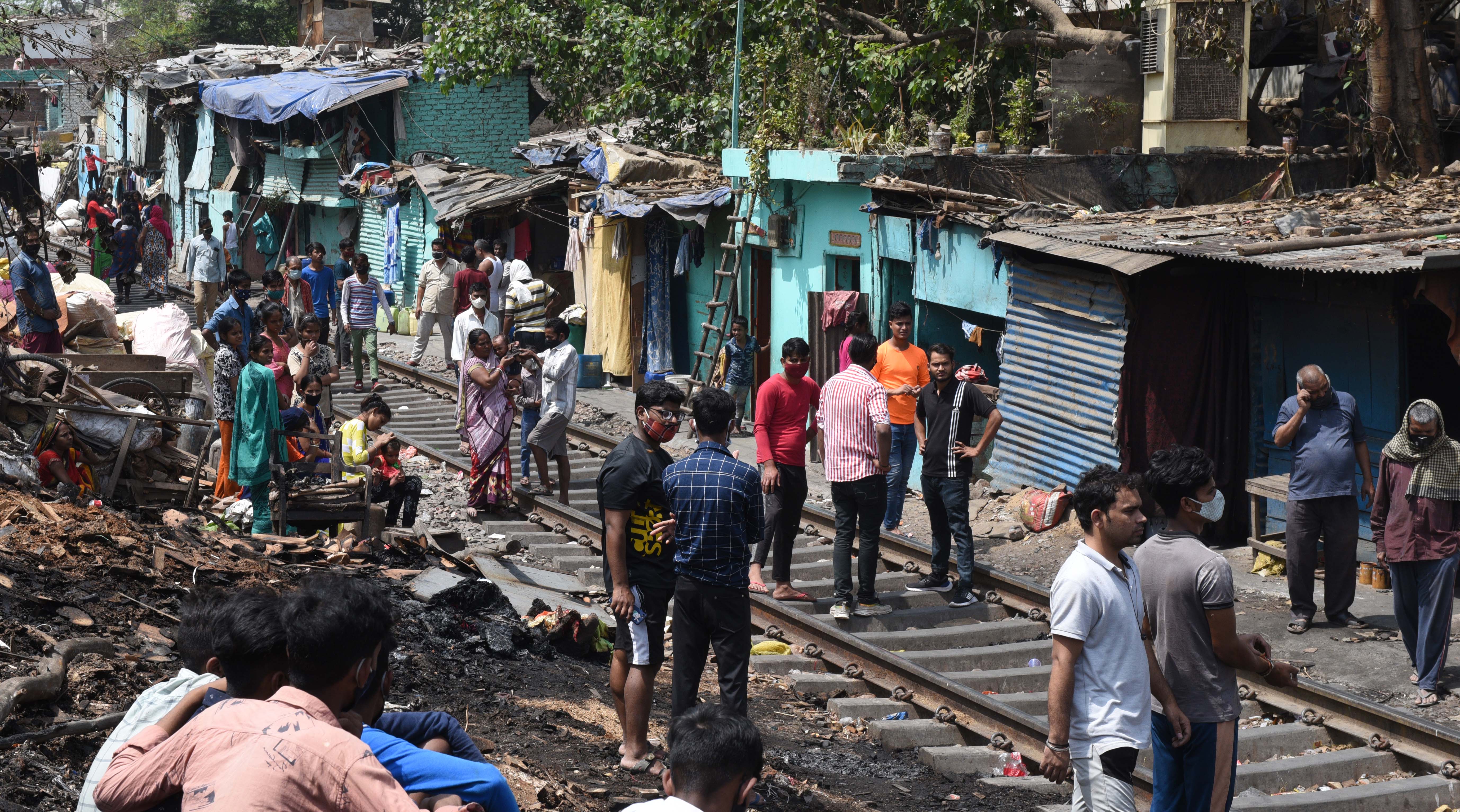 A view of a slum area in Kirti Nagar built along a railway line in New Delhi, India, April 21, 2021. /Getty
Fighting infectious disease in India is not easy
In one sentence, The Economist summed up the most insidious threat facing India: "With its crowded cities and rickety health care, India is not an easy place to curb an infectious disease."
According to the New Indian Express, India is one of the most densely populated countries in the world. There are nearly 460 people living within every square kilometer on average in India. And in states like Delhi, West Bengal and Kerala – many of which were most hard-hit by the second wave – the population density likely doubles the national average. And in India, rail remains a primary choice of transportation for the majority of Indians. It is estimated that over 23 million passengers travel on trains each day.
Social distancing, a preventative measure that could be easily conducted in some countries, is nearly impossible to be implemented in India nationwide.
Then, there's shaky healthcare system. According to Pragya Tiwari's article published by Aljazeera, India spends just over 1 percent of its GDP on public health, ranking near the bottom worldwide. The number of beds available per 1,000 people is 0.5 in public hospitals. In 12 states that account for 70 percent of Indian population, the number is even lower.
A Lancet study estimated that, in normal non-pandemic times, 4,300 Indians die every day because of the poor healthcare quality. And 7 percent of Indians are been pushed below the poverty line every year.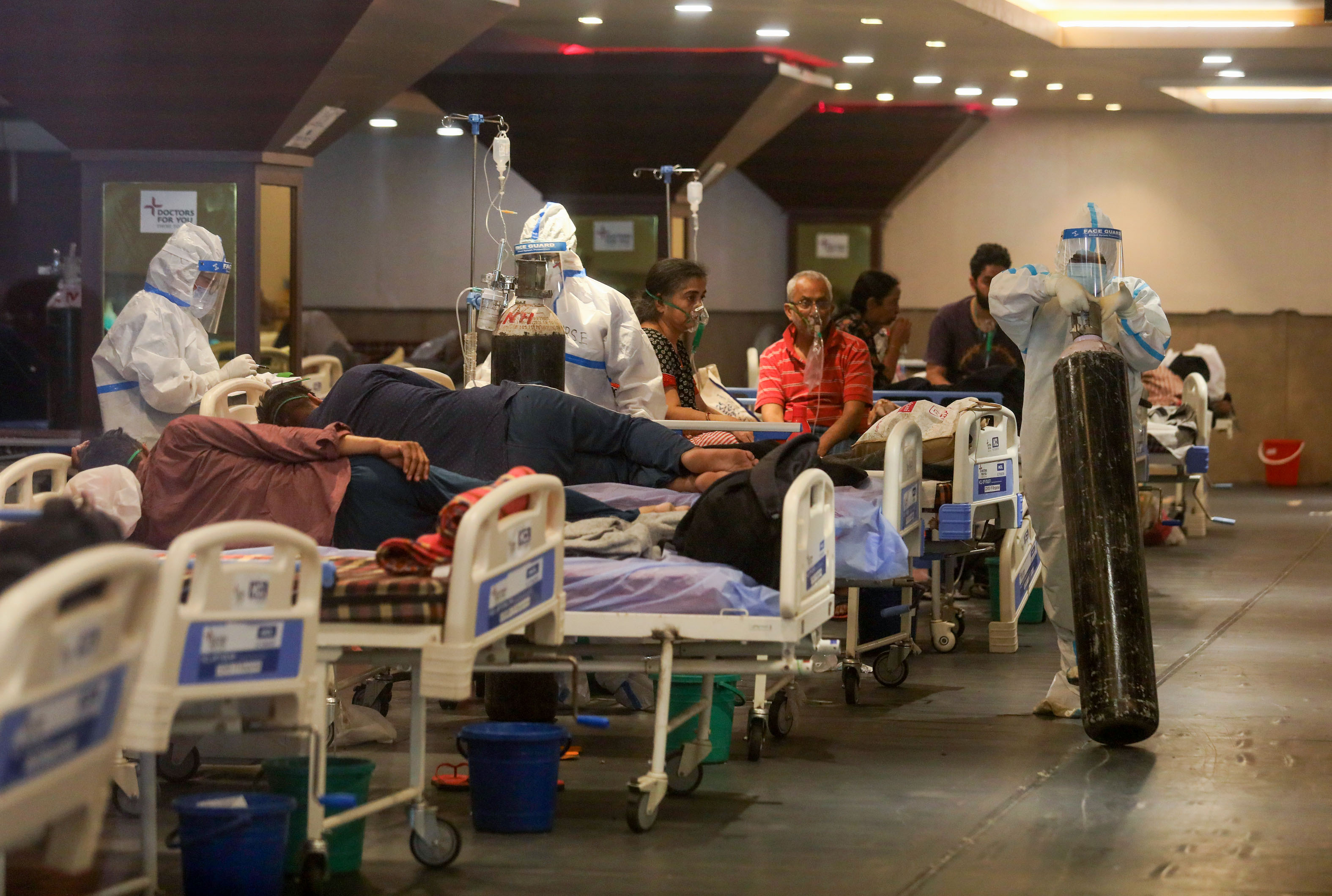 A healthcare worker in personal protective equipment (PPE) attends to a Covid19 patient in the isolation ward in New Delhi, India, April 26, 2021. /Getty
The trifecta
Lousy political leadership, suppressed vaccine manufacture capability, and poor domestic infrastructure gave COVID-19 the room to spiral out of control. China, the U.S. and other countries are offering assistance to India, but foreign aid can only do so much. Containing the virus must be mainly driven by the Indians themselves. As we've seen from those countries that successfully managed the virus, it takes a whole-of-society approach to accomplish it - the government needs to have the will to lead and the public needs to self-discipline their behavior. Lacking one or the other would only result in the further spread of the virus.
It is critical for India to take the proper course of action as soon as possible. As the Economist wrote, "Unless India's second wave is brought under control, the entire world will suffer."
Writer: Huang Jiyuan
(If you want to contribute and have specific expertise, please contact us at [email protected].)