Editor's note: This is the 35th article in the COVID-19 Global Roundup series. Here is the
previous
one.
Poor sanitation, cramped living conditions, pervasiveness of illnesses, and lack of access to medical care and clean water – attributes that are generally characteristic of refugee and migrant camps and makeshift settlements for displaced people – constitute a potential humanitarian catastrophe threatening tens of millions of people from Bangladesh to Syria and across Africa.
Camps across the world have previously experienced outbreaks of measles, diphtheria and other respiratory infections, and the SARS (Severe Acute Respiratory Syndrome) and Ebola epidemics did not lead to large-scale infections or mass deaths of refugees.
But the latest coronavirus, which has exceeded all previous outbreaks and already claimed more than 81,000 lives, is undeniably a far greater threat looming over the exposed refugees.
According to the Guardian, two facilities housing migrants and asylum seekers in **Greece **have already fallen victim to the deadly disease. Last week, detection of the disease in camps in Malakasa and Ritsona – among 30 refugee facilities on the mainland – prompted the Greek authorities to immediately place both installations under quarantine. Malakasa was sealed off on Sunday, when an Afghan refugee began displaying symptoms of the virus; Ritsona, 75km northeast of the capital, was quarantined after 23 African asylum seekers tested positive on Thursday.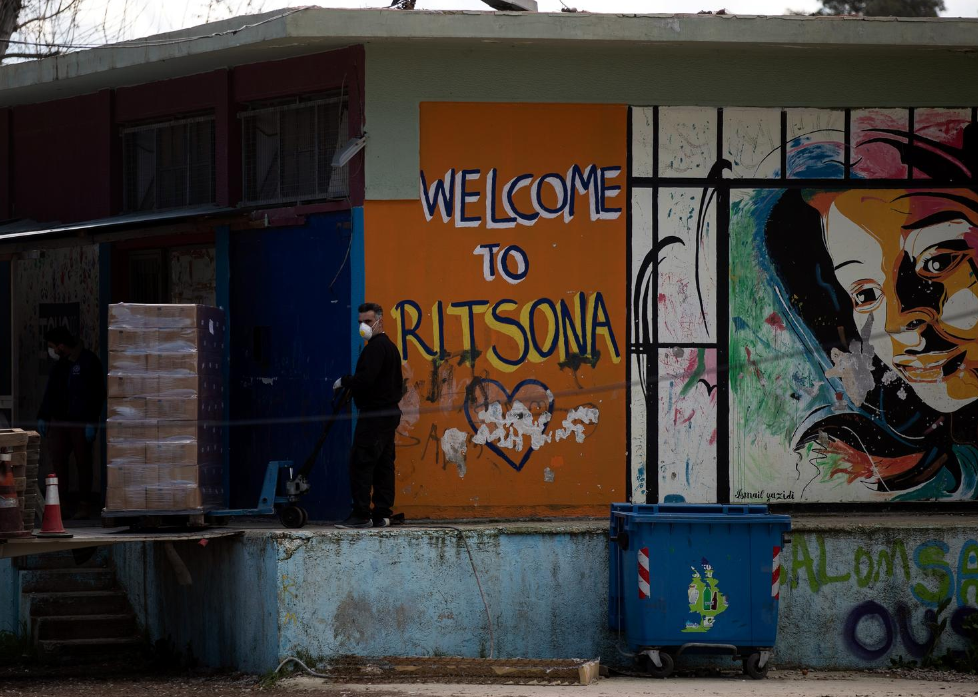 A man wearing a protective face mask carries packages of food in the Ritsona migrant camp, after authorities found 20 coronavirus cases and placed the camp under quarantine following the outbreak of coronavirus disease (COVID-19), in Ritsona, Greece, April 2, 2020. /Reuters
Greece is the gateway to Europe for people fleeing conflict and poverty in the Middle East and beyond, with more than a million passing through Greece during the migrant crisis of 2015-2016.
While the incident marked the first time for the disease to arrive at these installations, it may not be a matter of if but when the raging pandemic will spill over into other such facilities.
"(This) may result in a massive humanitarian crisis. This is a danger both for refugees hosted in certain countries outside the EU and for those living in unbearable conditions on the Greek islands," EU Home Affairs Commissioner Ylva Johansson said during a European Parliament debate conducted by video link.
In the world's largest refugee settlement in Bangladesh , filmmaker Mohammed Arafat has been making public safety videos to warn about the dangers of coronavirus.
The 25-year-old is worried that the disease will devastate the vast, crowded camps that house more than one million Rohingya , members of a mostly Muslim minority who fled Myanmar.
"We are living in tiny, crowded shelters, we are sharing toilets," he told Reuters. "It is very difficult to protect ourselves, it's too crowded, people can't breathe well."
Bangladesh, which has reported 117 cases of coronavirus and 13 deaths, imposed a lockdown by the end of March, the same day it confirmed the first case in Cox's Bazar, the coastal district where the Rohingya camps are located. A family of four Rohingya were quarantined after returning from India.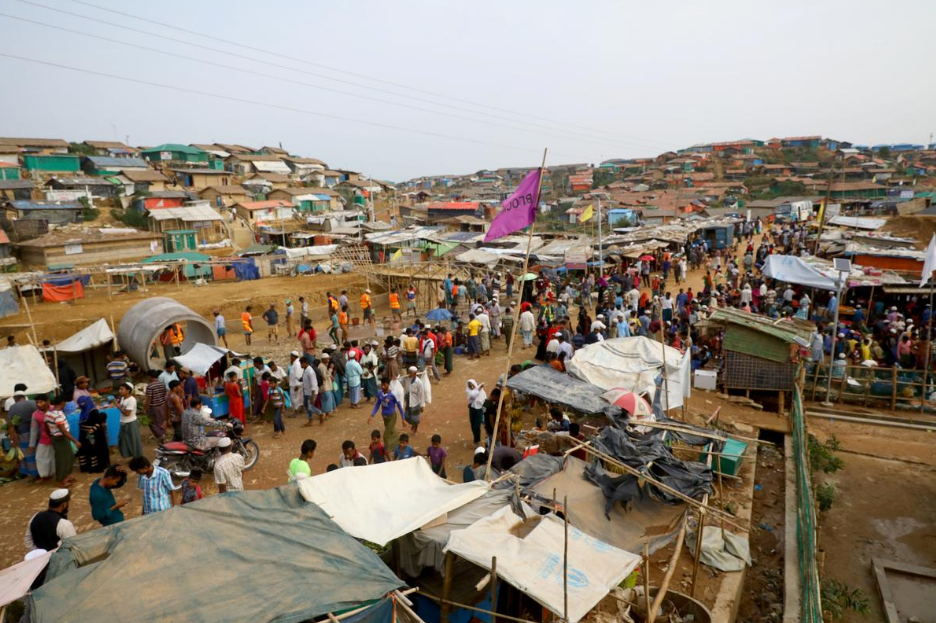 Rohingya refugees gather at a market inside a refugee camp in Cox's Bazar, Bangladesh, March 7, 2019. /Reuters
"God forbid, if the virus gets into the camps, it would have a catastrophic effect," Mahbub Alam Talukder, Bangladesh's refugee relief and repatriation commissioner, told Reuters.
The mazy hills around Cox's Bazar in Bangladesh are more densely populated than the most crowded cities on earth, with 60,000 to 90,000 people jammed into each square kilometer where as many as a dozen people share single small shelters and many more use the same water well and toilet.
Apart from Bangladesh, Rohingya refugees are also housed in other countries like Indonesia , where they share their settlements with Somalis , an ethnic group native to the war-torn country of Somalia. Many of these refugees came to Indonesia more than nine years ago, living in rooms of three to four with no supplies of soap, masks or hand sanitizer.
Hamada, a Somali refugee, is particularly worried about her mother, who suffers from seizures after being beaten by members of the terrorist group al-Shabab in Somalia. "I'm so scared for her because she has a prior health condition," she told South China Morning Post. "We can"t do anything to protect ourselves. Please bring us some soap, then at least we can help ourselves."
The absence of a resettlement program in Indonesia has left more than 13,000 registered refugees with a bleak prospect, in which they are neither allowed to work legally nor can they return to their home country. The arrival of coronavirus in the country has worried some who fear death after clinging on hope of resettlement for years, but for those who feel hopeless for a brighter future, contraction of the disease seems like a psychological relief.
Elsewhere, the prospect of refugee camps succumbing to a full-blown outbreak of COVID-19 is also as dreadful. Similar fears are spreading in regions torn by war and natural disasters in the Middle East and Africa.
In Syria , where nearly a decade of war has uprooted 6.1 million people and forced some 5.3 million to flee to neighboring states, the coronavirus is a new threat for communities ill-equipped to deal with it.
Idlib has received around 1,500 coronavirus testing kits in the last few days. Its population is close to three million.
"Isolation is so difficult," said Mohamed Tennari, a doctor and medical coordinator in the Idlib region. "Some people are still living in schools or in mosques. So all of this, if we have corona patients, will help the virus to spread very widely."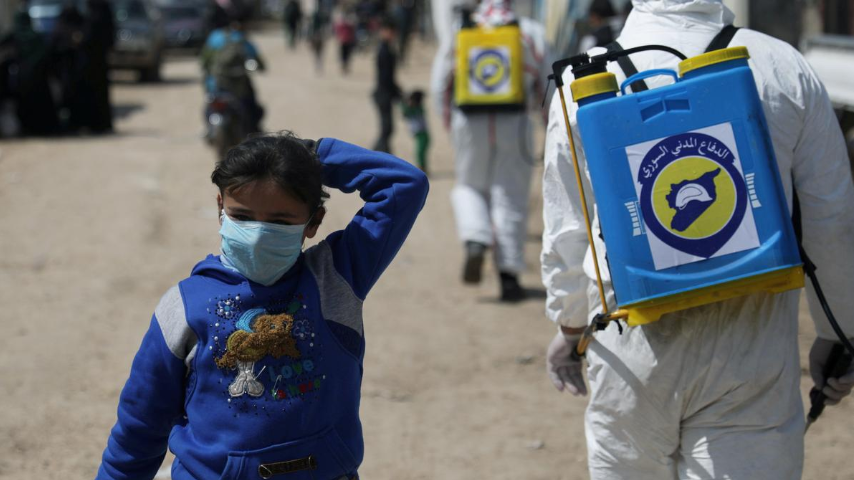 An internally displaced Syrian girl wears a face mask as members of the Syrian Civil Defense sanitize the Bab Al-nour internally displaced persons camp in Azaz, Sryia, March 26, 2020. /Reuters
Similar overcrowding worries rage in neighboring countries hosting Syrian refugees. Lebanon has recorded around 548 cases so far, though none in refugee camps. "Whenever someone breathes, their neighbor can feel it," said Syrian refugee Hamda Hassan, describing her camp in northern Lebanon.
The recent surge in Syrian refugees escaping war from Idlib has also increased the risks of spreading the virus.
In Burkina Faso in western Africa, the Barsalogho camp houses about 75,000 people fleeing a jihadist insurgency, many in wood-framed tents covered with straw mats and white tarpaulin, pitched close together. Medical charities warn residents of the dangers of coronavirus, which has already spread across the capital Ouagadougou, infecting over 150 and killing eight.
But shortages of water and sanitary supplies are making it difficult.
In central Mozambique , where more than 90,000 victims of last year's Cyclone Idai, one of the worst tropical cyclones on record to affect Africa and the Southern Hemisphere, are still living in resettlement camps, large families of more than 10 people cram into one tent, with shared water sources and latrines, often open air with only plastic sheets for privacy. In some cases thousands of people share one water source, or they have to walk hours to one used by nearby communities.
Efforts to stem the crisis
Growing concerns have driven advocates to call for action to minimize the damage the virus could inflict on refugees. International aid organizations, human rights groups and doctors have all got ahead of the situation and sounded the alarm. The incident in Greece, an unfortunate proof of merit to the warnings, has further intensified such fears.
The World Health Organization (WHO), at the helm of the battle against the global pandemic, stressed that measures against the disease should include refugees and migrants. A report jointly developed by multiple international organizations was published by end of March and spelled out four major points demanding states to comply and minimize the risks of refugees and migrants exposing to coronavirus.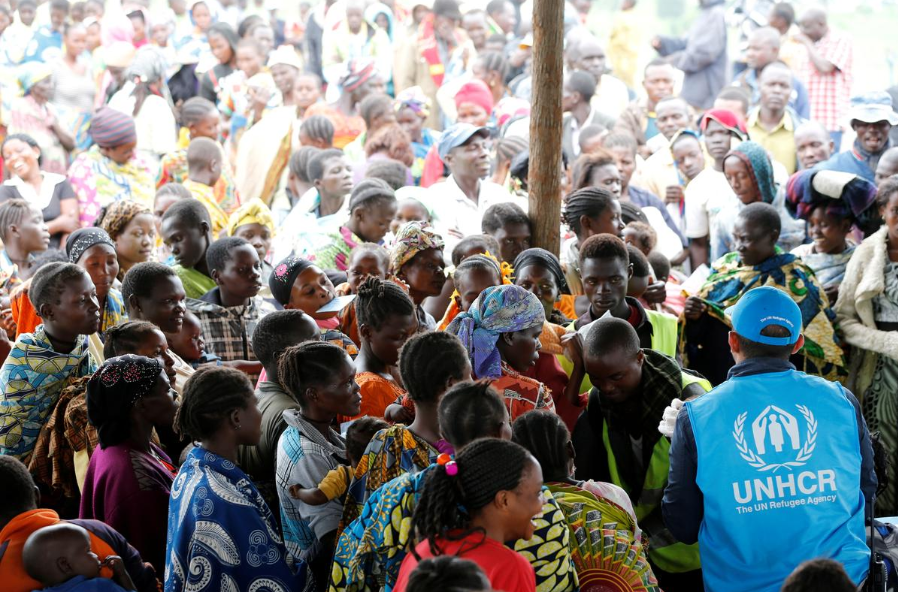 A UN worker monitors Congolese refugees who fled from the Democratic Republic of Congo by boat across Lake Albert, upon arrival at United Nations High Commission for Refugees (UNHCR) in settlement camp in Kyangwali, Uganda, March 19, 2018. /Reuters
"If during this pandemic we leave behind the most vulnerable, we fail not only them, but all of us. COVID-19 is challenging us as a community, and we must answer as one," said Dr Santino Severoni, Special Adviser on Health and Migration and Director ad interim of the Division of Health Systems and Public Health at WHO/Europe. "We strongly emphasize the need for inclusive national public health measures to ensure migrants and refugees have the same access to services as the resident population, in a culturally sensitive way."
The United Nations says almost 70 million people uprooted by war and persecution around the world are in acute danger.
"We must come to the aid of the ultra-vulnerable – millions upon millions of people who are least able to protect themselves," said UN Secretary-General António Guterres this week.
UNHCR, the UN agency charged with protecting refugees, is looking to raise 255 million U.S. dollars from member states to tackle the problem, part of a wider UN response plan seeking 2.01 billion dollars.
In addition, it is also accepting individual donations on its official website.
The organization is also training health workers – some of whom are refugee community leaders – and running a multilingual hotline for refugees to report symptoms. They are increasing the distribution of soap and creating more hand-washing stations.
(With input from agencies)
(Cover image: An internally displaced Syrian girl wears a face mask as members of the Syrian Civil Defense sanitize the Bab Al-nour internally displaced persons camp in Azaz, Sryia, March 26, 2020. /Reuters)